The Case for an Industrial Corridor along NH1, India
It is well known that India lacks a manufacturing base to rival that, or even come close to, China and the West. One only has to go around various big cities and their hinterlands to realize that large scale manufacturing of heavy duty and high quality industrial components has not taken off in India. One reason for this could be the lack of scientific and rational thinking; another could be that for a country with a vast agricultural base such as India, vested interests have simply not afforded the capital and the will that is needed to make this a reality.

Architecture and planning in India too has not taken responsibility to push governments and public opinion towards making manufacturing a priority sector of the economy. This means that even relatively capital rich states such as Punjab and Haryana have left their manufacturing sectors underdeveloped, preferring instead to concentrate their resources and energies on giving priority to now-lagging sectors such as outsourcing, business process development and the like.
What can be done?
One way is for consortiums of architects and planners, and even individual practitioners, to push for planning industrial sectors along highways and other high use corridors that lie outside major cities.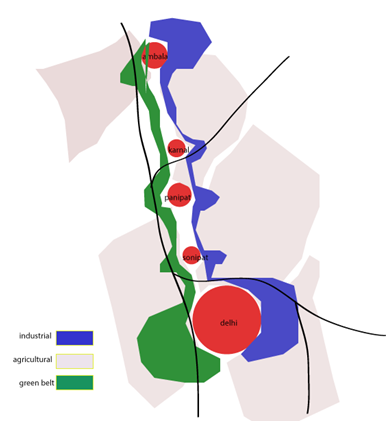 The following is a case study of an industrial corridor that might be developed along a stretch of the Amritsar-Delhi highway, also called in India as NH1, which forms part of the historic Grand Trunk Road.

We consider one stretch, namely the corridor between Ambala in Haryana, already a manufacturing base of some importance, and the 200 km stretch from this point to the outskirts of Delhi.

What are the characteristics of this human and natural built environment?

Firstly the physical factors: There is already a railway line which runs parallel to this stretch of highway, which is an ideal factor for transporting goods and industrial needs. The land has ample sources of water in the form of rivers and canals, which once again are a factor suited to the building of heavy industry. There is an English and Hindi speaking population which can be sourced from the hinterland, namely the towns of Ambala, Karnal, Panipat and the outskirts of Delhi for employment and human resource purposes. It only remains for the government to nominate this land as suitable for industrial use and to seek investment for the building of heavy industry.

What kind of industry is suitable? Food, fertilizer and cannery units, computer and electronic component manufacturing, defense industries and other enterprises where the availability of an immediate port is not necessary and the benefits of flat land and skilled manpower are useful.
What are the advantages?
Firstly, an industrial corridor will greatly reduce the migration towards cities, thus reducing pressure on them and their physical services.
Secondly, an industrial corridor will develop the land, increasing land prices and the wealth of farmers and other holders of the land around the corridor.
Thirdly, it will bring much needed foreign and domestic capital to a land which, till now, depends mostly on agriculture for its sustenance.
Over time, the development of an industrial corridor will change the economy of the region, moving from agriculture to manufacturing and also serving as a model for the rest of the country.
Of course, there are certain precautions to be taken. For one, waste and industrial pollution is a big factor, as is pollution of groundwater and agricultural land from heavy industry. To control this, strict checks must be made on quality and quantity of emissions from industry in the corridor. Secondly, the move will greatly increase the volume of traffic on the highway and railway lines (shown in black in the diagram). This means that additional highway and feeder routes have to be constructed in tandem with the industrial corridor. Thirdly, industry demands a high volume of cheap power, power which can easily be generated – if planned in advance – through modern, non-polluting means such as solar farms, wind farms and of course, nearby hydroelectric schemes.
What are the ancillary services that will be required?
For one, cheap, reliable and fast transport along the length of the corridor, which can be ensured by point-to-point rapid rail service augmented by feeder routes emanating from the rail heads.
Secondly, the industrial corridor will promote the development of regional airports and helipads which can be used to ferry executives from point to point.
Thirdly, a planned and regulated system of architecture, which will ensure a uniform visual control along the corridor, giving it an identity as well as a 'brand'.
Architecture – and good architecture – is needed for the following types of buildings in the industrial corridor - industry main office buildings, industrial units, warehouses. Housing for workers and executives, airports and railway terminals, civil engineering and architecture for power plants and electricity stations. There should also be provision for commercial complexes and shopping, for cinema multiplexes, space for the informal sector and spaces for culture.
In short, the development of an industrial corridor along this vital part of north India's geography has the potential to transform the economy of the region moving it from a predominantly agrarian and non-manufacturing base, to an industrial and manufacturing type of economy. This will not only attract investment and human capital, but also stimulate the economy and attract talent from all over the world, something that is much needed in a slowing economy in India.
Image of Industrial Corridor NH1 India © Ashish Nangia