Shuddh Desi Romance: Spoof or Farce?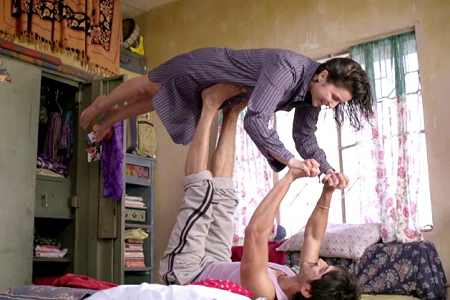 To be honest, I was terribly confused by the movie 'Shuddh Desi Romance'. I never knew that a present generation young man can hire brother, sister, friends, through an agent and go for marriage with false pomp and pageantry. He is shown vaguely as a conning sales man in a textile or souvenir shop and a tourist guide or something in the crowded tourist spot Jaipur.

Well, any way, the good old man Goyal, a marriage contractor (Rishi Kapoor) arranges everything for Raghu's (Sushant Singh Rajput) marriage but our hero is found to be terribly indecisive, baffled youth. He is so fickle minded and full of temptations, falls suddenly for the temporary 'didi' Gayatri (Parineeti Chopra) who is a cigarette smoking, boy friend hopping, alcohol drinking another vague as well as bemused girl with some dubious occupation. So before exchanging 'varamala' Raghu scoots. But, only to meet Gayatri again somewhere and they have romance, sex, kisses, share the place for some time. Our old man Rishi Kapoor again arranges for their marriage, but this time Gayatri scoots at the eleventh hour. Raghu meets his first bride Vani (Vani Kapoor) in another marriage and courts her with kisses, sex but no place sharing. Both come across Gayatri in one of the pompous marriages and get into a sort of 'who wants who' game. What exactly these confused boy and the girls want apart from sex and kisses?

Indians, all of us know have come to terms with 'free sex' and it is no more a great taboo. In fact, it is considered to be a pride of their libido whether it is a man or a woman. It is also too transparent that Indian arranged marriages are farcical and nothing but a vulgar demo of ostentation and false pride. These messages (if at all we call them messages to be driven home through this movie!) could have been communicated in a better way by the writer Jaideep Sahni and director Maneesh Sharma.

The movie is as wayward as the characters are. If the present generation of youth prefers to be so puzzled and dithering, let them face their funeral. The only problem is that one cannot expect that 'they lived happily thereafter' ending in this story. But, it is what ultimately the director wants to convey; 'Love is divine and they lived happily thereafter' is the message after all these messy movie once again. So that makes 'Shuddh Desi Romance' is nothing but a farce.
17-Sep-2013
More by : G Swaminathan
---