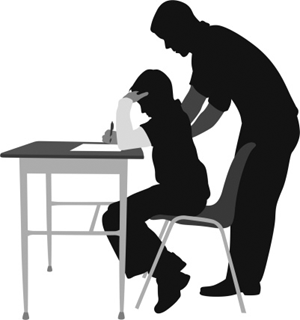 Do boys learn better from male teachers? It seems as if they do if you read the research studies of the University of Michigan. Neurobiological research actually confirms that boys learn in a different way than girls.

According to author and therapist Michael Gurian the language centers of girls' brains develop earlier, so reading and writing comes easier to them, while boys' brains are better at spatial-mechanical tasks and they learn better when they are active physically.

Further studies say that boys in elementary schools learn better from a male teacher than a female teacher. The teacher student equation is better when they are of the same gender, say the experts.

Yet rarely do we find male teachers in the primary sections of schools. There is predominance of women in the nursery and primary school sections. This is largely because of a strong stereotype that women are better at handling children and better at playing the role of a substitute mother in school. But does it make the boys unhappier in some ways? That apart there are more practical reasons like low pay and low status. If teachers were paid as well as the IT industry employees, it would have been a different story. But the fact remains that children are missing out on the teaching strategies that men may adopt.

When we examine the characteristics of boys and girls, we see that girls have better fine motor skills than boys. They have better verbal skills but poor mathematical skills. Girls tend to be quiet and subdued with exceptions. The female teacher is likely to favor girls in her classes, who are easier to control. The boys often perceive this as undue favoritism of girls. True or not some amount of gender bias is likely to sneak into classroom teaching when a woman teaches a class of boys and girls. Teachers need to be aware of this inadvertent gender bias.

A free period is likely to see the boys in the football field whereas the girls might go the library to read or engage in some craftwork. Boys are more likely bond with the male PE teacher as they find it easier to vent.

There is an unspoken power struggle that is present in coeducation schools. Girls are more likely to dominate the language classes and drown out the voices of boys, whereas the quiet confidence of boys swings into action when the math teacher walks into the class. Teachers have to be alert and aware of this power struggle in the classroom. If mishandled, it can lead to gender rivalries and prejudices in boys, which can last for years, even beyond school.
Perpetuating damaging stereotypes
The other possible drawback of having only female teachers is that we reinforce the message that teaching is done only by women. Elizabeth Burns, in a paper to the British Educational Research Association, University of Leeds says, "to suggest that only one gender can fulfill this role is to maintain and perpetuate damaging stereotypes."

How has the declining number of male teachers, especially at the elementary level, affected the education of boys?
Footprints to Follow into Manhood
According to Gurian boys need male figures to help them find footprints to follow into manhood. In elementary years, male teachers sometimes understand boy energy better than some female teachers. In middle and high school, puberty and adolescence makes it even more important that boys find men to model from.

Dr. Mayuri, professor and head of department of Child Development, ANGRAU Hyderabad, echoes the same thought when she says that boys and men think alike despite the age gap. "They tend to think of the same things in the same manner. Boys require more hands on experience and men tend to give more practical help. Girls, in general have better verbal skills so benefit more from verbal help which a female teacher is inclined to give. The methodology that a male teacher would adopt is more suited to a boy's temperament," she reiterates.

Female teachers can do a great job, provided they are trained in how boys learn -- and how they learn differently from girls, says Gurian.

The gender sensitivity of having a male teacher in a mixed class is an issue and the Indian government has actually passed an injunction barring male teachers over fifty from teaching girls.

Probably, the need of the hour then is to get more male teachers into boys' classrooms. Maybe fathers, retired men or even grandfathers should take a cue and start stepping to schools, instead of just dropping off and picking up their children and grandchildren from schools.