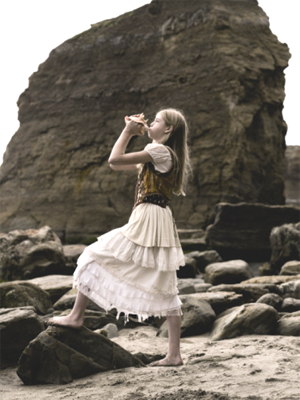 Spiritual, or religious, states, all over the globe, are often equated with light. However this maybe, one primal fact remains: our spirit is created not by light, but by sound. Hence, the vintage expression: - In the beginning was the word ... or, sound in the form of divine speech.

Divine sound is the cause of all manifestation - a tremendous power. Great musicians, for instance, aver that sound is God's power - in other words, Nada Brahma, the divine sound that reverberates through the universe. Which explains why we have been traditionally taught that sound is God, what with music being the spiritual discipline that raises one's inner self to divine bliss. The power of sound, or mantra, as you'd have thought, has, therefore, been given a special pride of place in everyday life - an expression of tremendous spiritual strength.

A dynamic, highly individualized, and non-violent, way to approach conditions we wish to change, mantra, in simple terms, is a Sanskrit word with many shades of meanings - a tool of the mind, divine speech, language of human spiritual physiology, and so on. It is also an extension of energy - a therapeutic 'gizmo' for healing problems that we face in life, one time or the other. Mantras, quite simply, not only help us to feel more at ease, or more energized, they can also help us cope with illness and effect physical healing.

Mystical scriptures and teachers, in many parts of the world, have taught mantras as a tool to harnessing sound affirmations - for eons. However, we ought to remember that it isn't a panacea. It may not totally solve all our problems. But, it can considerably soften them, so much so it can help us deal with most concerns and necessities of life. With sustained practice, a mantra - one with which you're most comfortable - can help us gain clarity about life, our purpose, and oneself.

The earliest hymns and mantras contained in the Rig Veda are traditionally considered to date back to 1500 BCE - possibly even to before 4000 BCE. It is also established that Pythagoras, the ancient Greek philosopher, was one of the earliest investigators of the physical, emotional, and spiritual effects of sound. He not only proposed his doctrine of the harmony of spheres, but also the ratios between musical notes - something that each one of us could resonate in harmony - to benefit every aspect of our being.

According to Thomas Ashley-Farrand, a noted Indophile and scholar, who has practiced mantra-based spiritual disciplines for over 25 years, and teaches Sanskrit mantras and meditation at Chaffee College, US, simple chants are packed with energy. He also explains that it's one reason why mantras, which are specially designed to generate power sound waves, have it in them to promote healing, insight, creativity, and spiritual growth.

He contends that mantras not only cure specific ailments, but they also help one to find inner peace - being one with the cosmos. In his easy-to-use, and practice, book, Healing Mantras, which may, perhaps, be one of the best-ever introductions to unlocking the power of every Sanskrit word, Ashley-Farrand presents over fifty mantras. In the process, he also unravels every expression, and explains its appropriate application/s, including pronunciation in a very easy-to-follow manner.

"The practice of Sanskrit mantras," notes Ashley-Farrand, "increases the vitality and energy-utilizing ability of the chakras in our subtle body and the organs of our physical body." He further explains: "As we grow proficient in mantra meditation, new experiences may begin to present themselves to us a sense of mysterious energy that clears away spiritual impurities, energizing the chakras, and burning off karma."

Recommended: chanting!