'Bankerupt' by Ravi Subramanian, Penguin Books, Rs. 299, pp.319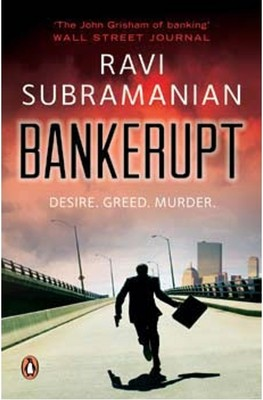 Ravi Subramanian's recent 'Bankerupt' is a breathtaking roller coaster ride. In, this amazing novel, the author has partly departed from his arena of banking and entered into the field of academics where one can find the same amount of 'desire, greed and murder' are possible.

Like his earlier book 'Bankster' this book also connect three diverse locations like Coimbatore in South India, Mumbai, and Boston and the most prestigious Massachusetts Institute of Technology. Cirisha Narayanan, an adjunct faculty of Social Psychology in MIT and her investment banker husband Aditya Raisinghania lead two different kinds of lives. While Cirisha, who believes in ethics, diligence and ardently devoted to her mentor Professor Michael Cardoza at MIT, Aditya was full of fraudulent ways in his profession coupled with greed and desire. Aditya had to join Cirisha at Boston since he had to leave the banking job as his position becomes too hot to continue in India. He least expects that he will be getting into a quagmire of mystery and mayhem. The bank fraud scenario ends and the academic atrocities surface from here which make the story race towards the unexpected denouement. The gun culture of the America, the artificial façade of power and respect projected by the elite academicians intercept the lives of the not only Cirisha and Aditya but many people around them in many dangerous ways.

How the greed for power and position, desire to amass wealth, position and qualification taking a back seat and human urge to go to any extent to achieve their goal are depicted in this complex story with extraordinary courage. Yes, the courage in presenting and painting certain characters by Ravi without fear or favor. How power and positions are manipulated and exploited by even the influential and educated take the center stage of this murder mystery.

One cannot wonder at the writer's ability in creating mysterious situations and unraveling them logically towards the end keeping the readers' interest in tact. True, many of the readers like us read a book for entertainment, but at the same time we stand to gain information on the banking systems, the intricacies of the modern gadgets and how devastated a scholar can become if he was given a raw deal with least contempt are dealt with telling effect. The entire novel is an interesting conundrum of action and reaction. There is a beautiful line comes towards the end; 'In life it is not bad to be ambitious, it is criminal to have a team which always dreams of personal glory'. These words are absolutely applicable to academic circle because more than other professions, academicians have a responsibility in shaping and building a character in the younger generation.

When a writer pens a novel it is an unwritten truth that he/she dons the roles of the characters in the story. Ravi Subramanian once again proved to be a very bold and intelligent author. No doubt this 'best thriller' will also turn out to be a 'best seller'.