The Bleeding Ballads of Ratan Bhattacharjee
'Poetry comes from the soul.'

Ratan Bhattacharjee perfects this phrase. 'The Ballad of the Bleeding Bubbles' takes your hand and let you explore for yourself. One can't simply stop turning the pages as if each poem is connected. Even though the book's title presents a serious tone, Bhattacharjee shows the natural in the human world. One can't help going into temporal bliss while reading the poems. Their graphic imageries and stories starts off a visual motion picture in our mind. The poems are the mirrors of the various visages of love. The free flow of verse and the rhythmic cadence captures the delight one finds in reading them.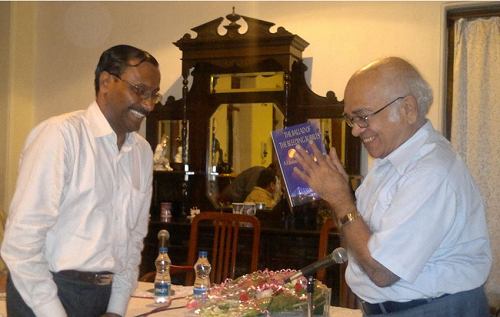 Dr. Ratan Bhattacharjee giving his book to Samik Bandyopadhyay,
the noted dramatist in Thema on Sept 20 2013.
Bhattacharjee enjoys writing poems in a simple and lucid way trying to breed out the collective ready consciousneess of his readers. Some of the poems like - 'I miss you most when you don't miss me at all', 'Why your Dad waits for you, my Daughter?', 'They tore the petals on the road', 'At the end of the long road' etc. falls in the best displayed relaionship aroma with a lover, a daughter, a society and life itself. It must be said that Bhattacharjee consumes the bubbles of poetry and lets it bleed in the form of a ballad under the flag of an essentially Indian consciousness. The flavour of India, especially Kolkata, is nothing less than a waft of the wind that spreads its wings and travels the universe.

The collection of poems in 'The Ballad of the Bleeding Bubbles' can be summarised as a series of sparkling gems in the clear stream. Last but not the least, it is highly recommended that one buys the book, to re-discover for oneself a panorama of life in the sub-text of the 21st century. Ratan Bhattacharjee aptly set off his mark in a radiant manner and it will be expected with great hope for his next collection.

28-Sep-2013
More by : Shamik Bhattacharya
---
---
| | | |
| --- | --- | --- |
| | Thank You Mohini Gaurav... | |
---
| | | |
| --- | --- | --- |
| | Good job shamik .. keep it up .. Congrats Ratan Da and shamik . Looking forward for next collection best wishes. | |
---
| | | |
| --- | --- | --- |
| | Readers like Bibi Basu are waiting eagerly for my book to get it from Amazon.in , and readers like Samudra Gupta inspiring the reviewer of my book and Boloji.com has published the review article .. all these are really rewards for a man who writes...I just feel it inside poetically once more.. | |
---
| | | |
| --- | --- | --- |
| | It is a pleasure for me to write up the review of such an elegant collection. | |
---
| | | |
| --- | --- | --- |
| | Brilliant Job Shamik...really overwhelming...!!!! | |
---
| | | |
| --- | --- | --- |
| | Waiting to get hold of a copy. Amazon has asked to wait for 4to 5 days. | |
---
| | | |
| --- | --- | --- |
| | I am really happy to see Shamik writing a review on my book.. Yes.. I am beside me with enthusiasm and inspired to share the write up of Shamik Bhattacharya. Brilliant analysis of some of the key poems in the collection . Thank you Shamik.. keep on writing. I wanted you the young ones to celebrate the publication of this book.. Thankful to you all young ones... | |
---