There is a mystery related to the functioning of the Congress party that nobody I have asked has been able to clear. The latest episode heightens the mystery. The Union cabinet along with the core group of the Congress party in the presence and with the consent of Mrs. Sonia Gandhi approved the draft of the Ordinance to protect criminal MPs. After the Ordinance was presented to the President he expressed doubts about its legality and delayed signing it. Meanwhile the opposition mounted a blistering attack against the Ordinance. Cabinet ministers and Congress party leaders stoutly defended the Ordinance and accused the opposition of being complicit in the decision to draft the Bill protecting criminal MPs.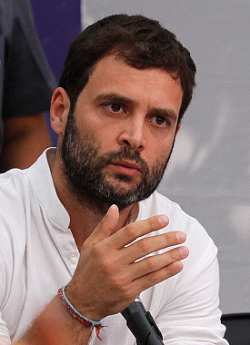 Then Congress Vice President Mr. Rahul Gandhi without notice intervened in a Congress press conference and condemned the Ordinance in very strong and intemperate language. He did this while the PM was abroad about to hold very crucial meetings with several heads of states. The timing of Mr. Gandhi's remarks was so significant that had he not been a leader of such limited understanding one might have concluded that he was representing a hostile foreign power seeking to damage India's foreign policy.

After Mr. Gandhi spoke the cabinet ministers and Congress party leaders instead of criticizing his performance somersaulted and fell in line making nonsense of their own earlier publicly stated remarks. This writer has never in his long career seen such a craven display of sycophancy and lack of self respect and honour as long as can be remembered.

Here then is the mystery.
What is the secret of Mrs. Gandhi's hold on all members of the Congress party? She cannot get votes. Her party is performing badly even in her own constituency despite campaigning by her and her family members. She has been accused by credible international sources of receiving illegal funds from foreign sources. She has been accused by credible international sources of having a secret illegal foreign bank account. She has never taken the trouble to deny charges. She has not displayed any significant expertise related to economic, foreign or political policy. Her son, Mr. Rahul Gandhi, is even less accomplished than her. There are serious and credible allegations of his having been detained in the US possessing unaccounted money and drugs and subsequently being released through intervention of the Indian government.

Despite all this, Congress party members from top to bottom behave like craven slaves of mother and son. One cannot fathom the reason for this. One would like to be enlightened.
In conclusion this writer would like to clarify that he is not critical mainly of Mrs. Sonia Gandhi or Mr. Rahul Gandhi. They look after their interests as all people are expected to. It is the members of the Congress party that attract the strongest possible criticism. So obnoxious and counter productive is their conduct that it strengthens this writer's belief that the Congress party must be buried in order to preserve Indian democracy.