Angad Singh Saluja and his 'Chords of Life'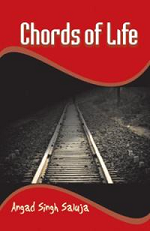 As a freelance journalist (I used to be a member of the All India Freelance Journalists' Association, A.F.J.A., Chennai) I have had interviewed prominent dignitaries since 1998. Interviewing personalities is indeed an art, and I'm quite serious about it. I have never intended to project one's complete biography through the interviews that I held with them. An interview must be case-specific, or else it stands out as an exhibition of one's portfolio. However, as I reviewed Chords of Life by the promising poet Angad Singh Saluja, I made a plan to interview the poet, who is accountable to the huge success of the said poetry book. Dear readers, my questions to my fellow poet were simple:

Kiriti Sengupta: Hello, Angad! I am glad to have you at my interview desk.

Angad Singh Saluja: Hello Sir...Pleasure is totally mine for being considered worthwhile for the same. Thank you. It feels really great.

Kiriti: I would like to know what made you write poetry.

Angad: I never could ever think that I will write anything if be it poetry. Life changed drastically and I took aid of the pen to vent out my emotions. Suddenly I saw repetitive and long paragraphs being written on piles of papers and I took it as a sign of my frustration coming out. But something struck me and I thought to myself that why not give some creativity to this frustration and capture the essence of the situation in fewer words which would save my time, paper, ink and energy. And that is how poetry happened.

Kiriti: Poetry is losing its readership nowadays. What, according to you, are the contributing factors?

Angad: The biggest and foremost reason for this are the big publishing houses which do not give any considerable importance to the genre. The notion set by them that poetry is not profitable is impacting it the most. They just don't even consider the manuscripts by young poets. Secondly,I feel the poets around sometimes write too deep meanings with the use of refined words, idioms and phrases which is not understood by the readers easily. Imagine if you read a genre and don't understand it, would you ever buy it again? Thirdly, the book stores across the nation do not have poetry as a displayed section which again hampers its readership.

Kiriti: Chords of Life has been made available again through the second edition which came out within a year of its first publication. How did you achieve success?

Angad: I never thought it would do that well. The only thing I was confident about was that when youngsters would read it, they will connect to it and feel as if they are flipping their own pages of life. That is exactly what happened and people fell in love after reading my work which got 600 copies sold in mere 3 months. I have been flooded with reviews, personal messages and comments from people across the world in which they have shared the love for certain poems in the book. I am here just to give poetry its share of respect which many editors, writers, and publishers around don't give.

Kiriti: Most of the contemporary authors/poets are now involved in self-promotion. What is your take on this aspect?

Angad: Imagine you go to a fashion store and there is a beautiful dress kept inside the warehouse which you will surely buy if you see it but it's not displayed in the store anywhere. That's exactly why this self promotion thing has started these days as there are so many titles to read that the reader also might get confused. But if you feel that once your book is in limelight, it will catch the attention and would be enjoyed by the readers, I really don't think self promotion is wrong. Also, these days it is happening more due to the lack of support from the publishers on the marketing front.

Kiriti: Are you happy with your publisher, Cyberwit? Please, be honest. How did your publisher promote and distribute your book?

Angad: I totally thank Cyberwit for giving wings to my dreams. They are really doing a great work in promoting young poets all around. The in-house editing team needs to be more careful as certain errors were overlooked by them in my book. Also the team is doing great work when it comes to online distribution of work. They need to focus more on the promotion thing and the expansion of its distribution network in terms of physical book stores. They need to focus on quality titles rather than focusing on number of titles to their name.

Kiriti: What are your forthcoming literary enterprises?

Angad: I am working on the manuscript of my next poetry book which will be ready in a week's time and hopefully the book would be put by the year end. Also an anthology titled "Endless Love" from UK would be out soon which a work of mine has titled "Walking Forever". After that, a fiction novel would also hit the markets which would be loved by every person having a heart.

Kiriti: What is your advice to the aspiring authors/poets who are yet to get their titles published?

Angad: It is very important for the young authors/poets to have a belief in them. The primary focus of your work should be to reach to the people and create a difference in the society rather than just selling being the priority. Also there might be many situations when you would doubt on your talent due to manuscript rejections from the publishers and that is one case which should occur if you have some work which you want to show to the world.

Kiriti: Thank you so much, Angad. It was really so nice talking to you. Thanks again for giving me your precious time.

Angad: Thank you for your time. It was really great answering to your so important questions.
30-Sep-2013
More by : Dr. Kiriti Sengupta
---
---
| | | |
| --- | --- | --- |
| | Superb lines.... | |
---