Prime Minister Manmohan Singh's visit to America has been as successful as could be reasonably expected. It was a crucial trip during which the PM met President Obama, Pakistan Prime Minister Nawaz Sharif and heads of other SAARC nations. In his meeting with President Obama a game changing breakthrough was achieved not sufficiently appreciated by analysts.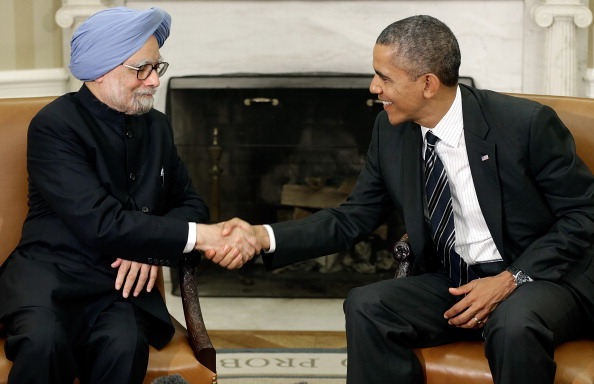 Indian Prime Minister Manmohan Singh shakes hands
with US President Barack Obama in the Oval Office of the White House
September 27, 2013 in Washington, DC.
America and India have agreed to become closest partners for defence cooperation. For transfer of defence technology India's relations with the US are now at par with Britain. This is what Pandit Nehru sought from President Kennedy after the Sino-Indian conflict of 1962 when the latter's death aborted the effort. This is what President Bush sought when he signed the nuclear deal but that effort failed because the Indian government scared of domestic criticism failed to deliver. Now agreement has been reached.

The first sign of change is evident from India's consent to participate in joint naval exercises in the world's largest maritime exercise involving dozens of countries. China is not invited to the exercise and the People's Liberation Army has expressed strong opposition to it. Regardless of the PM's future the Indo-US deal has been signed. It is likely to endure because it is not between political parties but between governments.

The PM's meeting with his Pakistani counterpart was as crucial. Though no breakthrough was achieved or attempted the ice was broken. Contrary to the expectations of skeptics the PM addressed India's immediate concerns about border violations and terror camps. Mr. Sharif did acknowledge those concerns and promised action to stabilize the border. After he delivers some results the PMs will meet to carry the dialogue further. Already undated invitations for such meeting have been extended. If the PM achieved a big step forward towards the US, he also managed a baby half-step towards Pakistan. Now it remains to be seen how the agreements of this visit actually translate into results.

Anyone following the run-up to the Prime Minister's visit would marvel at the number of glitches that suddenly erupted to mar its prospects. And for each manufactured event to scuttle progress in the talks the media played its part by a hysterical negative approach to the visit. The opposition parties by their strident criticism of the PM while he was abroad, throwing all accepted diplomatic norms to the winds, also played its part. It is a well-established norm that opposition parties do not attack a head of state when he is abroad or when opposition leaders themselves are abroad. This is what democratic bipartisan approach to foreign policy denotes. But the BJP launched a shrill attack against the PM demanding an explanation while he was in the US.
The rot started with Congress vice president Rahul Gandhi. He enacted a preplanned unprecedented theatrical performance to rubbish the PM just hours before he was scheduled to meet President Obama. This demeaned the PM in the eyes of the opposition and demands for his resignation were voiced. It is a reflection of our sick state of politics that even the PM's former press Advisor Mr. Sanjay Baru was swept along the popular current to advise the PM to resign. It is amazing that not a single voice within or outside the Congress party has made the obvious democratic demand. After the intemperate, ill-timed and irresponsible statement by the ruling party's vice-president to damage prospects of international negotiations, it is Rahul Gandhi who should be sacked from his post if he does not voluntarily resign. Why should the PM be asked to quit?

Narendra Modi in a public rally in Delhi lashed out at Gandhi. But he was equally amiss himself. In his speech he sought to damage the PM's foreign visit by uttering two falsehoods. The first was that the PM had allegedly lamented to Obama that India was a very poor nation in need of help. From where did Modi get his information? From all accounts the PM discussed terrorism and not India's poverty. The second falsehood was even more intriguing. Based upon a TV quote by a noted Pakistani journalist Modi attempted to further muddy the atmosphere just hours before the PM and Nawaz Sharif were to meet. He quoted Pakistani anchor of Geo TV, Hamid Mir, who alleged on TV that Nawaz Sharif had described the PM as a "village woman" pleading before the US President. This was supposed to be said over a breakfast interview given by Sharif to two other journalists and Mir. The two other journalists, Barkha Dutt and a Pakistani journalist Absar Alam, both denied Mir's version.

It seemed that Sharif said that concerns against Pakistan could be addressed directly to Islamabad instead of to Washington. This was in line with India's consistent stand contrary to Pakistan's earlier approach that Indo-Pak ties should be bilateral without third party intervention. After Barkha Dutt and Absar Alam rubbished Mir's claims the latter confessed that Sharif made no criticism of the PM. He lamely tried to explain away his contradicted version by saying that Sharif spoke in jest. But why did not Mir say this in his original comment on TV? In that remark he even indicated that Sharif considered Manmohan Singh weak and was looking forward to doing business with his successor after 2014.

One will not speculate whether all this happened by coincidence or by design, and if by design, the inspiration of these incidents. Hamid Mir is a powerful and influential TV journalist in Pakistan. Currently there are differences between the Pakistan army and the civil government over how to tackle the Taliban. Nawaz Sharif is seeking a dialogue. The army wants to continue with the status quo by "fighting" the Taliban. Mir sympathized with the army by stating: "It's a very complicated situation. The army does not seem to be in the mood for talks as it has gained a lot of ground against the Taliban in the recent past." Mir should know. He has after all excellent contacts. He was in fact the last journalist to interview slain Al-Qaeda leader Osama Bin laden in Afghanistan in 2002. It is difficult to believe that he could have accomplished this without the clearance, if not cooperation, of the ISI.

In summation, Rahul Gandhi, Narendra Modi and Hamid Mir all passed comments that could have damaged the PM's US visit. Large sections of big business electronic media and the opposition joined them. Modi and Gandhi are repeatedly projected by the media as the two contenders for becoming prime minister. It is ironic that both contenders are on the same side insofar as the PM's negotiations in the US were concerned. It is also intriguing that these three fed on each other's narrative to rubbish the PM. But then, this does not necessarily suggest collusion. It could be pure coincidence.

As for big business that funds both media and politics it may matter little which contender becomes PM. Heads I win, tails you lose! For big business Modi and Gandhi might well be two sides of the same coin. But beyond business interests of the corporate sector there are also powerful international forces interested in damaging relations between India and the US, as well as between India and Pakistan. Now which international forces would be pleased if Indo-US and Indo-Pak elations deteriorated? It is for readers to ponder and arrive at their own conclusions.

Image (c) Gettyimages.com