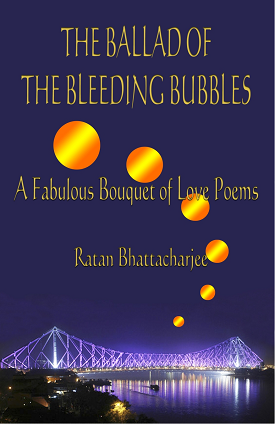 In Ballad of the Bleeding Bubbles, Ratan Bhattacharjee has created a poetic milestone for Indian English literature of our time. His poems are as the eminent poet and academician Jaydeep Sarangi says 'record blue and liquid whisper of hearts where rolling and sparkling lines become reflections of his petty little corner of mind. His theme song is deeply human, and thus deeply universal'.
Behind the literary persona of a great poet there is always a mysterious background of his upbringing. Dr. Bhattacharjee in his introduction to the poems candidly wrote that he grew up as an ordinary boy with an ordinary academic background. But he had always felt in his growing years that he is poetry in his veins. This has been a conviction in the deeper core of his heart which might have resulted in the spontaneous composition of these poems over the years. This happens with many great poets who are committed souls for poetry.
The objective distancing of a poet from his themes is a part of his impersonality as a poet. Dr. Bhattacharjee is very much subjective in his poetic utterance but he utters in the varied rhythms which have the movement of living things. They may be lacking in smooth and static loveliness. What he wants is that after reading his love poems one may sing:
"O lyric Love, half angel and half bird
And all a wonder and a wild desire"
as one sang out in Browning's The Ring and the Book. One will feel amazed to read some lines from a poem called 'Legend Says'
"Legend says,
When you cannot sleep at night
You may be lost in someone's dream
………………………
Legend says,
When you cannot walk alone
Your hand may be in a good friend's hand."
Beautiful and yet so simple, subjective; yet the distancing occurs.
This type of poems reach a lyrical height in the poems like 'You are just a touch away' where the poet says:
"How many poems I really can write for you
Let me count the number
Like the flowers red, purple and amber
How many adjectives I can really use
For your smile and eyes
How many time I should heave my sighs!"
Just wonderful lines reminding us of Elizabeth Barrett Browning's poem 'Let me Count the Ways'
Dr. Bhattacharjee seems to have continued the Romantic tradition of writing love poetry so successfully which few in Indian English poetry have done. Professor Elisabetta Marino of the University of Rome beautifully analyzed this aspect of Bhattacharjee's poetry in her Foreword to the book , "This outstanding debut volume The Ballad of the Bleeding Bubbles with its subtitle 'Melodies and Maladies of Love' by the bilingual poet of Kolkata Ratan Bhattacharjee can be compared to an extraordinary voyage, which both the writer and his readers have undertaken to explore the complexity of human feelings. A wide array of emotions, from passion, hope, enthusiasm, wonder, and anticipation, to anger, disappointment, frustration, sadness, and regret are aroused by his compelling lines, where continents meet, men and women discover subtler channels of communication, and nature ceases to be a mystery, while turning into a friend, ready to share joys and sorrows with its creatures."
I cannot but resist the temptation to quote a few lines from a beautiful love poem which I read in the book:
"Like the sea-waves, passions unfurl passions
We stand on the hills having no motions
Colours perch on heart with a kiss,
What is there in a rainbow but a promise?"
This is the spontaneous overflow of powerful feelings, for sure.
But there are also poems in the second part of the book 'Maladies of Love ' which open a more realistic panorama for all the readers where the poet confesses "my wings are broken and I am no longer able to dream." He inked in these poems the agonies of life, tragic severance, loneliness and above all love feelings, the most vital passion of human heart. Prof .Ecaterina Patrascu of the Post Colonial Studies , University of Spiru Haret beautifully focuses this aspect in her 'Afterword' "complexity of the new book derives from the balance between Ratan Bhattacharjee's 'Melodies' and his 'Maladies' – the second half of his volume. A universe of tears and dark shouts, images of dryness and creative sterility, pessimism about the human fate, appeasing loneliness, and an aggressive or indifferent nature create the image of a conspiring universe, of a place of meaningless changing. The solitude of the contemporary man, the dullness and boredom of a non-conceptual contingency, the routine of everyday life, the repetitive existence that cannot coagulate meaningfully and that implacably leads to an insignificant death, are among the maladies of the contemporary world. To all these, the poet adds the corrupted beauty when motivation lacks, the anxiety of existence in an entropic universe, the life of the distressed or of the barely living, the emptiness of heart and the voiceless of the unfamiliar in one's own land, the burdened fate of the common man's suffering and oppression, the useless cry searching for meaning, understanding and salvation."
All these are wonderful observation and we may read out a few lines from one or two such poem from the 'Maladies' section:
"I gather the rose leaves in the russle of wheat
When I heard your helpless cries.
You left me wary ever after and
The sea enters through my buried eyes." (The Cocktail Party was Over P.67)
The poet of love feels how the European mental restraint operates over complexion of a woman since the days of Dark Lady Sonnets of Shakespeare.
In the poem 'Love is as Flattery of Beauty', the poet writes
"We are born black, we are poor and alone
No message ever blinks on our phone
Love is for us a forbidden zone
In our life the crescent moon never shone."
The melodies and maladies of love were his concern. But the very term 'ballad' in the title seems to be no less significant as nowhere in the book, the poet has not used the ballad meter for any of his poems and they were deliberately not composed in couplets with refrains in alternate lines. One may easily understand that the poems are not couplets (two lines) of rhymed verse, each of 14 syllables. But there is a melodious narrative surely suggestive of "dancing songs" as the
ballads have often been called 'ballares' since the Medieval Age in France or Scottish ballads such as Tam Lin. Nor are these poems broadside ballads' of the sixteenth century Europe. One feature of ballad is there in the poems of course as each of them contains a story of love with an undercurrent of pathos. The couplets in the poems do have the flow of run- on lines closer to acoustic-based folk song,
simple and easily understood by readers and yet are allowed to reach a high tempo in the final section of each of them as it occurs in an American Power Ballads which came into existence in the early 1970s, when rock stars attempted to convey profound messages to the audiences. But here in these poems, the poet breathes lyrics like Shelley in 'profuse strains of unpremeditated art'.
In the final analysis one may find that the poems of The Ballad of the Bleeding Bubbles are the outcome of the poet's interactions with men and women in reality and dreams. He talks with his characters in his poems and there are still some with whom he had an imaginary conversation. Even the most fabulous characters are all real to him. The poet himself says "My passions and feelings are all genuine. They are quintessentially tangible.
Read out the few lines from this poem 'Your Hello Blinks on My Cell Phone'
"Your 'Hello' blinks on my cell phone
When I feel your presence when I am alone
I become a river with a boat sailing for the ocean
Cadences of bonding suddenly seek expression
Your words haunt me like Sundari trees
Waiting for rains in Sunderban
I record my pangs of sorrow and pain
Borrowing them from a rainbow drenched in rain"
In 'You are the Definition of Beauty" Bhattacharjee's elegant lyricism involves the reader (who is lulled and appeased by the author's evocative and rhythmic lines), and stir his/her sweetest feelings
"What is beauty? Where lies beauty
It's not in diamond, not in emerald, but in Ruby
You yourself are the definition itself
Your beauty is Truth, believe me, I never lie,
I don't believe, I never will believe,
Beauty is born only in the viewer's eye."
The importance of universal communication is highlighted in many other poems through recurrent water images: oceans ('My Heart Becomes a Continent'), rivers, the pulsating veins of the planet ('Poems Connect') and Nature ('Nature has a wide within'). They all remind us that nature abhors divisions and partitions and her example should be followed.
"Like the frustrated people, I never take refuge in Philosophy" writes Dr. Bhattacharjee . The poems range through virtues and the vices with the magnificent boldness of Rumi poems. He is one of the very few poets who, echoing the Creator, can declare that the world is good and Love is best. The objective distancing of a poet from his themes is a part of his impersonality as a poet. He wanted to utter in the varied rhythms which have the movement of living things. In the Maladies section, they may be lacking in smooth and static loveliness. Nevertheless, what Elisabetta Marino observes may still be true : "Ratan Bhattacharjee's words are a soothing balm, restoring peace to the troubled heart."