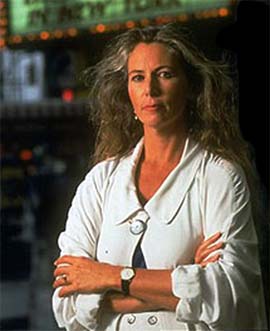 Catharine MacKinnon, a well-known American feminist, scholar, lawyer, teacher and activist, specializes in sex equality issues under international and constitutional law. She pioneered the legal claim for sexual harassment and created ordinances recognizing pornography as a civil rights violation, along with the late Andrea Dworkin, a leading figure in the feminist anti-pornography movement. The Supreme Court of Canada has largely accepted MacKinnon's approaches to equality, pornography, and hate speech. On a recent trip to New Delhi, MacKinnon spoke on the issues of prostitution and sex inequality, saying that sex inequality in all its forms should be abolished step by step, not tolerated by law. An interview.

Q: Why do you regard prostitution as sexual slavery?
A: Prostitution one cannot get out of was defined by Kathleen Barry as sexual slavery two decades ago, a concept largely accepted by the concerned international community. It is well documented that most people who are prostituted worldwide want to leave it and cannot.

Q: Why do you think that prostitution should be stopped as opposed to many arguments, which favor legalization of prostitution?
A: Sale of a person for sex is an industry of abuse that is a cornerstone of the inequality of the sexes. Women are sold for sex by force of arms, rape, or circumstance, usually desperate poverty, caste, or race, because they are women under social conditions of sex inequality. Sex inequality in all its forms should be abolished, step by step, in a practical way suitable to conditions in each place, not collaborated with or tolerated by law. No woman fights to become a prostitute; she is in prostitution because her fights for any other life have been lost. Women everywhere need real alternatives so they can live independent lives, and they know it.

Q: What has been the experience in places like Australia, which has legalized prostitution? Also Sweden has been one of the first countries to penalize the buyers. What has been the experience there?
A: Where prostitution is legalized, trafficking for prostitution explodes for the simple reason that once the women and children are delivered, there is no barrier to the profits from their sale. Illegal prostitution explodes for more complicated reasons - including because the buyers want conditions (like no condoms) and practices (like overt torture) that legal prostitution tries to prevent, and because women do not want to consign their lives to prostitution, as they have to do to become a prostitute legally. Sweden decriminalized the prostituted people and criminalized the buyers as well as the sellers, and enforced its law. In the studies we have so far, prostitution has decreased to a tiny fraction and trafficking is at the lowest rate in Europe.

Q: Why do you think criminalizing the buyer is the best solution?
A: Because the reason prostituted people are sold is because there is someone to buy them. Prostitution is demand-driven. Pimps are in the business to make bank deposits, and the engine of that process is the buyer. Criminalizing the buyer is the best approach because it is the only approach that works.

Q: Criminalizing the buyer means loss of livelihood to the commercial sex workers. Rehabilitation is an area of problem in India. How do you think the government can be pressurized into ensuring proper implementation of adequate rehabilitation for such women?
A: The vast bulk of the money for commercial sex does not go to those who are sexually used, but to those who run the industry, including the landlords and other pimps. Most people who are sold for sex continue to be kept poor, indeed in debt bondage to landlords or beholden criminal gangs who terrorize them and forcibly prevent them from doing anything but prostitution. Guarantees of capacity-building programmes need to be built into the same laws that criminalize perpetrators, so that prostituted people can build the lives of their dreams, and lives for their children, which do not include prostituting. And those groups and lawyers who are so good at criticizing proposals to end this exploitive industry for reasons of government corruption need to turn their attention to making certain that these programmes work for those for whom they are intended.