Dr. Ratan Bhattacharjee is a bilingual poet and with his debut poetry book 'The Ballad of the Bleeding Bubbles' a fabulous bouquet of love poems he has created a milestone in the literary world chiefly because the book has celebrated love for the young generation. It is being loved and adored by each and every person who is fond of love poems. A young reviewer from Kolkata , Shamik Bhattacharya says, "Even though the book's title presents a serious tone, Bhattacharjee shows the natural in the human world. One can't help going into temporal bliss while reading the poems."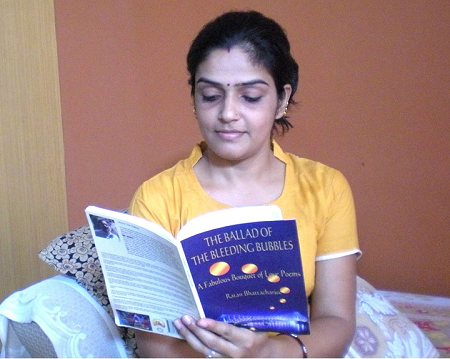 A plethora of comments come from eminent academicians and poets for the poems in the book. Dora Sales of the University Jaume I Castellon, Spain wrote in the introduction to The Ballad of the Bleeding Bubbles, "Dr. Ratan Bhattachrjee is a valuable poetic voice to be heard. He has written a compelling collection of love poems that cover many hues of love: softness, longing, desire….all written with a simple and delicate poetic touch." It is really an indication of his humbleness as a poet that Dr. Bhattacharjee has acknowledged each and every person related to him directly or indirectly. From Prof. Dora Sales to Prof. Ecaterina Patrascu, from dramatist and director Mahesh Dattani to Danish Jawaid Saheb, from editor, poet Prof, Nandini Sahu to Rajender Krishanji everyone who helped him in the making of these poems. He has even mentioned his facebook friends and fans. This is an important aspect of the book because no other poet has so overtly recognized the utility of social network sites in creative aspirations. The facebook postings of the poems over the years have made Dr. Bhattacharjee a popular poet. His readers spread all over India and abroad. The celebration over the release of the book is really astounding.
Dr. Ratan Bhattacharjee is a poet who knows how to express emotions through verses and rhymes. His each poem can be cited for this. I felt as he has a rainbow of thoughts in mind which I can read in
"Where is the rainbow seen?
In the sky or in a man's mind?
The seven colors run a riot
When your lover is kind." (What is there in a Rainbow?')
This may be the Wordsworthian poetic exercise "the spontaneous overflow of powerful feelings." And Dr. Ratan Bhattacharjee's poems enrich the feelings with intellectual profundity. In poem after poem he has woven the magic spell of creating ambience for his readers who are eager to have a tangible graphics of love .
Few lines from the poem evoke all the passions for example in the poem 'You are just a touch away'
"How many poems I really can write for you
Let me count the number
Like the flowers red, purple and amber"
These few lines made me recall E. B. Browning's 'How do I love thee? Let me count the ways…."
Dr. Bhattacharjee has created interior monologues in his poems. D.H. Lawrence once said, "Life and action take rise actually at the great centers of dynamic consciousness." Dr. Bhattacharjee in his poems has exactly done that. He passionately believes in the presence of mysteries of life which cannot be known through intellect only, because emotional overflow can enrich our comprehension and consciousness. Aju Mukhopadhyay, eminent senior poet of Indian English Literature says about Dr. Bhattacharjee and his book, "Ballad of the Bleeding Bubbles that in this book of love poems in English , he has poured himself out …mainly as a romantic poet of the present age." We may modify Aju Mukhopadhyay's comments by adding that Dr. Bhattacharjee has a neo –romantic craving in the first section of his poems which may be called 'the pink rose section' contrasted with the 'pale rose section 'in the latter half . He calls the latter half 'Maladies of Love' where he goes beyond the so called romantic sentimentalism. His strong denunciation of the conventional way of looking at life and love is reflected so loudly in the second section. Eminent Academician and Writer Prof. Elisabetta Marino of the University of Rome beautifully analyzed Bhattacharjee's poetry in her Foreword to the book by saying, "A wide array of emotions, from passion, hope, enthusiasm, wonder, and anticipation, to anger, disappointment, frustration, sadness, and regret are aroused by his compelling lines, where continents meet, men and women discover subtler channels of communication, and nature ceases to be a mystery, while turning into afriend, ready to share joys and sorrows with its creatures."
In an interview given to a Kolkata based Editor-poet Santanu Halder Dr. Bhattacharjee said, "My grandfather was poetic, my father is a crazy soul for poetic expressions. I was very much moved by Mayakovosky and Sukanta. I had a photograph of my young age in which I posed as Sukanta. So much I liked his simplicity of language and the revolutionary urge." Yes, his simple words have created a great stir in the mind of the young people reminding us of Lorca's poems whose use of simple natural images, birds, flowers, trees, sky, rivers registered a protest against the inhuman brutality of Franco's dictatorial regime. There is an apparent simplicity in the images and symbols used in the poems. His expressions are frank but far from being casual and vulgar, they reach into the deep of human mind. They stir the deepest emotions. Dr. Bhattacharjee is love with sea, ship, clouds, rain, trees, stars and he has portrayed them in his poems so fantastically that will made the readers fall in love with the poems and of course with the poet. A few lines from one poem of his are leave an indelible impression on our young mind,
"You made the promise and me to keep
I was the sea and you had been the ship
My ship had a strange name
Love Me For Ever."
Only a poet can express the feeling of love and the pain of missing him/her in verses in this fabulous way.
"When the boughs are loaded with mango shoots
I miss you since the dawn
When frosty winter lashes at the door
I miss your warmth in the lonely room."
How beautifully the pain of missing the dear one is expressed. Everyone can relate oneself with this as we all miss someone. In the today's world where everything happens through internet and facebook has become the basic need of today's youth, Dr. Bhattacharjee used this theme too in his poem 'When you rejected my request for friendship on facebook.' So real and so kind of him to treat the facebook addiction of the young generation in a corrective way. Facebook creativity is never before extolled as in his poems.
Dr. Bhattacharjee defines love in poem after poem. His poems are a perfect head and heart matter. He is a versatile man who from his childhood days used to take risks. He is a lover of adventurism and freedom. He said in an interview to Santanu Haldar. "I loved military training. Netaji in uniform appealed to me most. But at the same time I loved I can undertake any venture, be real or imaginary. That is the best achievement of my childhood days." He candidly expressed about his life, works and thoughts. He further say, "You know I used to compose songs and one song on Paul Robson and one on literacy programme were recorded by HMV. At that time I was a student of College. I loved Sukanta and Jibananda and Lorca poems in my student life. Dickens' David Copperfield was my topmost favourite." This shows the shades of this poetic genius.
In the book he inked two different shades of life, one is love and another is loneliness, despair, tears. First half enjoyed love and second half celebrated loneliness. In ' My Days Are Silent' the poets expresses the pain of being alone
"My days are silent and my nights are loud
Oppression and tears cover my sky
Like the dark and monstrous cloud."
In another poem 'I felt like a wounded peacock' the poet says
"Only me it was to feel the scar of its wounds on its long tail
Monsoon of hope faded and in the jasmine garden
I shivered like a dry creeper with an empty heart."
One more poem which shows despair and loneliness and made my eyes wet is 'At the End of the Long Road'
"I groaned under the sorrowful chains
None was there at the end of the road
To carry the sorrowful load
When I suffered from writhing pains."
On this Prof .Ecaterina Patrascu of the Post Colonial Studies, University of Spiru Haret beautifully focuses in her 'Afterword': "The solitude of the contemporary man, the dullness and boredom of a non-conceptual contingency, the routine of everyday life, the repetitive existence that cannot coagulate meaningfully and that implacably leads to an insignificant death, are among the maladies of the contemporary world. To all these, the poet adds the corrupted beauty when motivation lacks, the anxiety of existence in an entropic universe, the life of the distressed or of the barely living, the emptiness of heart and the voiceless of the unfamiliar in one's own land, the burdened fate of the common man's suffering and oppression, the useless cry searching for meaning, understanding and salvation."
Jaydeep Sarangi a poet and academician from Kolkata writes, "Ratan Bhattachajee's poetic canvas is multidimensional and it includes life's daily acts; each rainy moment. Anchored in Kolkata, the poet dazzles with universal appeal that engages a sensitive reader."
The poet has succeeded in touching the heart of the readers. He has used beautiful images and words to match them. The simplicity of his poems will make the readers connect with them. I read the poems again and again. "Readers can not miss the spontaneous overflow of emotions, feelings, pathos, thoughts- captured well and versified. Passionate simplicity, poetic beauty, aesthetic sensibility- these form the soil material from which the seedlings of his poems draw sustenance and grow.", I totally agree with what Ambika Ananth, Eminent Poet and Chief Editor of 'Muse India' and Literary Section, 'Reviewer' of Poetry Section, The Hindu, writes.