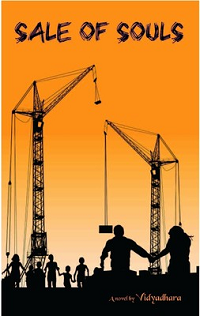 An awakening theme with an astonishing title and an insignificant tagline makes this book remarkable for its conceptual facts and details regarding the scenario of land acquisition in this era of globalization. It will be better to say, that, Sale of Souls is a remarkable story of land acquisition in the backdrop of a love story of two village youngsters where the gullible villagers keep fighting with their own confusions in order to either retain their ancestral village or the concession provided by the government.

Roshni, a young girl from the village, who has just enrolled as an advocate, joins the confused poor villagers to fight the powerful lobby of industrialists and politicians. Samar, a young professor, as a protagonist trying for a placid solution to all the issues in the village with his approach of 'sustainable development' finds himself in love with Roshni; which proceeds towards a surprising end of the story
.
The story is set in a remote village on the coast of Canara, known for its beautiful environment and bio-diversity, which is earmarked for land acquisition. The story basically revolves around the sensitive issues of crisis and conflict within the landmarks of poverty vs. development vs. environment; where love gets least space in the narrative.

Sale of Souls by Vidyadhara
Leadstart Publishing, ISBN-13 9789382473664, ISBN-10 9382473661 291 Pages.
Review in association with thebookaholics