Bonsaied Rhapsodies, Santanu Halder, Rochak Publishing, Allahabad,2013,Rs.200/ pages 61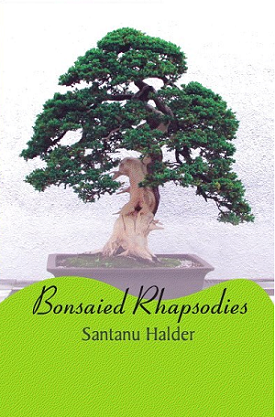 Bonsaied Rhapsodies is a wonderful magic world of creativity where a young man breathing profoundly on the bank of Icchamoti river makes his emotions flow without any break creating ripples of observations on man and nature. I did not have time for writing the introduction to the book because I wanted to read them first and then comment. If Santanu Halder is a poet or not that is given to the posterity to tell. But he is genuinely passionate which the hallmark of any great poet is. So I was a little reluctant to write about his poems before reading them each of them each line in them. It took me a long time to finish the job but the moment I finish reading them I cried loudly like a child, the energy that bubbles up in them, the dynamism that marks his poems and the great feeling for nature that is envisaged are all indeed enough to announce the advent of a good poet. His greatness will be measured by his readers. I focus on other aspects of the book.

Santanu's poems as poet-editor Sunil Sharma says in the Introduction have 'a healing and aesthetic effect'. Jaydeep Sarangi, another admirer of his poems beautifully says, "He converts his energy into poetic exercise with an elegant cadence". Very true for this energetic man! If he were born in Wordsworth's time, like him he might cross the English Channel to join the French Revolution and read Rousseau's writings.

Everything that Santanu sees, he recreates the next day. Ideas bee up in his mind and he emulates all those are great and good in the poetic world. This is something like following the tradition and enriching it with individual talent. He does not live in a metro city. But he uses his costly mobile for multiple purposes from text messaging to downloading sites and making websites. He can show the guts to become overnight an editor, a writer, and above everything a poet. He goes to Mumbai poetry festival an unknown unsung person, but the return of the native is a grand celebration for Indian English poetic literature. He published his debut volume 'Bonsaied Rhapsodies'.
Just amazing to see the overnight transition of Santanu the teacher into a poet. Incredible, but not unbelievable fully. He publishes the poem overnight but he writes them for a long time. So he grows slowly not as many may think abruptly at the touch of Saraswati or a Greek Muse of poetry from Mount Helicon, he starts writing wonderful verses. He has given much sweat for his poems and they are the outcome at one level of the reality that he has seen and at other level of the world of which he dreams.

The bond with the living things and men are created very carefully by Santanu who can say: " Poetry is like a river / Which runs through my blood". Ampat V. Koshy is a straight forward man who loves to say harsh truth if needed. But he too gets mesmerized to read Santanu's poems. " I find Santanu a careful poet', grins A.V. Koshy in his Foreword. Yes, he is careful which usually poets are not to select and deselect, as poetry is after all as Coleridge says 'best words in best order'. The book is a joy of bonsaied heart as he gives the title to one of his poems in the volume. His joy is in the announcement of a new dawn. Yes, poets have a duty like that and Santanu observes it, "My pen chronicles a new dawn/ A dawn full of promises".

I have some reservation regarding the use of the word 'chronicle' because it refers to the past while Santanu envisages the future. This should be 'My pen records', would have been better from the grammatical choice of words. But the poetic utterance is so vigorous that we never mind the petty mistakes and attribute them to a grammarian's funeral. Santanu is a good friend for many of us which from Sunil Sharma to A.V. Koshy will readily agree to. But he suffers intensely because of the indifference of so many to him. He speaks in a sorrowful voice, sometimes he begins with a bang but ends with a whimper as the beauty of life that he dreams of on the bank of Icchamoti river vanishes and the flood that engulfs everything without a mind like a demon becomes most prominent in his poems. They reverberates again and again in his poems where Santanu recollects in his tranquility 'the pains which I got'.

I am spellbound by the artistic use of images in the poems of Santanu. River is not a word but an image for Santanu. The green grass or the insects, the boat that sails towards the unknown and the men and women who live under the greenwood tree are the subjects of Santanu in nearly all his poems. Poetry here beckons us to Nature, to visit Icchamoti, which is far away from the madding crowd. We wait for the second volume of Santanu's poems and we are waiting for better poems from this great poetic mind. His words in the Bonsaied Rhapsodies flow like Icchamoti and readers can easily saunter like clouds reflecting in the serene water of emotions with the boat of imagination sailing forever.