Interview with Jawaid Danish
Kuch Kam Nazar Yeh Manzar Hairat Se Tak Rahe Hain
Kajla Rahey Hain Suraj, Zarrey Chamak Rahey Hain....Jawaid Danish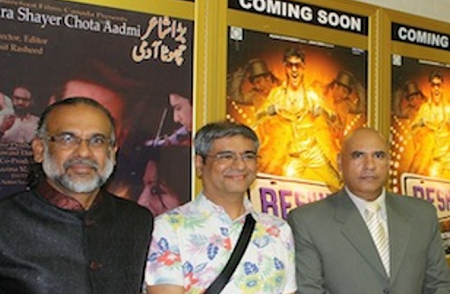 With the release of Bada Shayer Chhota Aaadmi, Jawaid Danish is once again on the limelight of attention of the world of literature and film in Canada. The eminent English dramatist of India, Mahesh Dattani has been in the Inaugural ceremony on September 30 where the film had its premiere show and where the Jawaid Danish, the producer of the film has come out with flying colours with all the seats filled up and all tickets sold out in a day or two.
Bada Shayer Chhota Aadmi was spectacular success. The film deals with great poets and artists visiting Canada from India and the satirical portraiture of the 'behind-the scene' IIn his recent review in East West News, Dr. Sehdev Kumar, Professor Emeritus at the University of Waterloo rightly says: Bada Shayer Chhota Aadmi marks the debut of Urdu cinema in Canada. For our voices and stories to be told, and to be heard, by the others in Canada, and by the world at large, a film like Bada Shayer Chhota Aadmi makes an important contribution in that direction. It speaks well of the commitment and artistic vision of the makers of this film that they have already announced the launch of another Urdu film, "Tanhaiyaan Muskuraane Lageen!" This is most welcoming news for all of us who wish to see South Asian film artists in Canada make a place for themselves."
On this great occasion of the release of this outstanding film, Pooja Sharma and Dr. Ratan Bhattacharjee jointly interviewed Jawaid Danish, the writer and Producer of the film and the Founder Director of Canada Rangmanch who spoke elaborately over the mobile from Canada and also emailed the important information regarding the film and his other writings. Jawaid Danish sent two photographs and a few reviews published along with some u tube links for enriching the interview. This is a great moment for all Indian living abroad and Danish is an India diaspora in Canada. The interview focuses on the experiences a Bengali immigrant in Canada.
Jawaid is now almost a decade into stupendously successful career spent writing about the Canadian – Bengali immigrant experience. His books are not always the best seller, but a bilingual writer he had been here with Bhopa, a collection of plays written in Bengali and written in Urdu are just a commendable feat. There are not many authors who prefer never to give interviews and maintain a high profile of themselves and Jawaid Danish is one of them. His write ups swell a tide of new fictional voices in Urdu and Bengali: immigrants who write about displacement and deracination. In the plays eight in number he reminds us of the impact of the harrowing experiences of partition of the country as we find in the Thanda Gosht of Saadat Hasan Manto, Peswar Express of Krishan Chander Lajwanti of Rajinder Singh Bedi, The Quilt of Ismat Chughta whose work stands for the birth of a revolutionary feminist politics and aesthetics in twentieth century Urdu literature and particularly about the middle class people of India and also the poems of the author of Naqsh-e-Faryadi, Faiz Ahmed Faiz, or in the writings of Prem Chand.
In the Foreword to the book Bhopa, Amar Mitra a leading novelist of Bengali literature referred to Urdu-Bengali writers Afsar Ahmed, and poet Kalim Hajik who translated the famous Urdu book of Abdus Samad. In a similar way the outstanding translation of the Urdu Plays of Jawaid Danish were translated by Mohammad Saleheen and Kishore Kumar Biswas and in all these plays Jawaid focused on the social inequality, almost as a central theme in varied forms. The eight plays , particularly Bhopa ( it is a Bengali translation of his major work 'Hijrat Ke Tamashey' in Urdu )which is outstanding for being a voice of tremendous protest against apartheid in South Africa with the inimitable Black Sergeant Nan Dany's final utterance: 'I am proud of you my comrade' or the purposeful use of the poem of the socialist poet Faiz Ahmad Faiz. The slogan reverberates throughout the play: "Down Police Force". In the other plays, Jawaid makes Toronto the common backdrop and the sufferings and anguish of the Indians living abroad are the main subject.
Rootlessness is a theme for the diasporic writings - be it fiction or play or poem and the plays of Jawaid are no exception. The other dimension relates to the refugee life of the Urdu speaking Muslims. What is great about them is that Jawaid never looked gloomy morose as a profound sense of humour permeates all through his writings. The Prabasher Prohasan forms the base of Bada Shayer, Chhota Aadmi. Besides there are a collection of Radio plays Prometheus, Travelogue of Europe and America Aawargi, Translations of African Literature Kale Jismon Ki Riyazat, Travelogue of Japan and Far East Mazeed Awargi, Translations of Global Folk Tales, Wirsa, A collection of plays on immigrants problems and pleasures, Hijarat ke Tamashe, Hindi version of Mazeed Aawargi, Ek Aur Aawargi, and the fantastic translation of Israeli / Palestinian Literature and Problems Ek Baap ki Aulaad. The collection of plays Chalees Baba Ek Chor and the collection of Sufi Fables Ya-Ishq which are coming soon and are not printed yet reveal the multi-dimensional edges of Jawaid's effervescent creative talent.
But like a majority writers of diaspora tradition, Jawaid does not stop with the portrayal of the darkness of human psyche even though he witnessed the progressive decline of values around the Partition. He loved the zest of life in the midst of struggle. He took recourse to dark comedy and satire in depicting the unpalatable truths about the Canadian life style and the Indian mean-mindedness which is a theme Bada Shayer Chhota Aadmi itself. Lonely and trackless existence of the Indian diaspora attracted Jawaid again and again. Our country, India has so many cultures, so many languages, but in all of them Urdu is considered as the most sophisticated and rich language. Jawaid Danish is a name that is familiar to all Urdu lovers. He writes poems, prose, dramas.
Born in a middle class family in Calcutta (now Kolkata) he was blessed with the literary environment from the birth. His father was a poet and he enjoyed his father's poems from his early days. He is a versatile man. He has his different shades at different times.
He took degree in English Literature and Drama, but preferred to write in his mother tongue Urdu. He had seen both Hindu and Muslim cultures closely as his father had Hindu friends and he used to visit them on functions like pooja and festivals and they visited his place for Eid too.
He became radio artist when he was teen. With that he started writing gazals and doing comedy on stage. He loved travelling and for that he started doing tuitions for money. He got a chance of writing travelogue from a local newspaper Mashriq in Kolkata. In 1978, working with radio and television, he received a sponsorship from a newspaper to write a travelogue of Europe and America. For this purpose he travelled widely, and his travelogues appeared in Kolkata and Delhi newspapers. They were so popular that they were later published in book called Aawargi (Wanderlust) in Urdu in 1982..
Interview with Jawaid Danish
Pooja Sharma (Henceforth mentioned as PJ): Sir, would you kindly tell us about your family parents, and your childhood days? It will be quite interesting as you are an Indian diaspora in Canada.

Jawaid Danish (Henceforth mentioned as JD): O yes, sure. I was born 6th of Nov. 1954, in a middle class educated family in Calcutta, now called
Kolkata. My Father a Poet and a white collar Government Officer, taught me the power of Pen. Actually the family hailed from the traditional mystics and sufi school of Lucknow.

PS: Great it is to know that you are related to the Sufis in India.
JD: I believe like the Sufis in three golden words: Tolerance, Acceptance and Love. It is the practical theory of coexistence.
PS: Where did you do your schooling Sir?
JD: I did my schooling from St. Anthony's H.S.School in Kolkata and then my
B.A. (Hons) from Aligarh Muslim University.

P.S. What were your ideals that time as the creative young people usually cherish?
J.D: We enjoyed the "Ganga jamani Tahzeeb" (multicultural Hindu muslim values) in our childhood, Our family was broadminded, and with the influence of sufi beliefs, we learnt from diverse cultures and belief.
P.S: Will you tell us something about your parents and their approach to human outlook and non-communal approach?
J.D. "O yes, why not? They automatically come to conversation. Our father had some very nice Hindu friends, one I specially remembered, very respected Urdu poet, Allama Arzoo Saharanpuri, clad in white kurta pajama and Nehru cap, I always thought that he is a pious Muslim, but he was Pundit Jugal Kishore Arzoo Saharanpuri, a Brahmin from U.P., we lack that culture these days. It was the norm in literature those days.
P.S: At that time poets crossed the communal barriers. Would you give some examples?
J.D: There are many. Muslim Urdu poets were writing about Krishna, and Hindu Poets were composing Naat or Poems in Honour of Prophet Mohammad. There was no political malice among neighbours. Puja prashad and Eid
Sseewayeen was equally sweet and enjoyed and respected by all
P.S: What in your opinion do you think that our cultural life is changed greatly?
J.D: I am not very sure. But I know Politics had a great impact on everything in the post partition era. Then came religion and language and everyday life, and changed our cultural heritage. I think we need the Bhagti and Sufi movement once again in our Indian Mosaic.

P.S: A few words about your coming to theatre and writing dramas.
J.D: Had a wonderful childhood, Bengal gave me the gift of theatre, in my teen I became a casual Radio artist and a comedian on stage. I started writing Ghazals and use to sing on stage, and write.

P.S: You have suffered much like the other diaspora and in the post -partition era, but your comic skits are quite interesting.
J.D: It was my Mentor and professor Gurudas Bhattacharya, who asked me to choose between singing and acting, He taught me voice modulation and recitation Abriti, and encouraged me to write full length plays. Although my schooling and degree was in English literature and Drama, I chose to write plays in Urdu, my mother tongue. I wrote quite a few plays during my university days and staged them in Aligarh and Kolkata.
P.S: Yes, huge activities and yes, we know that.
J.D: (smiling: Those days every young writer was so called leftist in Bengal, my plays were also propaganda based loud slogans. During my university days my only passion was travelling, I used to do tuitions to collect money for my Travel ventures, my colleagues used to laugh at my dreams of travel round the world.
P.S: How did you exactly come to this writing and stage activities?
J.D: (with a vacant look for a minute!) A family tragedy occurred. Suddenly my father was diagnosed with cancer, and it changed my whole life. A comedian, singer, and radio T.V. Actor and all for money making.
P.S: You know Beethoven too sang for earning his livelihood in his boyhood days.
J.D: Really! I am surprised. Yes, but I turned into a serious playwright in the pressure , kept comical skits aside and started writing tragedies in the pressure (giggles). I wrote travelogue and many such assignments for newspapers.

P.S: Tell one name.
J.D: It was a local newspaper Mashriq in Kolkata.
P.S: When did you go abroad for the first time and for what purpose?
J.D: Yes, it was the winter of 1979, my first stop was Paris, it was a dream come
true when I travelled Europe and America for three months, from every city faxed my articles to Kolkata, and it was getting published every Sunday morning with attractive photos of my venture. It was an instant hit, Urdu readers were not familiar with such detailed travel accounts. Travelogues in Urdu, especially from Kolkata was not common. My safarnama Awaargi (Wanderlust) was the first of its kind, also first time a color offset printed newspaper in Urdu published it. It was repeated in some newspapers and literary tabloids in Delhi. Readers from Kolkata to Asansol waited eagerly for Sunday editions to read my travel ventures.
P.S: The travel accounts came in book form nah?
J.D: Haan, it came in 1980 in a book form. Even after 30 some years, it is still popular and last Dec 2012, I had been in Kolkata, and some literary organization, organized a meeting in my honour, and I was amazed to learn, people still remember Awaargi and one reader made me cry, when he said
that, "I read it whenever I am down, and it revive my spirit, it has a healing power and made me smile. It got published twice in Kolkata, got an award from W. B. Urdu Academy - Kolkata
P.S: Congrats sir, it is a great time for you as well.
J.D: This book encouraged other writers from Kolkata to write travelogues, but still writing travelogues in any vernacular language is not common. Then friends and fans started asking when I am writing second Travelogue It came after 10 years, my travel accounts of Japan and Far East. Mazeed Awargi (More Wandering) became more popular among readers, it was translated in Hindi, and both have two editions each, recently someone in Kolkata is translating it into Bengali.

P.S: Travelling is good but will you tell the Boloji.com readers why you had left your native place?
J.D: (looked reflective) As I told you earlier, after my father, I was the sole provider for the family, and even after working double jobs, it was hard to provide 1 younger brother and 4 sisters and an ailing mother, it was very difficult. After my travel abroad, and getting the fame, I came back to Kolkata, but got some connection In New York; I was not ready to go to Middle East, so I convinced my mother and packed for USA. I lived in New York for three years, did all sorts of odd jobs, and then finally got a job in a local T.V, channel 47, as a script writer and news editor for 150.00 dollars a week.
P.S: Really! Wow!
J.D: Yes, Poojaji, there I met a senior producer, who suggested me to write commercials, jingles for T.V and also do voiceovers, this was also not easy, as I was paid 5.00 for one ad, and they charge from the party some 300 dollars
for 30 seconds ad, but soon my voice, script and jingles became so popular,
that I started charging 200 to 500 dollars for a minute ad. I was like a machine, working three nights was more than enough for me and my family back home in India. But soon I started to realize that I am burning candle from both ends. My creativity was dying in these commercials, moreover I was not impressed by New York, and it was over crowded and filthy like Kolkata.
P.S: Sir, how did you come to Canada?
J.D: That's a long story again. But today I remember that fine morning when I had resigned from T.V. and came back to Kolkata. Took rest for 6 months, and immigrated to Canada in 1983. I used to visit Toronto, for Mushaira (Poetic gatherings) on invitations, to read my Poems. Canada was peaceful, clean and hospitable.
P.S: Uff, but once again, you had to start from zero!
J.D: Yes, but over the years, things started taking shape, and here I am, all settled and with my family. I met Uzma in Toronto, through a common friend, and in 1990, after settling all the dues, and responsibilities of my Kolkata family, got married in 1990.
P.S: Married? Means your age at that time? In 1954 you were born. It means you married at the age of 36 years.
J.D: A little late nah? Yes, sometime happens. I kept telling my mother, and also convincing myself, that soon I will go back, but then realized, although the roads are open, I have burnt my boats. In the earlier days, with the support of some of my Indian friends in Kolkata, I did some import business, but later realized, business is not my cup of tea. I had a family to maintain, but still I disliked business.

P.S. You wrote so many books, but which one was your favorite?
J.D: Yes, I have no problem in telling that. Usually writers have problem in choosing the favorite. My favorite is my Book of Plays, Hijrat Ke Tamashey is my major work and all-time favorite, It opened a new chapter for me in play writing. There are five plays in this collection, and it deals with the pains and pleasures of Immigrant life in Canada, in fact in the west. There are plays in English in Diaspora writings, but this was the first attempt in Urdu, as I am told till date there is no other Book of plays in any other Indian language, dealing with immigrant life and experiences, these plays has been translated in Hindi, Bengali, Kannada and English also in Swedish. These plays are produced on stage and in a T.V. serial – named: Canadian Desi in Toronto. One of the play "Bara Shayer Chota Aadmi" is recently used for my Film, more over this Book is selected for an M.phil, thesis by Delhi University this year.

P.S: Sir, you have been associated with Rangmanch –Canada for a long time.
J.D: Yes, right you are. I came to Canada in the early eighties, that time there was no established Ethnic Theatre group in Toronto. Cultural activities were confined to Indian Dance in some Mandir space, and Poetic Gatherings in summer, special attention was given to Bollywood style singing in weekends or festive Gatherings. Whoever immigrate here first struggles to get settled, jobs, family and cultural shocks, then comes the thought of preserving your own culture language and heritage. Besides getting settled, I concentrated on reading and writing quietly in this new land. Most of my books are from the ninety's. Then I gathered a group of actors, and started Rangmanch-Canada in the year 1994. First few years we staged single plays, than I started Hindustani Drama Festival, in 2004 - it was one of a kind, where 10 different Indian language plays were staged, we have staged for the first time in Toronto play even in Sanskrit. Now we are expanding our venture and starting South Asian Theatre Festival International, where groups from U.S.A, India and Pakistan are willing to participate.
P.S: Rangmanch-Canada is not just any theatrical group; it's a non-profit Indian Theatrical organization. It's an institution where new writers and actors are trained, promoted and given offers in our plays.
J.D: Yes, Poojaji, you are right, I strongly believe that in this age of chaos and confusion, Theatre is a great source of comfort and Healing.

P.S: Will you kindly tell us about your coming to film?
J.D: Theatre and not film is my first love, I am primarily a playwright, but there are times you want to explore other art form, for your expression. As I said before my expertise is plays on the life of an immigrant.
P.S: How do you come to this Film producing Bada Shayer Chota Aadmi?
J.D. Quite an interesting question. In my collection of plays Hijrat Ke Tamashey, there are plays on Psychological problems – Arranged marriages in west - festivals and cultural preservation and generation and cultural gaps, all these plays are either produced on stage or on T.V., but there is one play Bada Shayer Chota Aadmi, it deals with the so called Great Poets or Artists visiting Canada from India, and their activities behind the scene.
P.S: Any other controversial play you have written?
J.D: Yes Activities,dealt with the politics of literature but this was a controversial play, and was not staged. I was also hesitant to produce it. But couple of years back, it got selected in an anthology: Fifty Years of Urdu Plays- by Prof. M. Hasan of JNU, our group insisted to stage this play, and then we decided to produce it in a movie. The subject needed broader canvas, bigger audience and lots of challenge. It is finally produced by Barefoot Films Canada, with low or zero budget, It is an off beat and literary movie and is ready for various film festivals here and abroad. .
P.S: It is purely a 100% Canadian venture.
J.D: Yes, yes it was. I had a large pool of actors from my Rangmanch Group, so beside funds, we have no problem in procuring talents. Even post production is done here locally, with ethnic professionals. I am the writer, lyricist and executive producer of this movie, and will be travelling with my new Love to India soon. The best part of this film is even before it has hit the screen, there have been Talk shows on local T.V., and a seminar will be arranged with some literary group, to discuss how some great poet become ungrateful man, and what tragedy occurs with his behavior. I think it will be a new story never told before, and a tragedy should never happen again. Film medium is a new expression for me, and I cherish it, with lot of challenges. But Theatre is my passion, and it will remain my identity.
P.S: What are your connections with India and Pakistan?
J.D: Although I am a Canadian Citizen, my identity is Indian. Frankly speaking I wish all the writers are called citizens of the world. I am fortunate to have widely travelled round the world, and have friends and well-wishers everywhere, they love and respect me. I visit India almost every year, to meet realities, friends and Publishers. Then there are many young aspiring writers and directors who want to stage my plays. I regularly get invitations from various Indian universities to read my plays for M.A. students, and for panel discussions. My books are published in Pakistan, and have visited Karachi University for Drama Seminar. In 2008 my book Inqelab E Zanj was released by Talat Hussain, a celebrated T.V. actor and Theatre Teacher of NCPA, National council of Performing Arts – Karachi. I have visited Bangladesh also for the releasing ceremony of my book Bhopa in Bengali. Theatre groups and directors in Pakistan and Bangladesh, beside India know me personally, and I cherish their friendship.

P.S: With India?
J.D: My last visit to India was in Dec. 2012, I was fortunate to receive a Fellowship of Theatre from Sangam House-Bangalore. I was among twenty International writers, and was stationed in Nritgram village in the suburb of Bangalore. It was a great opportunity to meet and work with multi lingual writers, and present our writings in LEKHNA Festival of Bangalore. I visited Kolkata also, my home town, and was greeted with lots of love and respect from young and seasoned writers, actors and theatre group. After the popularity of my plays in Bengali, same translators are working on my Travelogue of Japan in Bengali; it is expected to get published in the beginning of 2014.
P.S: Thank you sir for all this information.
J.D: Thank you Poojaji for your patient hearing. I may tell you about my views on online social media in my next interview.
P.S: Thank you sir. Will wait for hearing your ideas. Happy Dussehra for you from India.
J.D: Welcome. Thanks for your wishes. I am so happy that you take care of my achievements abroad.