The Ballad Of The Bleeding Bubbles by Ratan Bhattacharjee
Cyberwit, Allahabad, India. 2013 pp.78 paperback $14 USD
ISBN: 978-81-8253-446-9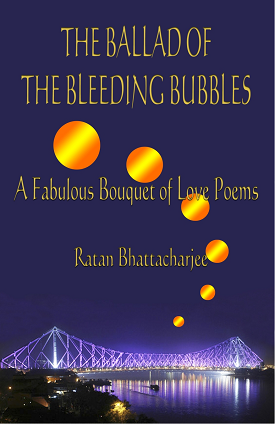 The Ballad of the Bleeding Bubbles is like a breath of cool, fresh air on a hot, humid day. In this fast paced, often crass commercial world, where money buys most things, except love, love is in short supply. There is plenty of superficial gloss that passes for love, but that true, most powerful of emotions love needs nurturing and embracing. Bhattacharjee with this wonderful collection of poems does just this.

I believe that great things whether they be art, literature or buildings stand the test of time. I remember like it was yesterday a book of poetry This is My Beloved by Walter Benton I devoured as a teenager, it was so powerful it has stayed with me all these years (almost half a century) I am sure The Ballad of the Bleeding Bubbles will have a similar impact on many readers. And I'm sure just as This is My Beloved become a best seller so will this book.

Like all great poets Bhattacharjee articulates that which the non-poet wants to say but cannot quite "get out". I can imagine a young lover using a Bhattacharjee poem in a card to their lover, such as the lines from the poem,
My Heart Becomes A Continent (p. 39),
The temple bells fade into silence
The ripples of river dance in glee
Jasmine and champak bloom in the garden
When you are with me.
The Ballad of the Bleeding Bubbles runs to seventy eight pages has an Introduction, a Foreword, a note from Ratan himself and an Afterword by various literary dignitaries these are all interesting and supportive of Bhattacharjee's project but it is the poems themselves, the gold within the ore so to speak, which are important. These are divided into two sections; Part One - Melodies of Love, and then Part Two - Maladies of Love.
This is a brilliant arrangement as anyone who has ever been in love will know, love is often bittersweet and contains within its glorious pod the seeds of elation and ecstasy on the one hand, and potential sorrow and sadness on the other. The book contains numerous black & white illustrations, mainly photographs, one for each poem in fact.

Bhattacharjee uses metaphor beautifully in many poems such as in,
A Boat of Words and an Ocean of Feeling (p. 69)
A small boat of words and the vast ocean of meaning
A meadow of passions with the letters raining
On the reader's mind, in the writer's heart
All genuine expressions and no feigning.
"...meadows of passions with the letters raining",
exquisite poetic imagery. And again in,
My Days Are Silent (p.60)
Like the dark monstrous cloud.
The sweat drop by drop writes the daily gospel
On the canvas of our dull and somber life.
Poets are truly, brave souls - they craft their poems, often putting themselves and their feelings right out front in the firing line, not knowing how the readers will respond. A romantic poet such as Bhattacharjee in this volume bares his soul, fearlessly for all to see. This takes great personal courage in my opinion, but if the poems are written with the conviction that love is supreme then really the poet has nothing to fear because the reader will resonate with the poems and poet as it were.

I thoroughly recommend this book to all lovers of fine poetry and those looking for a little "heart massage". A wonderful book for yourself or that special person. Thank you Ratan Bhattacharjee for giving to the world that which Hal David and Burt Bacharach suggested in their famous song many years ago.
"What the world needs now is love, sweet love
It's the only thing that there's just too little of..".