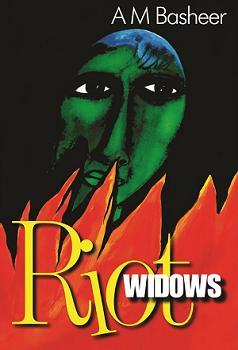 "Riot Widows" by A M Basheer captures the reader's attention right from its arresting title and holds it till the very last page. A thematic kaleidoscope, this novel is at once contemporary and universal. It is a bildungsroman that traces the growth of the narrator, a young Muslim boy,and his struggles against adverse circumstances It is also a powerful portrayal of communal violence as the title indicates. It highlights woman power; it is the story of a woman's fight against enormous odds. It lays bare the pangs of young love - it is a poignant tale of love and loss, struggle and suffering.

The title, built on the analogy of "grass widows," refers to the numerous women in a slum whose husbands are in jail on charges of communal violence and murder. The story centres around the narrator and his classmate, a beautiful young girl called Nafsan.She is the narrator's passion but fails to win her love. Nafsan becomes a medical student who confronts formidable obstacles -- poverty, her illegitimacy, her mother's madness, lost love, a forced marriage, the Hindu-Muslim divide-- yet somehow remains strong and bold. Her mother is a riot widow and Nafsan in turn becomes one herself. Nafsan is a luminous figure who suffuses the narrative with her beauty and strength of mind. .Other powefully etched characters include Saroja, Pakki and Pathummabi.

One of the strengths of the novel is its depiction of women. The writer foregrounds the courage of his female characters and the amazing fortitude with which they play the difficult roles they are forced into in their lives of deprivation.

Slum life is graphically described; the setting can be viewed as a metaphor for the mindscape of the main characters.

The ending takes the reader by surprise but confirms, ironically, that "Riot Widows" is truly a coming -of -age novel.

If the novel has a defect it is the language that is stilted in some places and jars in others.

There are no gimmicks, no attempts to titillate, no sentimentalizing. "Riot Widows" is a simple, first person narrative that appears to have come straight from the author's heart. It is certainly an impressive debut.