Aalamaram – Tamil Novel – A Review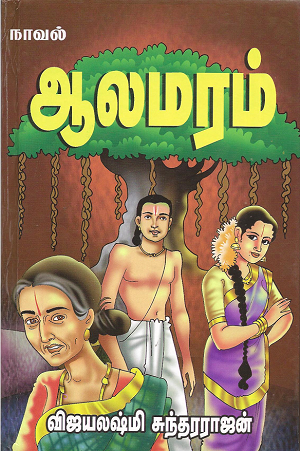 As I felt daunted by the sheer size of Aalamaram by Vijayalakshmi Sunderarajan, a 957-page hardbound Tamil novel, my cousin who had already read it, told me that once one starts reading it, it is "unputdownable". Armed with such encouragement yet with some trepidation, I started reading it. Indeed, the very first page starts with such a compelling verbal dual, that reading Aalamaram thereafter became more and more engrossing as the story of three generations starting with Ambujam the matriarch, and her two brothers Veeraraghavan and Pattabhi and their respective wives the scheming Amudhavally (Amudha) and the classy Veda, and their progeny, unfolded in front of my eyes...

The story of Aalamaram commences in the British ruled era and ends in the 21st century India. There are many sub plots and stories as it has so many characters. It is to the author's credit that all the characters are well-etched out and remain in the mind for long. Also, all the characters have been excellently linked and interwoven into the main plot by the author. For clarity, she has also provided a family tree at the beginning of the novel.

Ambujam, a child widow who never gets an opportunity to be in her marital home as her husband dies of snake bite soon after their marriage, remains with her widower father Badrinarayanan in their ancesteral house 'Badri Nilayam' at Mancholai (a fictional village near Kumbakonam town in Tamil Nadu, a la Malgudi of R K Narayan). Her father trains her to handle his considerable wealth and properties comprising several acres of paddy fields, lands, the sprawling Badri Nilayam and housing properties at Kumbakonam. The Badrinarayanan family, Tamil Brahmins of the Srivaishnava sect (Iyengar), is popular in the village for their generosity and hospitality to all irrespective of caste and creed. He dies early leaving the management of his vast wealth and his two young sons Veeraraghavan and Pattabhi to an equally young Ambujam. She doesn't fail her father and nurtures the properties and her brothers with great love, care, dedication, commitment, a native intelligence and at times, with an iron hand.. She also continues her family tradition of generosity and hospitality to all.

While Veeraraghavan is unable to get very far in his education at Kumbakonam despite all Ambujam's efforts and chooses instead to help his sister at Mancholai with the management of the paddy fields, cultivation, labour and paddy sales, his brother Pattabhi gifted with a sharp intellect, shines academically and joins the then British government service at Chennai after his graduation.

There are several characters in Aalamaram, considering that Veeraraghavan and Amudha have seven children while Pattabhi and Veda have an adopted daughter Maithily. Childless Pattabhi decides to adopt Maithily who is born to his father-in-law in his middle age. Pattabhi and his wife Veda bring her up with great love and care, giving her convent education, music lessons and badminton training and simultaneously groom her to follow Vaishnava traditions and customs. Maithily grows up believing Pattabhi and Veda to be her parents and her actual parents to be her grandparents. She learns of the reality of her birth and these relationships sometime before her real father's death...

Veeraraghavan and Amudha have three daughters and four sons - Padma, Jayam, Chandra, Vasu, Rangan, Narayanan and Kuppuswamy. With her inherent guile and crookedness, Amudha gets her eldest daughter Padma married to her brother Durai (maternal uncle marrying his niece and brother-sister's offspring marrying each other, is still a prevalent practice in South India) whom she convinces to live with her and help his brother-in-law, while Padma remains with her to help household work and during her numerous pregnancies and child births.

The ever scheming and domineering Amudha also convinces a reluctant Pattabhi and Veda to marry a young Maithily to her eldest son Vasu, violent-tempered, crude mannered and devious like his mother, so that Amudha is able to seize Pattabhi's share of the property as also Maithily's share of property from her real parents. Amudha employs her evil temper, caustic tongue and cunning nature in equal measure to grab whatever she could lay her hands on along the way...

Aalamaram, means the banyan tree, a sapling of which is planted by Amudha when she enters Badri Nilayam as a young bride and that grows into a huge tree in the years to come. The good looking and fair Amudha married to a dark Veeraraghavan, constantly plots and schemes to wrest control of the properties from her sister-in-law Ambujam, egged on by her equally greedy parents. She vows that she will not allow any other woman to prosper at Badri Nilayam and that she will be the only one to rule the roost, much like the banyan tree she plants, under which nothing can ever grow or flourish.

The story of Aalamaram moves at a fast pace with Vasu too moving to Chennai and joining the postal service. His alternating and often confusing love for and physical abuse of his wife and their four daughters and three sons, keeps Maithily on tenter hooks, in a perennial state of despair and fear.

At another level, Aalamaram is the story of women power – Ambujam the young widow manages a vast estate and guides her brothers' lives from a young age, the greedy and insecure Amudhavally who ruins all that Ambujam had assiduously built up, Maithily, a woman of substance who runs her large household singlehandedly by training to become a teacher when her husband Vasu is away on Her Majesty's service during the Second World War, her four daughters each of who has acquired the negative and positive traits of their grandmother, grandaunt and aunts...of Radha, a freedom fighter's daughter married to one of Vasu's brothers...Vasu's daughters Pushpa, Saroja, Vaidehi, and Kanaka – each displaying a distinct feminist flavour...

The author Vijayalakshmi Sunderrajan has presented the story of three generations spanning almost a century in which not only Badri Narayanan's family but India too undergoes great transformations...The entire story is so well scripted in short chapters with a suitable title, that as you are through with one chapter, the curiosity about what-happens-next is so overpowering that Aalamaram indeed becomes unputdownable. Also, the conversational style employed by the author peppered with a good deal of Iyengar Tamil throughout the book, enhances its readability and gives the readers a sense of involvement with the characters. The personality traits of each of the characters are so real and identifiable that we would find them bearing a striking resemblance to some of the everyday people we know...It is this quality of the book that makes it an engaging read with an ending that is particularly positive, fascinating and out of the box.

Aalamaram with its great story line, has all the ingredients to convert it into an interesting TV series, as the short chapters largely in conversational tone, are quite akin to the serial episodes.

It is amazing that despite being untrained in Tamil language, Vijayalakshmi Sunderarajan has been able to write such a cogent story running to 957 pages! Of course, she has been translating Tamil short stories in to Hindi from a long time of renowned authors like R Chudamani, Akilan etc. All kudos to her for coming out with such an attention grabbing and rivetting novel!

Vijayalakshmi Sunderrajan, IBS and a former Senior Station Director, All India Radio was born, brought up, educated and worked (for a while) in Madhya Pradesh and Maharashtra. She has no formal education in Tamil her mother tongue and is in fact a renowned writer in Hindi having been a recipient of several awards. Read more about her here.
Book Information:

ISBN : 978-81-927041-1-1
Price : Rs. 490/- (US$ 20)
Publisher : Manimekalai Prasuram, 7, Thanikachalam Road, T'Nagar
Chennai 600 017, India.
23-Oct-2013
More by : Padmaja Iyengar-Paddy
---
---
| | | |
| --- | --- | --- |
| | I need AAlamaram book, unable to get it. Can anyone help | |
---
Novel name : Aalamaram
Autor: Vijayalakshmi sundarrajan
Manimekalai prasuram

Need this book
---
Unable to get a copy of the novel even from publidhers as it's not in print

Please help to get a copy
---