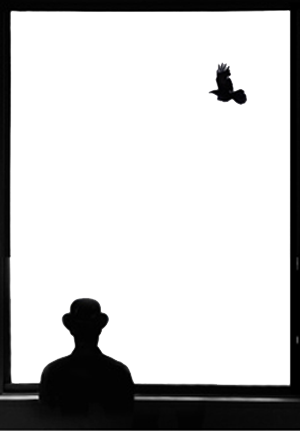 The early works of philosophy and knowledge were all written in a language that was almost metaphorical, mythological, and even evocative. Plato, for instance, didn't write treatises. He wrote dialogues. The Indian philosopher, Madhvacharya, in a totally different epoch, wrote treatises, not dialogues. Because, language as a tool of communication had matured and, there was a very deliberate effort to liberate it from mythology, or metaphorical allegory? Indeed. Not only that. Language had also begun to construct a more profound, strong grammar, not to speak of the processes of analyses and conditions of intelligibility for all discourse.

It goes without saying that language is a response to needs that arise from contacts with objects. It's subjective too. Suppose it was the other way around - one that was modeled for the world to fit in? Just think. Fortunately, in practice, you just don't have such a paradox. For one simple reason: there is no means of representing thought outside language, except, of course, with the help of some other means of expression, like art, or calculus, which is also a form of language, no less. So, there it is! Of one primal reason why everyone is familiar with that timeless idea - that it's your language that determines the way you think!

Language, as one wise soul put it, is also an instinct, an innate power of the mind. And, silence? It is more than a part of speech: a void of mystical experience, not just lapped by language, but also induced by it. But, there's more to language than what meets the eye/ear/mind. If Aristotle, to cull a classical model, reduced language to its essences and a whole new possibility for the power of language, Galileo, for one, made the distinction between primary and secondary qualities in language - one, which had geometric properties, with the other that did not. The rest is history, what with the likes of Descartes, Newton et al masterminding some incredible things in comparison to their predecessors. Which also brings us to a notable allegory: of today's thought returning to early sources.

The reason is simple. It's not necessary to know, explicitly, the whole of a language to speak it. Why? Because, the web-like nature of language itself ensures that the whole of the system is implicitly present in every phrase. Also, because, it is an evolving bodily field - a very vast, living fabric continually being woven by those who speak.

Language today seems to have brought a profound balance, a wonderful analogy between Descartes and Einstein. What's more, our language at present, does not, in anyway, reduce anything. Instead, it now includes everything - scientific or not. Besides, we have got to accept that there is a very peculiar dualism at work here, with its profound analogy being quite obvious. We are also now talking of concepts. We are talking of ideas. We are also talking of experiences, behaviors, sensations, intentions, feelings etc.,

Most importantly, we are also communicating ideas through our experiences, and stories. And, the idea - language as likeness of both mind and the body - is, doubtless, critical to us all... It's, in other words, our own mind-body lexicon, with its very own monumental feat of virtuosity, or vitality - a magical carpet of the narrative.