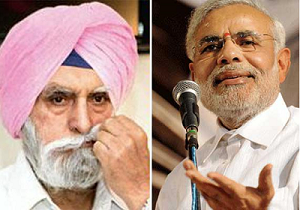 On the launch of his biography in a Delhi function former IPS officer Mr. KPS Gill absolved Gujarat Chief Minister (CM) Mr. Narendra Modi of all responsibility for the post-Godhra riots in February 2002. On the book released there is inscribed a handsome tribute to Mr. Gill from Mr. Modi: "Without cops like KPS Gill there can be no democracies, no political leaders and no kings."

On May 3, 2002 Mr. Modi had appointed Mr. Gill as Security Advisor to the Gujarat Chief Minister. Before that Mr. Gill had visited Gujarat on a fact finding mission regarding the riots. Almost immediately after his appointment as the Gujarat government' security advisor Mr. Gill on May 5 gave an interview to The Hindustan Times. He disclosed that senior police officials in the riot-torn state of Gujarat had said that they were instructed to go soft on right-wing Hindu groups. The newspaper reported that Mr. Gill claimed that the directive was given to the officers at a meeting of top officials on the night of the train torching in Godhra on Feb. 27.

At the recent book launch function Mr. Gill recalling the riots said: "Majority of the police had become communal in their duty as they were enraged with the killings of so many kar sewaks…Whenever there is a law and order situation, the political leadership cannot do much, the response has to come from the police."
This is a truly extraordinary interpretation of how democratic governance works. This view about political accountability apparently is shared by Mr. Modi. Indeed this view seems to be the norm among all politicians cutting across parties. That is why Mr. Modi resolutely refuses to apologize for the Gujarat riots. He seems to think that an apology is required only if he had been criminally complicit in the conduct of the riots. A Special Investigative Team (SIT) appointed by the Supreme Court had absolved Mr. Modi of direct complicity in the riots. That is the legal view. What about the political view?

On May 27, 2002, relying on media reports this writer had commented: "Human Rights of America (stated) …that the riots were planned prior to the Godhra carnage. This view was reinforced by a reported briefing of KPS Gill by Gujarat 's top IPS officers. They said that a meeting of top officials was held on the night of the Godhra incident. Officials were told to go soft on Bajrang Dal and VHP activists. Ignoring bureaucratic advice, Chief Minister Narendra Modi insisted on transporting 17 bodies of Godhra victims to Ahmedabad for their last rites. There was a mammoth funeral procession through Ahmedabad's streets by VHP and Bajrang Dal activists. Later, these activists started the riots."

None of these reports were challenged by the government at that time.

Two questions arise from the sequence of events.
First, clearly the decision to allow the procession was a misjudgment of ground realities. Mr. Modi had become CM recently before the incident. Is it too hard to acknowledge that there was an administrative error that facilitated the riots for which he was sorry? Mr. Modi's party colleague and the CM of Goa, Mr. Manohar Parrikar, recently publicly stated that the Gujarat riots exposed administrative failure.

Secondly, and more seriously, after Mr. Gill's briefing by senior Gujarat IPS officers he must have as Security Advisor briefed Mr. Modi.

What action did the Gujarat government take against the errant police officers who Mr. Gill states "had become communal in their duty"? No senior officer or policeman faced any disciplinary action after the post-Godhra riots. So who was responsible for this lapse, Mr. Modi or Mr. Gill? Both politicians and officials need an agonizing reappraisal if governance in our nation is ever going to improve.