Sometimes, I feel really exasperated by the hype and hoopla created by the movie lovers and critics on films. Nowadays, I feel the critics are more liberal and kind towards any and every film irrespective of whatever the film maker dishes out in the name of entertainment.

Sanjay Leela Bhansali is one such fortunate soul whose films are favored for something or other though it hardly contains anything worthy probably except 'Black' and 'Devdas'.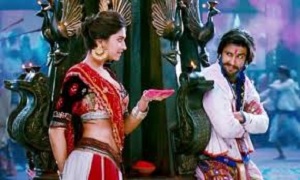 His recent, much hyped release 'Golion Ki Raasleela Ram-Leela' is one such commodity. Supposedly inspired by Shakespeare's 'Romeo and Juliet' (why this? Every love story makes a claim like it!) it has lot of violence, raw sex, splendid colors and costumes to entice the masses.

Ram and Leela fall in love at first sight are from two warring communities. The commonness of both communities is that both indulge in all sorts of unlawful acts. So we have a female don who behaves even worse than a masochistic male. Though the costumes and palaces resemble yesteryear scenarios, the story is contemporary with cell phones and all types of guns and rifles. If such villages still exist in India, we should only have to feel ashamed of it. Such a lawless country and society!

The lovers turn sworn enemies under provocative and seditious events but within their hearts they seem to love each other. So we have a long story with lot of bloodsheds, nonstop gunshots, dance and songs finally ending in the death of the lead pair much like the recent much better movie 'Ishqzaade'.

The redeeming parts of the film are the songs; they are surprisingly musical and sonorous unlike the recent heavily westernized off-key numbers. The lead pair (Ranveer Singh and Deepika Padukone) is glamorous and sexy and enact some really 'hot' love scenes.

But, if you want to enjoy those really engaging love chemistry scenes between handsome Ranveer and gorgeous Deepika, you should go with enormous patience to go through the horror of two and half hours!