For about three years, I got a chance to live in Fiji. It was serendipitous but it changed my life direction forever. It was my second time living in the southern hemisphere, and to experience warm December and Christmas barbeques was great fun. I share an article I wrote for Fiji times, shortly after I left the country, in the hope of recycling it. But more so because when I was moving to the country, I could not find much information about it on the net. This might give people an idea, of Fiji's real warmth, which is reflected in Fijian smiles, and hospitality.
The following story was published in Fiji Times on December 27, 2009. I read parts of it at my farewell party at USP.
Although the article is a bit long, it could easily be many times longer. Every once in a while I feel a pang in my heart when I think of Fiji. I consider myself lucky to have lived in such a beautiful place that allowed me experiencing India – Fijian style.
Isa Lei, Vinaka Fiji!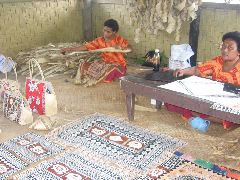 Isa Lei was played at the end of Fiji TV broadcasts everyday the year I came to Fiji. I did not know the meaning or the words – but I used to run from the other room, turn up the volume and just bathe in its melody – a mixture of high and lows, fine, refined and coarse voices. So many words came to my mind, harmonious, delicate, soothing….but nothing captured Isa Lei.

In my three years in Fiji, I moved three times, befriended many people, and fell in love with the crazy disorderliness of Suva city. Although the first year I complained about missing four seasons, especially snow & colorful autumn of the North Eastern US, – by the second year I was beginning to acclimatize to Fiji climate with perpetual perspiration and then frequent precipitation, enjoy Fiji time, Fiji hospitality and Fiji generosity. But what I carry with me is Fiji familiarity – the kind only possible in small nations. Street vendors, shop owners, cab drivers and security guards gave friendly smiles as if they had known me for years.? It has now been months since I left Fiji. I have been too busy, and in too many places to think much about the beautiful Island nation. But when people ask me , "So, years from now, what are the things you will miss about Fiji?" I have a long list to state.

I will surely miss – at least 5 people every day asking me, "Whea U from?" and my responding with pride and mischief, "Kai Viti, Kai, Suva.";

I will miss produce vendors parked outside USP premises who saved me good pieces, and those at Suva market who always claimed that they had reduced the price by a dollar just for my sake.

I will miss – showing off my ten word Fijian vocabulary by lovingly accusing the vendors "lasu-lasu". And I will always remember our post transaction laughter that left all of us a few red blood cells richer.

I will miss – casual yet personal concern shown by people on the road. When upon seeing me run after a bus, some stranger would thump the bus on the side to make it stay a while longer so I could get aboard, or would gesture with eyebrows – 'relax' and point at another bus heading my way. I will miss being invited for home cooked meals by cab drivers following a philosophical chat about life. While this could be misconstrued in many countries, in Fiji, this was a show of hospitality. I miss the ladies at the Hare Krishna restaurant across from USP who would often bring me home cooked dishes and say, "this was cooked with you in mind".

I will miss Fiji's eager models, who fed the frantic photographer in me, by posing willingly; and the delight I felt when they asked with enthusiasm to show them the picture.

I will miss – Ram Temple right across from the USP campus, where I spent several evenings listening to good words and eating good food.

I will miss – a dozen kids, calling me by name on the USP campus, as if I was their long lost aunt!

I will miss – my Hungarian neighbors, whose twin boys learnt to walk and talk right under my nose. And the way they chanted my name every morning!

I will miss – Fiji's lush greenery and thumping rain that could last for days. And I know there will be days when in grocery stores, I will look for Ro-ro, bele, voondi.

I will miss – the hissing sound that cabbies made, and the cheap cab-rides that make walking seem like a crime. I will miss the willingness with which USP's security guards walked me home after a late night in my office. I will miss watching the Pacific on a sunny day, when its surface seemed to glisten with diamonds dancing a meke.? My regrets? That I did not learn Fijian; did not go to Pacific Harbor very often, never learnt to make lovo, and that I did not partake enough of Fijian elixir, – the cure-all Noni juice.

In the last few weeks I both noticed the Vanua so much more than I did before and picked up several sentences of Fijian. Such is life!!

And then there were things that though were a cause of irritation, I am sort of nostalgic about, such as..? The unruly traffic, the head strong mosquitoes that loved me despite my use of strong repellents, ants that were everywhere, loud lizards, those brave frogs who died on streets under the fast running vehicles everyday and were uninvited guests in my yard and rooms. All an indication of an island country where life thrives. But I realized what a Pacific islander I had become during my last week in Fiji.

I pulled a muscle in my shoulder, and was prescribed therapy. When it did not help much, people suggested massages by trained, and gifted Fijian women. But I was too busy packing for that. Then my Hungarian neighbours suggested the easiest, the fastest and the surest way of relieving the pain.

Four letters, KAVA, "and we have Vanuatu kava" they said, two bowls and you will be fine. Desperate to relieve the pain, I surrendered.

I have to admit, that day I had the best sleep in a week. I woke up relaxed and without pain. On my way to the university I realized that the ocean was closer than I thought. Under the mist of clouds I saw every day from home to work was a chink of ocean. As I stared at the ocean….I whispered, 'Isa, Isa', and this time I felt in my heart -what an Indian cab driver taught me….En dua na vanua vinaka!

Isa Lei….Vinaka Fiji!! Ah I will miss…...