Forty-nine years ago around mid-November I stood gazing at the picturesque Saryu and Ramganga Rivers at Rameshwar- Ghat, now in Pithoragarh district, Uttarakhand. I had started my career as a geologist from this spot and never had inkling, that almost half a century later I will be writing something about this area!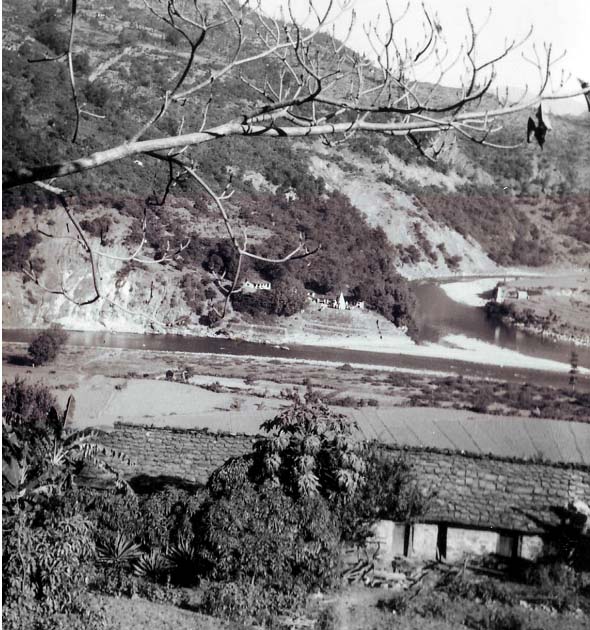 After the confluence, the Saryu River flows along a thrust plane (a large dimension fault) that separates Thalkedar Limestone on the north from the crystalline rocks on the south. It is this limestone which matters most for this area − though the people do not know its significance. Limestone imperceptibly dissolves in water and often caves are formed in such terrains. During rains, when surface water percolates to these caves the limestone rich drops create stalagmites and stalactites. There are many such caves in this area and have begun attracting the speleologists and geologists alike, for the fascinating stalagmites and the climate records contained therein.
Dharmanjali cave is yet another such cave in this area at an altitude of 2200 m. in Thalkedar Limestone. It was studied by Jaishri Sanwal, C. Rajendran and Kusala Rajendran of Centre for earth Sciences, Indian Institute of Science, Bangalore; Bahadur Singh Kotlia of Centre for Advanced Study in Geology, Kumaun University, Nainital; Syed Masood Ahmad of NGRI, Hyderabad and Mike Sandiford of Department of Geological Sciences, University of Melbourne, Australia.

In their papers (in Press) in Quaternary International, the authors inform that the cave is approximately 50 m below the land surface and it is a 35 m long sub-vertical, two chambered cave. The entrance of the cave is around 8-9 m, but the last chamber is very narrow. I can visualise, what a job it must have been for the geologists to enter and explore a cave that remains wet throughout the year! The cave has a humidity of 50 to 70% and during the monsoon water drips at a rate of about 20-30 drops per min. and in dry season about 3 to 8 drops per minute say the authors.

The beauty of this cave is that contamination from outside is minimal and carbonate laden water drops keep depositing stalagmites. Preserved in the wombs of caves, these stalagmites are excellent indicators of the climate of the past.

The Himalayas are a great barrier; they not only control the climate of the Asia and a large part of the Globe, but also prevent icy cold winds from the north to reach our sub-continent.

Using the state of the art technologies, the researchers thread-bared the stalagmite and on the basis of oxygen isotope Delta 10 O and carbon isotope Delta 13 C and taking help Uranium and Thorium dating methods, concluded that the climate of the region showed six major fluctuations during the past 1800 years.
Conditions became wetter and wetter between 210 AD and 810 AD. But during this wet period there were many dry events, with each event lasting as long as ten years. From 830 AD to 910 AD, nearly for a century there was a very wet period. This period incidentally coincided with the lower part of what is called by the paleo-climatologists as the Medieval Warm Period (MWP-approximately from around 900 AD to 1300 AD). More water means increased solution of calcium carbonate and that leads to greater deposition of stalagmites-a fact confirmed by these researchers from Dharmanjali cave.

Gradually from 830 AD to 1210 AD the climate became drier, which became extremely dry from 1080 AD to 1160 AD. Between 1440 and 1880 the Little Ice Age had engulfed the region. Consequently, the region faced a wetter / warmer or sub-Tropical climate.

From their studies Jaishri and her co-researchers conclude that the Indian Summer Monsoon has been varying over space since past 10000 years. Therefore, based on last year's rainfall, one cannot predict that this year is going to be similar.
The Indian Summer Monsoon, due to its elusive nature requires an in depth study and refinement. It is said that 'Present is a key to the past and the past is the window for future', that is why it makes sense to study the past, may be even from proxy evidences to know it better.

The Himalayan climate is unpredictable, yet we take it for granted. We forget that much of the Himalayan landscape has been carved by water, yet we presume that the rainfall will always be normal and construct houses/hotels/schools on the path of water. That is what happened in Uttarakhand in last June. The unexpected rains caused deluges and thousands lost their lives and maybe million people were affected in terms of loss of property/ livelihood. Therefore, it is better to play safe and avoid confrontation with nature. The climate may take an adverse turn without warning!
Image of Saryu and Ramganga confluence at Rameshwar-Ghat, November 1964
(Image by author)