India's commercial capital is a hard bitten place, a city that requires sharp elbows and oodles of stamina. Mumbai never does anything by halves, a fact that is as true of its sprawling slums as it is of the towering mansions of its movie moghuls and mega-rich industrialists. Here is a city that is determined to muscle its way into the big league full of the brash, the hopeful and the flotsam and jetsam of humanity. Confident, proud, contemptuous of its potential rivals, Mumbai presents a defiant face to India and to the world at large. For the first time visitor it is a draining place, a city intent on exacting every last rupee from one's pocket and even then it still appears to demand more. Here is a slice of India that appears to crave life in the fast lane, a place where people party hard whilst other cling tenuously to the very edge of existence. Trading is its lifeblood and where ever you travel people seem intent on making another rupee or in some cases multiple crore of rupees. Here business comes first and it times it feels as if it is business at all costs. The city's magnificent edifices of the Raj are but milestones on its journey.
Whether as Bombay or Mumbai making money has always been the dominant preoccupation in life. Even the supply of much of the city's water is controlled by mafia gangs intent on profiting from life's necessities. Yet denizens of this sprawling metropolis do have another side to their lives, yes there is Bollywood and cricket, but it must not be forgotten that behind the vulgarity, the haggling and the constant quest for advancement there is a considerable spiritual dimension to the lives of most Mumbaikars. As well as being proud to claim Sachin Tendulkar as their very own god of cricket, Mumbai is a concentrated mix of Hindus, Muslims, Zoroastrians, Christians, Jains, Buddhists and Jews.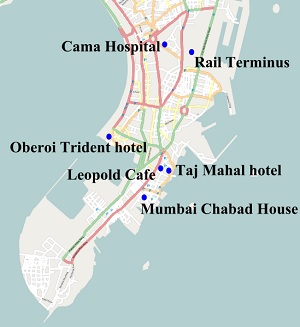 Faith and family matter in India and so when five years ago Mumbai suffered a devastating series of terror attacks the city was profoundly shocked. With the killing of 164 people and the wounding of at least 308 the attacks reminded the city of the precarious nature of existence. For some mere survival has always been precarious, but this three day killing spree brought the city up sharp and for a time placed it at the epic-centre of the international media spotlight. Visitors and locals were killed in cold blood in a variety of locations from the luxurious Taj Mahal Hotel to a busy railway terminus, people of differing faiths and allegiances were terrorised and robbed of life. Cause or no cause this act was greeted with universal revulsion. For many of the city's residents this traumatic event challenged their sense of security and for others fostered an even greater sense of unity. Whilst some are fatalistic about life's travails, other resolved to remain defiant.
Life goes on, the world keeps turning and where there is life there is hope. Five years on people of many faiths still co-exist and Mumbai remains very much Mumbai. Some will pass the anniversary in quiet reflection and prayer, others will be determined to continue doing what they believe the city does best, but just as in US where people of a certain age remember where they were when President Kennedy was assassinated, there will be many in Mumbai who will vividly recall the horrifying events of 26th-29th November 2008. One thing is for certain and that is that Mumbai will in its own way mark the anniversary with dignity and defiance for in this matter it truly has one voice and will never allow itself to surrender to those intent on intimidation through terror.