Politics in Bangladesh appears to becoming more and more polarized. With this has come increased violence, often deliberately designed to provoke and drive communities apart. Anyone who monitors the media is witnessing more and more inflammatory statements, whilst there is anecdotal evidence of certain unscrupulous individuals paying unemployed youths to torch buses or attack political rallies. Travel agents internationally in the UK, the US and elsewhere report a marked increase in cancelled bookings from members of the Diaspora who had intended to visit friends and relatives. There are even documented accounts of visitors hiring ambulances to travel across Dhaka in order to have a better chance of preserving their own safety. All of this makes very grim news indeed and reflects badly on the political establishment of all political persuasions as well as on the nation as a whole.
A country whose economy had been doing so well in recent years is now suffering daily paralysis and dislocation, with foreign investors increasingly wary as to whether they should consider looking elsewhere. Add to this the negative publicity surrounding the poor health and safety record of the garment industry and other sectors and things are indeed very depressing. I recently heard news of certain factories paying workers to spy on female employees and alert them if any workers become pregnant so that they could be laid off in order to avoid having to pay maternity leave – when things like that happen the situation has clearly sunk very low indeed. All in all there is much talk, considerable speculation and a lot of wringing of hands. Some conspiracy theorists seek to blame external forces, whilst others seem incapable of rational debate. For a country with a rich culture and heritage, there is a danger that it not only remembers its history, but becomes the slave of it. If that is the case then only the Bangladeshis can give themselves the manumission that will bring liberty and the possibility of healing.
Yet for all the doom and gloom there are still bright spots to be found and one of these took place earlier this month. At a time when the media was full of speculation about the threat of general strikes and pouring over every last word or gesture of Sheikh Hasina and her arch-rival Khaleda Zia something remarkable happened in Cox' Bazaar. A race took place, not for political office, but a half marathon, the Cox's Bazaar International Half Marathon to be precise. For all problems elsewhere here was something that brought people together and truly lifted the spirits. Organized by the Big Bangla Run a total of 1521 local and international runners participated, with the race itself starting from Niribili Madjid Point in Cox's Bazaar City and ending at Inani Beach Point on the world's longest sea beach in the world. The men's race was won by Selim Abdu Hazi from the tiny African country of the Comoro Islands in a time of 1 hour 29 minutes and the women's section by Uyri Lee Quairee of Japan in a time of 1 hour 58 minutes. The atmosphere was incredible.
For a time locals forgot their political allegiances and there was respite from the stress and strains of the current crisis. In this race, here was a glimmer of hope of what Bangladesh could become if it sets itself free and works with a common purpose.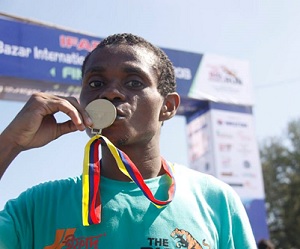 Selim Abdu Hazi winner of the Cox's Bazaar International Half Marathon

Photograph courtesy of Dr Hasanat Husain
and the Big Bangla Run