The Life of a Legend
An Incurable Romantic;
The Musical Journey of Lalgudi Jayaraman by Lakshmi Devnath,
Harper Collins Publishers India, Rs. 599, pp.435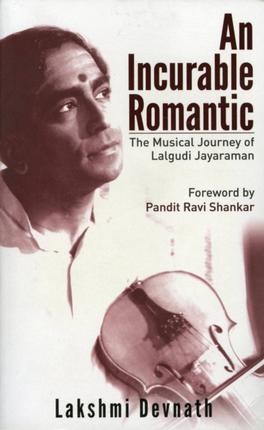 Is it possible to write a biography on a popular violinist running to four hundred odd pages maintaining the tempo? Writer Lakshmi Devnath proved that one can, if the artist chosen is exemplary in his field and multifaceted in the realm of classical music. 'An Incurable Romantic' delineating the musical journey of Lalgudi Jayaraman, (1930-2013) the violin maestro provides a poignant reading. The book is divided into 24 significant chapters detailing the personal and professional life of Jayaraman.

Born in a small township Lalgudi near Tiruchirappalli in South India, Jayaraman belonged to a musical family. His father was his teacher on the violin and vocal and he came from the fourth generation of distinguished artistes. Jayaraman was brought up in a very humble and regimented atmsophere by his disciplinarian father, Gopala Iyer. So his 'romance' with the violin seemed to be more than with his devoted wife Rajalakshmi.

The book chronicles from the ancestors of Jayaraman and their tryst with music. But, it is Jayaraman who enticed the whole nation and the world by his melodious and soulful strings and became a legend in the classical carnatic music. His raise in the field was not also just meteoric; slow but steady; careful and restrained. He breathed music till last and his famous quote is 'I want to be a violinist in all my future births'.

His career was colorful in a different way, the way he romanticized with the classical music and violin. He had the capacity to absorb the great styles and ways of the music maestros of his time and blended the best of them to evolve his own style which in the later years became known as 'Lalgudi Bani' (Lalgudi Style). His rapport with his mentors and admirers were very respectful, cordial and personal.

The greatest asset of Jayaraman was his versatility. He was a composer, orchestrator, teacher and performer. It was, indeed, a rare amalgam. He has composed many items like varnam, jathiswaram and tillana for bharatnatyam on the several requests he received from popular danseuses of South India. His students including his son, daughter and granddaughter are trained in violin and vocal and son Krishnan and daughter Vijayalakshmi are already senior artistes. His students are scattered all over the world and popularizing his style.

The book not only sings the praise of the protagonist but also discusses the setbacks and scathing criticism he had received during his period. It is a rarity in biographies, because, most of the writers and artistes would prefer to present only the positive aspects on the record. It is another admirable aspect on how Jayaraman handled those situations.

The book become more valuable because it just does not talk about Jayaraman's music but provides the highlights of his musical prowess through a compact disc attached to the book where one could listen and enjoy his violin as an accompanist to the great vocalists of yesteryears and also as a solo performer.

Author Laksmi Devnath with her indepth knowledge in carnatic music, smooth writing style and the extraordinary efforts in collecting and collating the details of Lalgudi Jayaraman and his 75 years of musical journey with references and glossary deserves great appreciation. It looks more like a highly researched doctoral thesis on a great violin genius of our times.

The book cannot be read in one go. One has to muse over each chapter after reading and listening to the renditions. That is the greatest strength of 'An Incurable Romantic'; a journey to be cherished.

03-Dec-2013
More by : G Swaminathan
---