Depending on the source, Michelle Obama has been called a "glamour-wife," the "Mum-in-Chief," "our next Jackie Kennedy," and "The Closer". Statuesque, devoted to her children and notably elegant, she earned the last moniker among her husband's campaign staff for the critical role she played in the long run-up to Barack Obama's historic win on November 4 when American voters elected him the country's first African-American president. To the president-elect, she is "the rock of our family; the love of my life." She describes herself as a woman who is "passionate about change" and who doesn't want to be so tied to all that her husband is "that I don't have anything for myself."

Michelle Robinson Obama, born in 1964, is a lawyer. She grew up on the south side of Chicago, a working-class section of the city, sometimes spotlighted for its poverty-related problems. Her late father, who suffered from multiple sclerosis, worked in the city water plant and her mother, who now helps care for her grandchildren, was a school secretary.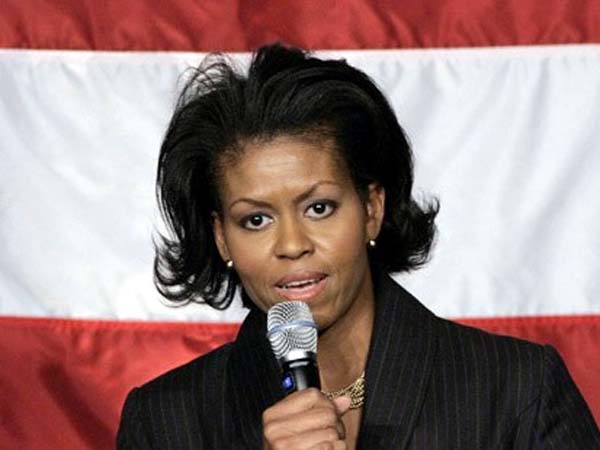 A graduate of Princeton University and Harvard Law School, Michelle was working for a Chicago law firm when she met Obama. She has also worked for the Mayor of Chicago, the University of Chicago, and the University of Chicago Hospitals, where she has suspended her affiliation as Vice President for Community and External Affairs. In 1993, Michelle founded Public Allies Chicago, which provides young adults with leadership training for public service careers. She currently serves on the board of the Chicago Council on Global Affairs.

The Obamas live in a large home on Chicago's south side with their two young daughters, Malia, 10, and Sasha, 7. Prior to their run for the White House, Michelle spent most of her time living in the city with the children while Barack served in the US Senate in Washington, D.C. Even after the campaign was under way, she described her life to a British journalist as "so close to normal [that] when I'm off the road, I'm shopping for toilet paper [and] standing on soccer fields."

Michelle was politically active as a student at Harvard, particularly around issues of race, and is known for her outspokenness and her ironic, sometimes sarcastic, wit. She once publicly chided her husband for being a "mere mortal". And on a walk-through of the Capitol when her husband was first elected Senator from Illinois, she quipped to a reporter, "Maybe one day he will do something to warrant all this attention." Sometimes these quips "gave campaign people heartburn," says Obama's chief strategist, David Axelrod. In an interview with 'The New Yorker' magazine, he described Michelle as "fundamentally honest," calling her a woman who "speaks her minds, jokes, and doesn't parse her words or select them with an antenna for political correctness."

At times her outspokenness has got her into trouble. When she said publicly early in the campaign, "For the first time in my life, I'm really proud of my country," alluding to America's readiness to consider a black man for president, critics were quick to question her patriotism. Some people called her arrogant, cold and angry. But those who know her say she is simply independent, honest, and unafraid to speak out.

In a 'Glamour' magazine interview last year, writer Tonya Lewis Lee, wife of filmmaker, Spike Lee, has described Michelle this way: "I have to admit I was a little intimidated by [her] when I first saw her. ... But then she came forward, extended an endless arm and broke out her famous million-watt smile. She gave me a big hug... and I felt as though I'd known her forever." (The interview was ironic; Michelle and Barack's first date was a trip to the cinema to see Spike Lee's film 'Do the Right Thing'.)

Michelle and Barack Obama talked long and hard about whether a run for the presidency was right for them and for their family. In an interview with 'The New York Times' last May she openly questioned whether she was ready to take on the role of First Lady. "My God, who can sit here and say, 'I'm ready to be president and First Lady?'" she asked the reporter. In another interview she said, "We're not going to keep running and running because at some point you would get the life beaten out of you. It hasn't been beaten out of us yet. So we need to be in there now while we are still fresh and open and fearless and bold." She has also said, "I wake up every morning wondering how on earth I'm going to pull off that next minor miracle of getting through the day."

Once the decision was made, however, Michelle threw herself wholeheartedly into her husband's campaign, talking often about her own life experiences and what they could bring to an Obama presidency. In her speech at the Democratic National Convention in August she moved the audience to tears recounting her life lessons and speaking passionately about her partnership with her husband. "Barack and I were raised with so many of the same values," she said. "That your word is your bond; that you do what you say you're going to do. That you treat people with dignity and respect, even if you don't know them and even if you don't agree with them."

Michelle Obama is particularly concerned about how women manage to balance work and family life. She is also interested in the needs of military families. And she doesn't mind being an unofficial advisor to her husband. But she is a woman who doesn't like to plan too far ahead so she has yet to map out a clear role for herself once she becomes First Lady on January 20, 2009. The job, she says, "depends on the time, the person, and where they are in their life."

Nevertheless, it seems clear that she will play a key role in an Obama administration just as she did in America's historic campaign.