Being Gay in India
Flimsy Frontiers: Short Stories on Indian Gay Culture by Devavratan Kaundinya,
Notion Press, Rs. 199, pp118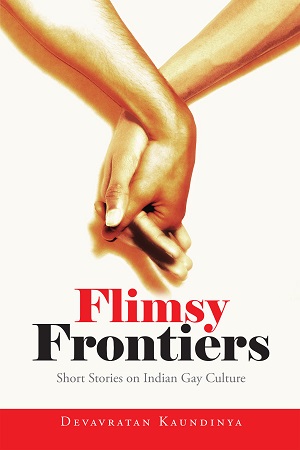 There was a stir even recently in the media on the Supreme Court verdict on criminalization of 'gay sex' in India overruling the Delhi High Court judgment passed earlier.

No doubt it is a topic which is very nebulous and needs careful approach and analysis by both traditional and modern intellectuals as well as common people. While the moralists feel that anything against Nature is a crime, the forward thinkers emphasize that this is also 'natural'.

The problem is not whether attraction towards the same sex manifesting into physical relationship is natural or unnatural; it exists in the human race from time immemorial. Some condemned it and the recent years see that some countries accepting it and even allowing gay marriages.

India being a conservative and tradition bound nation with a lot of religious faith will have its own reservations in accepting it. The book 'Flimsy Frontiers' carries sixteen short stories set in the Indian milieu. It does not belong to the erotic genre. But, it deals with the human emotions of those who were born and lead life as gay. Since the stories have been written in the contemporary backdrop, most of them are highly readable.

The prime objective of the book seems to show the predicaments and the problems of being gay in the Indian society. There are happiness, heart break, cheating, black mailing, depression and emotions ruling over the intellect. The title story 'Flimsy Frontiers' and 'Blessing' are poignant and touching; stories like 'The Boyfriend' and 'The Suitable Boy' will make one smile. 'Integrity', 'Changing Times', 'The Counselor' and 'Practical Man' carry tinges of depressive misery.

Simple style and honest approach make this book, with an impressive cover, highly readable and will induce one to ponder over this controversial human nature.

25-Dec-2013
More by : G Swaminathan
---