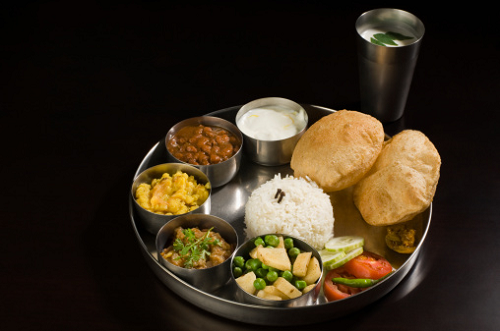 It is often seen that we vegetarian folks end up with different kinds of deficiencies or diseases related to malnutrition. The reason for this is not the vegetarian food as such but our own neglect. We ignore the importance of a balanced diet. We have to be especially discreet about this if we are vegetarians. Of course, our elders have always emphasized, 'An apple a day, keeps the doctor away'.
When I was a kid in my home the menu was kind of fixed. We kids knew which lentil on Friday or Saturday or so forth. It's a good idea. This helps in a way to monitor if we are having enough variety and balanced food. It is true that vegetarian diet is little low on certain nutrition as compared to non-vegetarian diet. For example, beef has more proteins than any vegetarian diet.
My family is mostly vegetarian. We eat chicken once a week or once in two weeks. Eggs occasionally. However, whenever, we go for a physical its always an 'A'. The reason being, we always try to eat balanced. We have a set menu so to say.
During the week, there must be a lentil every day (rich source of protein) there is salad every day, which includes carrots, reddish, lettuce, cucumber, onions and tomatoes (vitamins and minerals). Every once a week, I make sure that we have spinach (Iron), French beans, cauliflower, cabbage, squash, peas, potatoes, okra and no frozen vegetables. Of course, we all know that Chapattis and rice are a good source of fiber and carbohydrates. Milk (protein) is an essential part of our breakfast. Yogurt (curd) is a good source of calcium.
I strongly believe all our efforts are directed primarily towards our physical needs. It is important therefore, that we take good care of our body. I understand, we have busy life now a days but in order for us to be healthy we should definitely eat fresh every day and eat all the nutrients required for a healthy body. Left over food should be avoided as far as possible.