Lasya Shashimohan's Soul-stirring Tales
My acquaintance with Lasya Shashimohan's works began with reading her beautiful poems on Muse India – Your Space. Her insightful, intuitive and intelligent writing style has always fascinated me...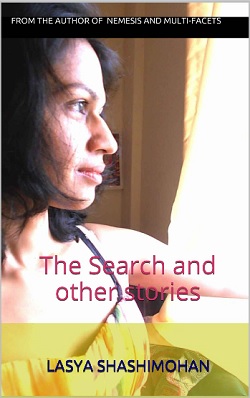 'The Search and Other Stories' is my first exposure to Lasya's prose style. Her story telling style has the same easy and flowing quality as her poems. That she is a master of wordplay is amply demonstrated in her poems and the same comes out beautifully in her short stories too. Sample this in 'The Find' (Sequel to 'The Search'):
Hollow.
Devoid of truth or validity.
Neither fish nor fowl.
Vacant.
Nothingness after so many years of search
and a mirage of a find.
These lines sum up the stories, 'The Search' and its sequel 'The Find'.

Pick any story in the collection - whether it be 'Versatile Eye', 'The Cosmic Touch', 'Isis', ' or 'Metamorphosis', - one cannot miss the mystique, intrigue or that certain something to which one can't put a finger, in Lasya's writings. These make each short story in the collection an engaging and compelling read. The stories, because of their powerful themes and that rare ethereal quality, will remain with us for long...

That Lasya Shashimohan is a magician with words and can keep one riveted to them, is proved beyond any doubt in her 'The Search and Other Stories'. Don't miss this soul-stirring journey that Lasya takes us through!

Couldn't agree more that "The Search and 14 other unusual spell-binding tales raise significant questions about the nature of truth and the palpability of reality"!

Check out the book here
14-Jan-2014
More by : Padmaja Iyengar-Paddy
---
---
| | | |
| --- | --- | --- |
| | My earnest thanks to Ms. Padmaja Iyengar for the excellent review and to Boloji.com for having accommodated it. I am indeed extremely grateful. | |
---
Padmaja,

Thanks for your sincere and glowing review
---
| | | |
| --- | --- | --- |
| | One should be the master of words. That is talent/ I've gone through some of her poems. They are wonderful | |
---