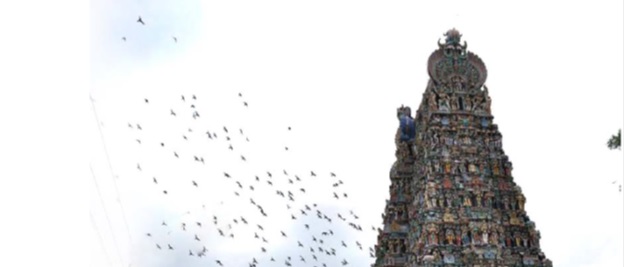 Original in Tamil by Kannikkovil Raja
Translated by Ramesh Anand
Tamil literature has a very long history. Tamil people stands first in developing their native language of Tamil through associations. From idiom, dialogue and modern poetries, with change of time, in the twentieth century's end, haiku started to capture everyone's attention. This is the period of haiku literature.
Haiku, seen as part of the Buddha's Zen philosophy, attracts everyone's attention because it contains the beauty, fervor and naughtiness of a child.
Though idiom was Tamil poetry's root, modern and dialogue poetries were seen as stems and leaves respectively. Imported from Japan, like a tree's flowers, in the sands of Tamil Nadu, haiku poetries are flowering everywhere and spreading their fragrance.
Weaving a haiku gives the happiness of that of taking a bath in a spring river. An excellent haiku creates anticipation in the first two lines and delivers a positive shock in the third line.
Like a stone skipped on a pond making several ripples, an excellent haiku, as a haiku guideline, must make several new thoughts in the minds of a reader.
Haiku is not a modern poetry; it is Japan's idiom poetry containing 17 sounds. A three lines haiku contains 5-7-5 sounds in each line respectively.
In Tamil language, there are poetries like one line Aathizhudi, two lines Thirukkural and three lines Sindhar but these are not called haiku.
In 1916, India's national and Tamil poet, Bharathiyar wrote a haiku article titled, Japanea Kavidhai in Sudesamithran Magazine based on a haiku article written by Yonae Noeguchi in Modern review, Calcutta. Bharathy had translated two Japanese haiku in that article. These haiku gave a first introduction of haiku poetry to Tamil.
listen to the opening
sounds of monsoon rain
here old ears
Original Translation in Tamil by Bharathy
Translation in English by Ramesh Anand
flaming fire
what's the silence
of the falling flower?
Original Translation in Tamil by Bharathy
Translation in English by Ramesh Anand
Bharathy, who stated in this article, "a person who mingles with loneliness, silence, voice of flowers and lives in alignment with nature is called a poet" restates Yonae Noeguchi's words with great excitement, "A Japanese poetry's specialness is, it allows realizing more by saying less".
Paavendhar Bharathidasan, who had imagined Bharathiyar as his guru, has also published several translated haiku in this Kuyil Magazine. It should be mentioned that these two have published only translations of Japanese haiku in the magazines.
After 60 Years of laureate Bharathy's haiku article, in January 1966, kanaiyazhi magazine published few haiku translated by writer Sujatha.
fishes leap
in the waters
clouds ripple
Original Translation in Tamil by Sujatha
Translation in English by Ramesh Anand
fallen flower . . .
never returns to a stem,
its butterfly
Original Translation in Tamil by Sujatha
Translation in English by Ramesh Anand
In the same period, in October 1968, English professor C. Mani has translated about ten haiku in Nadhai Magazine.

leftover
by a thief, it's
window curtain moon
Original translation in Tamil by C.Mani
Translation in English by Ramesh Anand
thicket's outside door
a lock for it
this snail
Original translation in Tamil by C.Mani
Translated in English by Ramesh Anand
In 1972, Deepam magazine has published articles of writer Tamizhnaatan, Japanea Kavidhai Vadivangal and writer Maalan. Kannadhasan Magazine has published 35 translated haiku and attracted Tamil Poets' attention towards haiku. Even then only after 1970, original haiku in Tamil has started to appear.
After Tamil Idiom Poetries, modern poetry has started to spread wide and far. Vaanambadi Poets too it forward as a campaign. One group from the poets had started to resist modern poetry by declaring, modern poetry is not necessary for Tamil. During this period of 1974, Kavikko Abdul Rahman had written six of his haiku in Paalveedhi Anthology. This publication of haiku in Tamil is considered as the first native language haiku.
In August 1984, painter Amudhabharathy published the first haiku book in Tamil, Pullipookkal. Below haiku from this book is still appreciated by many as the evergreen haiku.
in that forest
which bamboo
flute?
Original in Tamil by Painter Amudhabharathy
Translation in English by Ramesh Anand
From the time of release of Pullipookal to 2014, 500 haiku books have been published in Tamil. This is the proud news to Tamil language and Tamil society. In addition to this, in allover Indian languages, only in Tamil, maximum haiku books have been published, a poet's first book is published as a haiku book and maximum students involve in researching about haiku to earn their doctorates.
In Tamil, haiku is named as Thulippa. Thuli means small and Pa means poetry. In 1990, Dr. Leelavadhi published an essay book for haiku, Idhudhaan Haiku. This is the first essay book to be published in haiku. Various haiku information had been included in this book. This book is based on R.H.Blyth's haiku book published in 1949 but Dr. Leelavadhi had mentioned that "this is not a translation of R.H.Blyth's book".
Tamil poets were given a base to haiku through Sujatha's haiku book, haiku oru pudhiya arimugam published in 1991, Nellai Muthu's research haiku book, tamizhil haiku published in 1994 and poet Nirmala Suresh's research book, haiku kavidhaigal published in 1997. As a continuation, lots of research articles, researchers, seminars and debates had begun in haiku and operating successfully.
Scientist Nellai Su Muthu once said," Though the art is originally imported from Japan, a Tamil haiku makes completion only if Tamil culture or Tamil life is symbolized in the haiku because the haiku is brought out in Tamil". Till today, Tamil poets have been writing haiku by his definition.
From 1994, numerous students have earned their Masters and Doctorates Degrees for their research in haiku.
Haiku has created its unique place in various college subjects and various universities such as Chennai, Bharathydasan and Annamalai.
In Tamil, other than haiku, its branches like senryu, haibun, haiga and also new forms like Limericku (Limerick + haiku), Limersenryu (Haibun + Senryu), Limerbun (Haibun + Limericku) are being tried out by poets in various journals.
In 1988, Karanthadi magazine edited by Cheenu Tamizhmani, Pondicherry was first to publish only haiku and its related genres. Subsequently, lot of magazines started to publish haiku from several districts of Tamil Nadu.

Magazine/ Editor/District/ Year of Commencement

Pattampuchi/ Kanakaraj/Pollachi/ 1993
Eniya Haiku/ M.Murugesh/Vandavasi/ 2000
Maeghangal/ Vijay/Kumbakonam/ 2001
Muuvadhi/ K.A.Tamizhmozhi/Puducherry/ 2007
Nadhunichi/ Kumaraarajan/Pollachi/ 2007
Minmini/ Kannikkovail Raja/Chennai/ 2009
Thulippa Newspapar (online)/ Pudhuvai Tamizhnenjan, Kannikovil Raja/ 15.09.2013
Thulippa Weekly (online)/ Pudhuvai Tamizhnenjan, Kannikovil Raja/ 20.10.2013
Kavisuriyan (online)/ P.Kannan Sekar/ Dec 2013
From the above list, only Minmini and Thulippa Weekly are active till today. Besides these, haiku are getting published in blogs too. The credit of taking Tamil haiku worldwide belongs to many. Contemporary poets like Pondi Cheenu. Tamizhmani, M, Murugesh, Pa. Udhayakannan, pondi Tamizhnenjan, Professor E.R. Mohan, Professor Rama Gurunathan, Artist and Poet, Amudhabharathy and Kannikkovil Raja are continuously functioning to the development of haiku in Tamil.

Various Magazines and Journals have been cooperating with them to support haiku.
According to 2013 Statistics, 500 haiku, 25 Senryu and 15 Limericku books have been published. Erode Tamizhanban has published the first Senryu book, Chennimalai Cleopathrakkal. Four poets, Solai Esaikuil, Pallavikumar, M. Murukesh, N.K.thuraivan, have worked together to publish the first haibun book, Aruvadhai Naalil Mazhai.
Several poets are working with an ambition to take the Tamil haiku to the world stage by publishing haiku in postcard, envelope, diary, tea cup, pen, handheld foldable fan, sticker, visiting card, 2.5cm haiku book, women haiku book, husband-wife haiku book, father-son and father-daughter haiku books and students haiku book including the anthology of 1000 haiku edited by Dr. E.R. Mohan from the selected 100 poets based on his reading from 100 books. This anthology was published by Sahitya Academy. Many students have submitted their research works to Dr. E.R.Mohan.
Poet Manimeghalai Nagalingam has directed a short movie based on haiku, Haiku Tharichanam. Similarly, the credit of taking the haiku into internet goes to Poet E.R.Ravi, Madurai. All these journeys are growth of haiku in Tamil.
Haiku introduced to Tamil by Mahakavi Bharathy on 16-10-1916 is reaching centenary. So, as a continuation, on Basho's birthday, 15-09-2013, a haiku newspaper was started in memory of father of haiku. On the date, when Bharathy's haiku article was first published, this newspaper reached 32nd day on 16-10-2013 and finished its publication. To celebrate the centenary of haiku in Tamil, haiku world has proposed and trying to bring haiku stamp, haiku envelope and to name any of the street in Chennai as Haiku Street with the government of state. Tamil haiku world has already celebrated the silver jubilee (1984 – 2009) successfully for completing 25 years since the publication of first haiku book in Tamil.
Tamil government has been giving awards to the best Tamil haiku. Small Journals have also been giving awards to the excellent haiku books. Every Year, under Thaarabharathy trust, Poet Kaarmughil has been giving awards to the best haiku books. Many haiku poets have been looking at this as the highest award in Tamil haiku. Similarly, Minimini haiku magazine is also awarding the Kaarmugilan Award every year.
Tamil haiku stands as the pioneer among the various forms of poetry that showcases beauty of nature, life of human being and issues of society everywhere.
To support and give strength to the research students, with eagerness, Puducherry's Poet Tamizhnenjan and Chennai's poet Kannikkovil Raja have commenced a library in their respective places. Pa. Udhayakannan, who has published maximum haiku books through his publications, that focuses only on haiku, M. Murukesh, who has spent his maximum life on haiku, Solai Esaikuil and Pallavikumar, who have spent their maximum life on haibun are all giving immense support and strength to haiku research students. In addition to these, researcher Kumaran, who translates Tamil haiku into English, must also be mentioned here. Kumaran has published his books in a great manner and is also showing immense interest in translating Tamil haiku of several poets into English.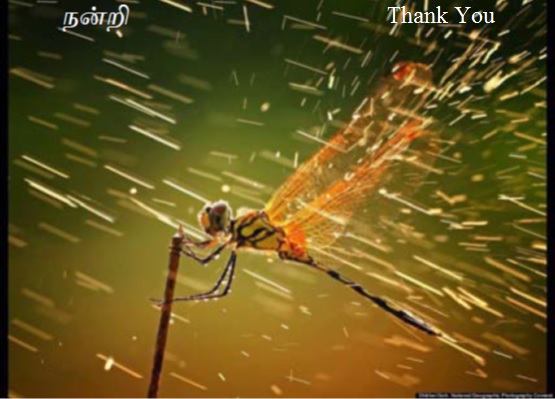 Various poets have been taking various steps for the growth of Tamil haiku. This article is just a drop from that ocean. Friends Kala Ramesh and Ramesh Anand has taken step to bring out this article with an intention to showcase Tamil haiku literature to the world and Tamil haiku world owes a thank you to them.
fear
creeping along - this
snake's trace
Original in Tamil by Erode Tamizanban
Translation in English by Ramesh Anand
in the pond
moon . . . returned
without my bath
Original in Tamil by Professor Mithra
Translation in English by Ramesh Anand
playing age
she sells
toys
Original in Tamil by Pon. Kumar
Translation in English by Ramesh Anand
killing anger
didn't wind up
vibratory rock
Original in Tamil by E.R. Ravi
Translation in English by Ramesh Anand
on the soil
fallen sky . . .
rain flood
Original in Tamil by Pondy Tamizhnenjan
Translation in English by Ramesh Anand
rubbing bamboo
second after second
lustrous sun
Original in Tamil by Kannikkovil Raja
Translation in English by Ramesh Anand
twilight sky
a tree peeps . . .
thatch holes
Original in Tamil by Chellamaal Kannan
Translation in English by Ramesh Anand
silent people
blasted riot . . .slippers
garland on a statue
Original in Tamil by Anbaadhavan
Translation in English by Ramesh Anand
cracked wall
admiring
the ant array
Original in Tamil by Manimeghalai Naagalingam
Translation in English by Ramesh Anand
rain filling pond
associates again
the runaway moon
Original in Tamil by Arunodhayam
Translation in English by Ramesh Anand