The fillip given by the Election Commission to register youth and transgenders on the voting list in the run up to the assembly elections in Delhi, Madhya Pradesh, Rajasthan and Chhattisgarh in December 2013 indicates that these two sections of India's billion-plus population are finally being recognized as distinct, influential voters. Indeed, given the large number of political parties that will enter the fray during general elections 2014, electoral preferences of these new emergent groups, which include sex workers, will surely make the crucial difference between victory and defeat.

As per a 2010 estimate, there are 6,88,751 "registered" sex workers in India – and 3,79,000 in Delhi; the figure for the transgender population is pegged at around 14 lakh. In all likelihood, their numbers are much higher now. "So it's time both these groups are counted as citizens," asserts Geetanjali Babbar, the young social activist whose organization, Kat Katha, is assisting sex workers in Delhi to register as voters.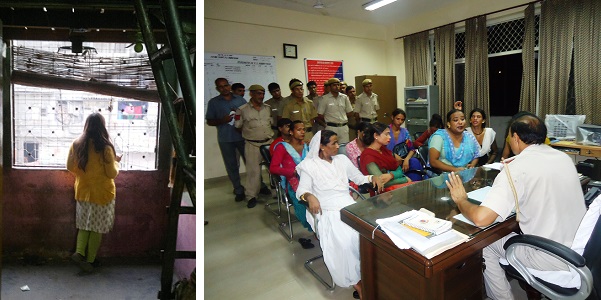 How can these otherwise forgotten citizens ensure their vote? What are their rights as voters? What's the buzz in the city's red light area, and in the colonies of east Delhi, home to many transgenders? Are they rooting for clean governance, better implementation of laws and civic facilities like everyone else? Geetanjali and Pradeep Kumar of Pahal, an organization that works for the welfare of transgenders, have a finger on the pulse of these hitherto marginalized voters living at the fringes of mainstream society. Whereas Geetanjali's group is interacting with the sex workers in the brothels on G.B. Road, Pradeep and his team at Pahal are reaching out to the transgenders to find out more about their expectations from political leaders. They have undertaken this exercise as part of the My Space, My unManifesto campaign that has been initiated nationwide by the Delhi-based ComMunity – the Youth Collective, along with 42 youth organizations across 15 states. Together, they are creating a Youth Manifesto that will reflect young India's vision for the nation.

Kat Katha, which runs a school for children of sex workers in addition to providing tailoring lessons as vocational training to some women, has helped 70 of them to get voter identity cards. Besides this, its activists have been making concerted efforts to engage them in conversations about politics and governance. Explains Geetanjali, "Sex workers want to be treated like regular women, who dream of a better life, especially for their children. They want to be seen as citizens with a say in the development of their city. The unfortunate reality, however, is that no politician has ever felt the need to find out what they want."
And what is it that they aspire for? Geetanjali has a fair idea, "Their focus is chiefly on securing improved living conditions, schools for their children, old age pension and greater social security." Protection from abuse and violent crimes is another crucial demand from them. Ironically, they want better protection from the police, whose daily raids result in many of them being put behind bars. "They are put in the lock up for the night and can be released only once they have been produced before a local magistrate the next day. The women desperately want this 'routine' harassment to end. There is even a consensus building on the government shutting down the brothels and providing other avenues of work for them, although everyone agrees that this can't happen till they undergo vocational training that will equip them with employable skills," she adds.

Like the sex workers, the transgenders suffer from an acute sense of disillusionment and neglect. Bawraji, 55, a Muslim transgender, stays in East Delhi's Laxminagar locality and used to be a member of a dera (group) till about a decade ago. She says, "I am also a citizen of India. I have been voting regularly ever since I came to Delhi from Varanasi many decades ago. This Lok Sabha polls will be no different. I plan to elect a leader who is sensitive to our needs." Recently, Bawraji sought the help of Pahal to replace her lost voter ID card. Incidentally, the NGO has assisted 150 transgenders to get their voter ID cards, while 90 have been registered as voters.

Elaborating on the issues that trouble her community, Bawraji says, "We have the same concerns as everyone else. Price rise is one. Hygiene and sanitation, water and power supply, national security, communal amity – all these matter, too. The country's progress and development are important to us as well. Thanks to the Delhi Metro, mobility in the national capital region has become easier for all of us."

Pahal's Pradeep, who has interacted with around 500 transgenders in east Delhi over the last few months to collect their promises for the Youth Manifesto, highlights some of the key demands: "They want financial support in the form of a pension just for them. The removal of Section 377, which can be used to penalize them, is of utmost importance, as is the sensitization of the police force and the establishment of a special helpline number and help desk within police stations for those among them who have suffered violence. They feel they are as vulnerable to sexual abuse as women and so the same kind of facilities should be extended to them." Schools, voter ID cards, ration and Aadhaar cards and shelters for homeless transgenders are also on the list. He adds, "A demand that is common to sex workers and transgenders is reservation in educational institutions and government jobs since both see themselves as minorities."
Of course, what is noteworthy about both the groups is that even though they have faced societal and systemic ostracism, they have not been mere passive observers at least where politics is concerned. Way back in 1993, Nimmibai, a madam at a brothel on G.B. Road, had contested the Lok Sabha seat from Delhi's Chandni Chowk although she eventually lost. Her aim was to get prostitution abolished. Even now she is confident that "her chance [and of those like her] would come someday".

Transgenders have had mixed luck in the electoral race. Shabnam Mausi from Madhya Pradesh had made history when she became India's first elected transgender An MLA in 1998. Asha Devi was elected mayor of the Gorakhpur Municipal Corporation in Uttar Pradesh in 2000. Raj Hasina and Shobha Nehru in Haryana were elected to the Hisar Municipal Council in April 2005. Kamla Jaan, elected mayor of Katni in 2001, demitted office after two years, following a court order that she was ineligible for the seat reserved for a woman. More recently, representing oppressed and marginalized sections, Ramesh Kumar Lili contested unsuccessfully from Delhi's Mangolpuri as a candidate of Indian Bahujan Samajwadi Party.

New vote banks and unconventional aspirants are already changing the dynamics of politics in India. The meteoric ascent of the fledgling Aam Admi Party, run by untested young leaders and cadres, is being ascribed to its successful mobilization of the youth and anti-corruption and anti-status quo proponents, disenchanted with shoddy governance. Clearly, inclusive politics, which takes into account the aspirations of the marginalized, can turn things around for many who have been trying to break free from violence, social rejection and penury.