This write-up has been pending now for over 6 years. Finally, I decide to give it a go. So, here it is, friends. May be much has changed over these 6 years in the areas I am writing about, but, at least, two things never change – the Himalayas, and the wander-thirst. Last year I could not go trekking, and I had been to the Himalayas last time with my family to Kumayun in 2012.

As anyone would understand, the thirst needs a quench; no possibility of going to mountains in the coming months; so, here I sip my memory cup.

The whole Bagini region falls under the Nandadevi Biosphere Reserve.

Our Bagini trek in 2008 has been the last when we three – Partha, Arjuna, and I – could trek together. After that, in all the happy ups and downs, if one has been occasionally there, the other would be inevitably missing.

Bagini needs some introduction for not-so-seasoned trekkers. For those who have done the Panchakedar, this should be the next destination if a 'repeat telecast' is not in the offing.

Nanda-Devi Sanctuary decorates herself on the North-West with Changabang & Trishuli peaks. Bagini Glacier runs down northwards from them. The melting flow of the glacier flows into Dhauli-Ganga, but before that it marries the waters of Dunagiri Glacier that runs down from Purbi-Dronagiri ridge, as also a stream called Lampak.

To the South of that rendezvous with Dhauli-Ganga is a village named Jumma located on the Joshimath-Malari highway – from where our trek starts. This region is very close to the Tibetan border. The cultural difference with mainland India or even other parts of Garhwal is quite evident.

As is usual, we reach Haridwar first, and then bus-ride 256 km to Joshimath. We hire guides, porters and necessary equipments and items from there like tent, and purchase kerosene and groceries etc. as estimated by our experienced guide.

The night in a hotel passes leg-pulling each other, and then in the next morning we collect our stock, and board a jeep to reach Jumma (44 km) passing small villages like Tapovan, Reni, Lata, Suraithota and Phagti.
Dhulaiganga River becomes our constant companion from Suraithota.

Day-1, 13th October: Jumma to Ruing village (2800m / 9180 ft) - 3 kms trek

We have our lunch with chicken curry at a Dhaba enroute, and reach Jumma at 1 pm.

Crossing the suspension bridge over Dhauliganga, we trek on the left bank of Dhauliganga through a pleasant forest for 3 km – slow ascent in cool shades of large green-flavoured trees – to reach Ruing village (2800m) around 4.30 p.m.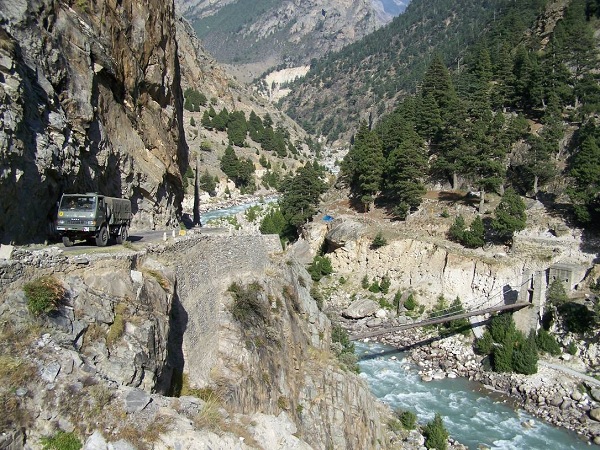 Suspension bridge over Dhauliganga connecting Jumma with trail path to Ruing; Malari road on the left
Luckily the Panchayat House is available. That saves us time and energy of setting up tent. There is camping ground aplenty; so even if Panchayat house is not available, one need not worry. Ask the villagers politely what to do, and one would find the most helpful hands. The rooms of the Panchayat house are not however, very hospitable with some big rats busy in their daily work that the human can only appreciate as mischief. Our rucksacks arouse their curiosity, and their curiosities arouse our tension, lest the foods fall in wrong hands.

We immediately spread our plastic sheets side by side and the mattresses over them in one room. The small room at the end of a lawn is our kitchen. After the initial arrangements, our guide and porters get busy with cooking. Taking tea and hot maggy we now go to take a stroll in the village a little downhill to hunt shots of daily life.

Ruing is an important village in terms of socio-economic activity. For all the villages scattered higher up, this is the nearest market. There are cottage handicrafts that one would surely like. During winter, people from the upper villages come down with their fodder and pass the winter months here.

Some trekkers prefer to camp walking 2-3 km ahead of Ruing, however, I suggest, trekking is not all about rocks, so unless one mixes with local people and gets to know the local culture, the completion of even a successful trek remains a vain boasting, nothing else.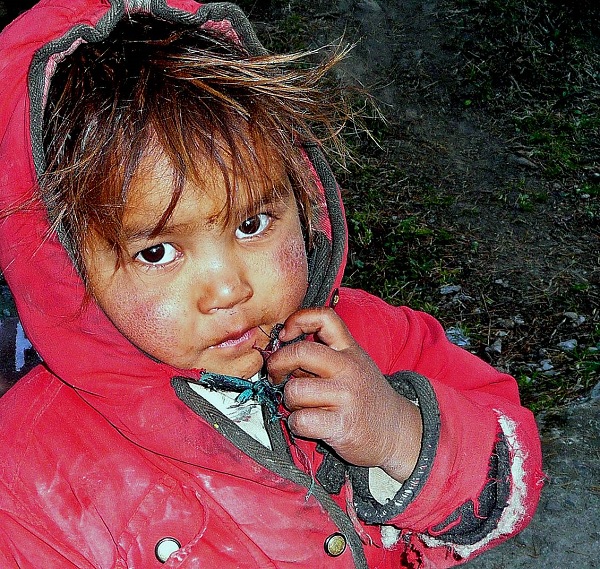 Little girl of Ruing village
The night passes peacefully disturbing each other's peace either with roaring snores or by taking away a peaceful sleepers wrapper. As we gradually accept that the rats too are God's creation and have every right to share the room with us free of cost, they too are convinced that we have no hidden cats for them and are therefore, free to trek in the room and explore our luggage.

Day-2, 14th October: Ruing to Dunagiri or Dronagiri village (3610m / 11844 ft) - 8 kms trek

We get up at 6.00 a.m. and after the morning rituals in the green shades of large trees, we three start at 7 am. Our guide and porter stay back to prepare our breakfast and lunch, only to catch up with us within 2 hours.

After 3 km we reach a grassland at the base of the Dronagiri mount. This is the place where some trekkers camp instead of staying at Ruing.

Now we trail mostly through forests with comfortable ascents and descents until we reach a landslide zone. Pine and Deodhar trees populate the alpine forest. All along the trek we have been greeted by various birds and wild-flowers. Two gigantic golden eagles hover above, and we run from this corner to that to have them satisfactorily framed in digital two dimension.

The landslide zone 2 km ahead of Dunagiri village is quite an adventure. Sometimes, the track narrows to just offer us enough space to stand, and sometimes it narrows even more to grant us the pleasure of creeping.

Our guide says that this is not the condition always. It has rained last two days, and so we are unfortunate.

Whether it is fortune or misfortune, God knows, but a trekker knows misfortune may be as much fortune, as fortune may be misfortune. So long the mind is wake and alert, so long the sense of beauty floods the veins, and of course so long the camera is alive, who cares fortune or misfortune?

We cross the landslide zone with some occasional spicy slips. The only heavy toll we have to pay is the inability to take photos at will. The mind has to be so busy with the foot that it hardly gets time for the eye.

No, it is not that we forget the eyes. We try that too. We stop every now and then as we walk. But by now our guide has transformed into an angry school-teacher who would scold the mustached babies in low voice: "sab, don't stop, the rocks might fall anytime from above."

Here is a deep gorge created by massive glacier slides a few years ago. The original trail of about 250m was completely washed away.

The deep precipice calls from down "come on dear, I will take you high up," and as we look up, we see overhanging rocks asking us "hey, let's have rock and roll."

Finally, driving us to safety, our shepherd-guide relaxes with Biri soaked in smoky smile.

Now, in front of us is quite a steep climb of about 300 metres. A spectacular stream dances and sings as we ascend the dusty and muddy twisty trail.

We ascend slowly, and as we reach the top, it is suddenly all level.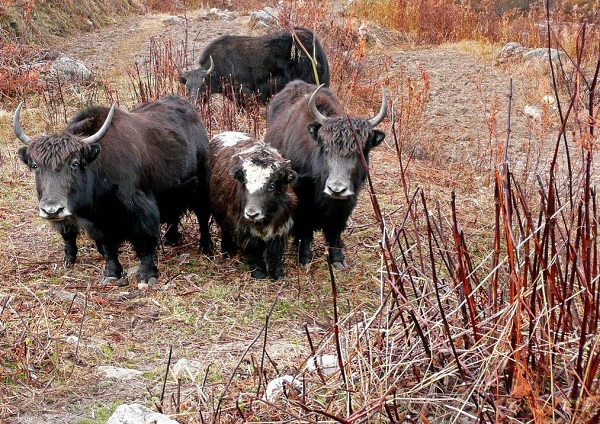 Reaching Dunagiri we are welcomed by these Yaks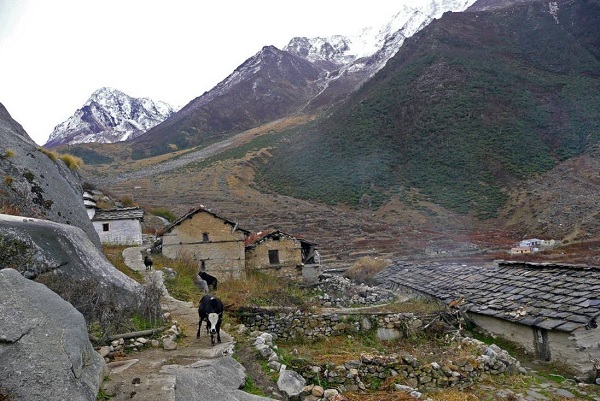 Dunagiri village.
We take some rest in a concrete shade, and now our path is a cemented one as we reach the Panchayat house.

Dunagiri village is quite striking, and the first question that surely arises in the mind is: how can people live here with almost zero amenities? The answer too rings simultaneously: well, boss, yeah hai India!

As we freshen a bit, we now find ourselves in an incredibly beautiful place surrounded on all sides by mountains.

Concentrated in a line on one side, there are about 40-50 houses, but most of them are abandoned and ramshackle.

This is the usual ritual every year. As winter sets in, villagers go down to Ruing.

Kanari Khal is at the back, and Nandikund Pass lies in front of the village. We have an open view of the North face of Hathi Parvat to the South.

If Hathi is there, can Ghora be far behind? Yes, the adjacent peak is really known as Ghora Parvat.

Those who have been to Garsan Bugiyal by ropeway from Joshimath must have seen them, but here, the familiar is unfamiliar in its beauty.

As our guide and porters get busy with their work at the kitchen, we three go to the village. We meet very few people, mostly elders. They say they have some work left, so they are staying back. Within two days they too would go down to Ruing.

The work is, as we watch with great curiosity, to make threads of wool.


Old men of Dunagiri Woman at work, Dunagiri
There is the temple of the village Goddess – Nandadevi. In the setting light of sun, we pay a visit. We also pay visit to Bhumial God temple.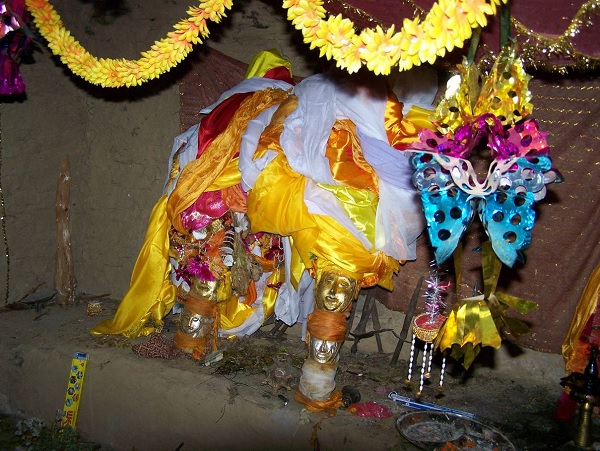 Inside Nandadevi Temple (Photo by Arjun Nandi)
As the sun sets, it is biting chill, but another sensation is setting in … the sense of wonder, awe, and beauty … and that makes us forget our shivering. What a sight! The Moon is rising from behind the Dunagiri peak, and the Hathi Parvat has no shame to expose herself bathing in moonlight before us.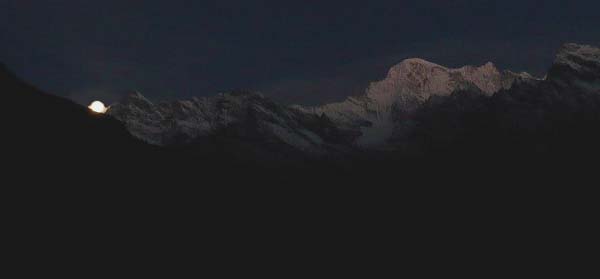 Moonrise on Dunagiri Peak
No words. No more words. After some shots, even shooting seems wastage of time. We drink and drink the moonlight reflecting on the snow-capped ranges. If the Moon gives us so much, the sun would surely compete with her next morning. And so it is.

Day-3, 15th October: Dunagiri to Langatoli (3800m/ 12468 ft) – 3 kms trek; Langatoli to Advanced Bagini Base-Camp or Garur Camp-site (4484m/ 14712 ft) – 7 kms

The weather-goddess has been prasanna with us good boys so long. And in the mountains, that means one thing and one thing only – a spectacular sunrise. We do not want to miss a single moment as Hathi and Ghora Parvat would wear the morning light, so, we wake up when it is still dark. And then we get our heart's desire.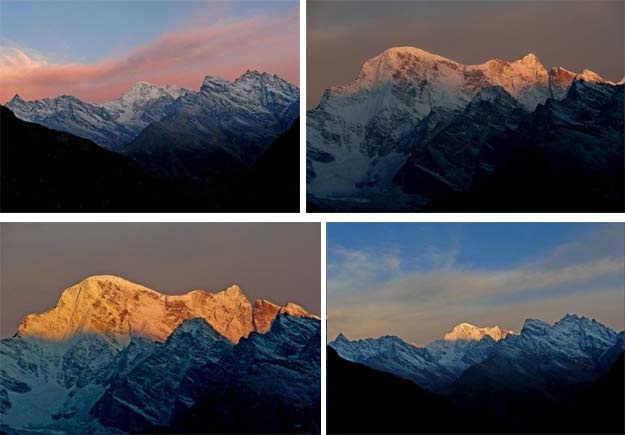 Sunrise on Hathi and Ghora Parvat – Different Phases
Today we have to walk about 10 km. The distance is not much; however, considering we have not given ourselves the time for necessary acclimatization, we have to be slow because soon we would have to enter moraine zone above tree-line.

Langatoli is the usual campsite for day-3 for those who cannot make it or do not want to make it to Lower Bagini base-camp. However, our guide says it is better to camp at 'Bengali camp-site' about 2 km ahead of Langatoli and 2 km below Lower Bagini base-camp. That would make the next days trek a cake-walk, other than giving us a whole day to acclimatize.

From the name 'Bengali camp-site' it is quite evident that it is a favourite camp-site mostly for Bengali trekkers. There are of course idiots (and idiot-bloggers on the net) who think the name is pejorative.

Let me repeat, acclimatization is must in this area because it is above tree-line, and one has to gain height too soon. It is not a good idea to be in delusion of being a Virapurush. The mountains will cut that complacency short in no time. Even seasoned trekkers are known to suffer from altitude-sickness like nausea and headache and vomiting from Bengali base-camp onwards, and many a good trekkers have been compelled to abandon trek reaching Lower Bagini base-camp.

I can tell that for sure because we met a team of four at Langatoli. They came down yesterday. Two of them could not make it to the end.

After a good breakfast with Aloo-Paratha and egg curry, we start relaxed at 9 am for Langatoli.

We reach the ridge-top above Dunagiri village after a gradual meandering climb of about one km. We have a nice view of the village from here. No mist. Trishuli, Hardeol and Purbi Dunagiri peaks are clearly visible from here. Rishi peak grants us the first grand Darshana from here. Down below to the left is Bagini Nala and a concrete bridge is visible to take us to the other side.

Then a gradual descend takes us to the left bank of Bagini stream.

We cross the stream. The cement bridge coughs us off on a bifurcation. The left trail goes to Kanari Khal and from there to Garpak village. We take the right one following a big-bouldered path that twists as it ascends.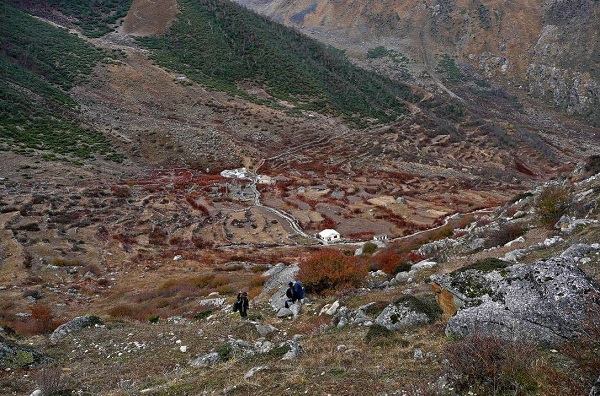 Leaving Dunagiri behind; ascending Dunagiri Ridge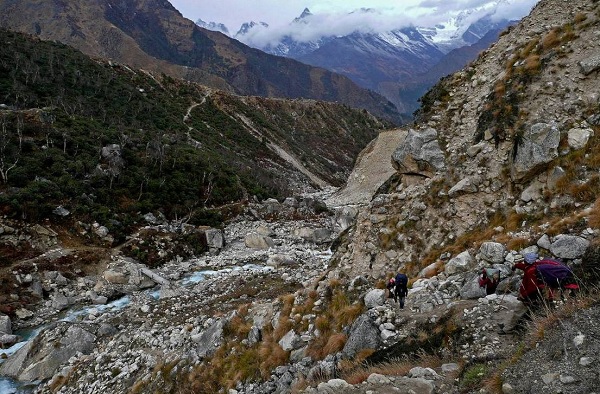 Descent from the ridge: down below is the concrete bridge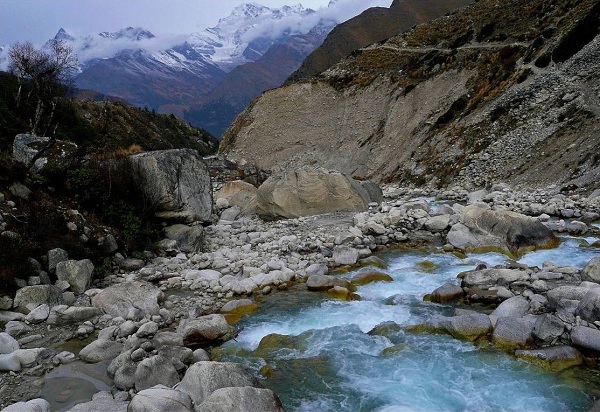 Bagini Stream
Now a good rocky climb and Bagini stream's songs become fainter.

It snowed last night. Ice on grass makes the path slippery, but who cares? How many have seen such icy vegetation?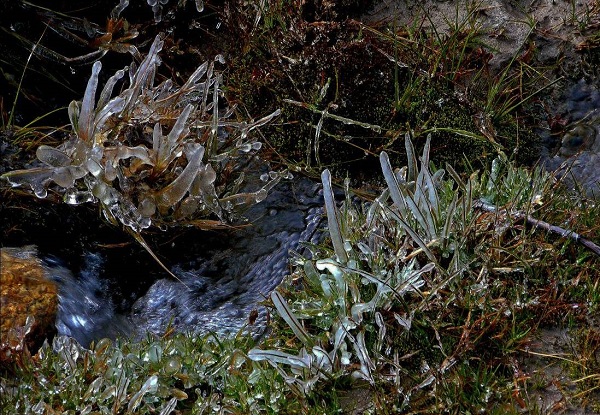 Icy Grass
We reach a grassy land with a crystal clear stream. This is the Langatoli campsite.

Trishuli and Hardeol peaks on the north-eastern side and North-face of Hathi Parvat are visible from here on the south-west side. The Dunagiri ridge from far is keeping a watch on us.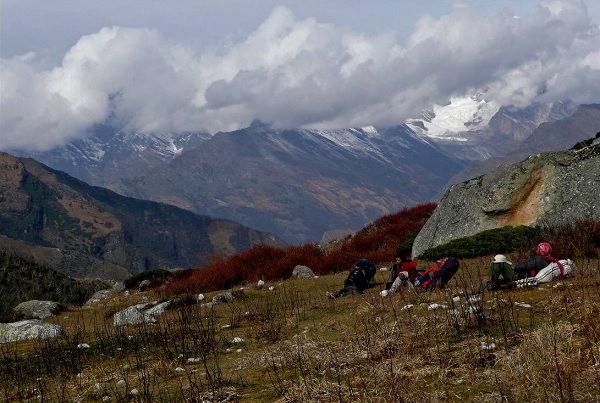 Rest on Langatoli Meadow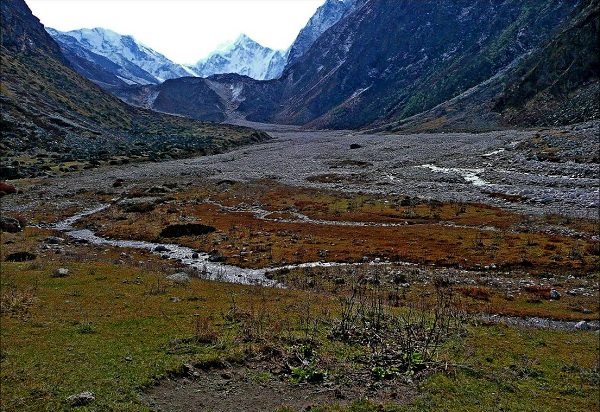 Langatoli Meadow