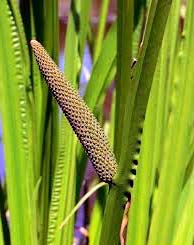 VACHA is most important medicinal plant described by many acharya. It can be used from childhood to old age.
Latin name - Acorus calamus.
Family - Araceae.
Sanskrit name- Vacha, Ugragandha, Golomi.
Hindi - bacha.
Marathi - Vekhand.
English - Sweet flag.
Vacha is shrub grows throughout north part like Himalaya, Sikkim, Manipur, Asam, Brahma.
Properties

Rasa - Tikta, Katu
Vipaka –Katu
Veerya- Ushna.
It can be used internally as well as externally.

Part used - Rhizome
Therapeutic uses

1) Epilepsy
· Old ghee processed with vacha , brahmi juice, kustha and shankhpushpi alleviates insanity, inauspiciousness, epilepsy and sinful conditions.
· By using vacha powder with honey keeping on diet of milk and rice overcome epilepsy even if chronic and severe.
· One should use Lasunawith oil or satavari with milk or juice of brahmi or kustha or vacha mixed with honey.

2) Skin disease
· Application of the paste of vacha, kustha , vidanga is useful in wet eczema.
· Paste of lodhra , dhanyak & vacha is useful in pimples of puberty.

3) Headache
· In suryavarta and hemicranias, pressed snuff of vacha and pippali is useful.
4) As Rasayana
· By using vacha with milk or ghee or oil for 1 month, one becomes invincible for pathogenic agents and gifted with sharp intellect and sweet voice.
· Regular intake of ghee cooked hundred times with vacha makes one long lived and free from disease.

5) Alopecia
· After pracchan karma, paste of vacha and devdaru or gunja should be applied.

6) Diarrhea
· One suffering from diarrhea should take water boiled with vacha and ativisha or musta and parpata or haridra and sunthi.

7) Diseases of mouth
· One who keeps the nodular piece of vacha in mouth for a day gets rid of the diseases of mouth.

8) Amajirna (Indigestion)
· In this condition, emesis should be induced with decoction of vacha added with salt.

9) Vacha is used in balguti for intelligence and proper speech of child.
Toxicology

Calamus oil and extract are prohibited from use in human food due to its toxicity.

Toxic effect
Depression hepatic & heart abnormalities. In this way vacha is very useful plant.
References:
- Adarsh nighantu.
- Textbook of Dravyaguna vigyan
- Classical uses of medicinal plants.