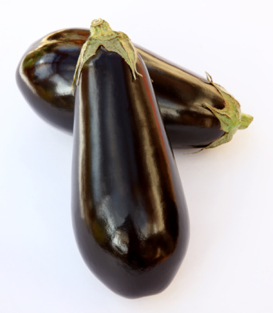 Ingredients
1 big Brinjal,
1 cup flour,
1 big onion,
1 cup yogurt,
1' tsp. turmeric powder,
1 tsp. red chilli powder,
1' tsp. salt,
1 tbsp. coriander leaves,
Dried mint leaves powder,
Cooking oil for frying.
Method
Slice the Brinjal into 2 cm thick ovals. Smear them with a mixture of salt, turmeric and red chilli powder and leave aside for 10 minutes or so. Next dab the flat sides of the slices with flour. Now heat the oil in a frying pan and shallow fry the Brinjal pieces until they turn crisp and golden brown in color. Arrange the fried pieces on a serving tray. Deep fry the chopped (cubically) onion until clear and golden. Sprinkle the onions on the Brinjal pieces. Now prepare the yogurt adding salt and mint to it and then beating it briskly to form a lumpless thick mixture. Spoon out the yogurt on the fried Brinjal pieces and decorate them with finely chopped coriander leaves. Serve with Roti.
* Brinjal = Egg Plant