Few among you, dear readers, might be familiar with the name of Irish politician Sir Boyle Roche. He was a famous 18th century Irish soldier-turned-politician. After an illustrious career the in British Army before the United States came into being, Roche became a member of the Irish House of Commons in 1775. He is best remembered for the language of his speeches than his politics — they were riddled with mixed metaphors ("Mr. Speaker, I smell a rat; I see him forming in the air and darkening the sky; but I'll nip him in the bud"), malapropisms and other unfortunate turns of phrase.

Roche, possibly, was Richard Sheridan's model for Mrs. Malaprop. While arguing for a bill, Roche once said, "It would surely be better, Mr. Speaker, to give up not only a part, but, if necessary, even the whole, of our constitution, to preserve the remainder!"
A Phrase Was Born
One day, Sir Boyle Roche stood up to deliver a speech and said: 'Half the lies our opponents tell about me are not true!' Someone with a much firmer grasp of the English language remarked of Roche, 'Every time he opens his mouth, he puts his foot in it.'And a phrase was born to embellish the English language forever. Here're two memorable examples of such turns of phrase:
It is impossible I could have been in two places at once, unless I were a bird. (A speaker in British parliament, as per Brewer's Dictionary of Phrase and Fable.)

Why we should put ourselves out of our way to do anything for posterity, for what has posterity ever done for us? (This oft-quoted example of putting your foot in the mouth is from Sir Boyle Roche's response to a debate in the Irish House of Commons.)
Since then there have been all over the world those who, knowingly or unknowingly, have taken the path blazed by Sir Boyle.

May I add Foot in the Mouth has nothing to do with another disease called Foot-and-mouth disease or hoof-and-mouth disease (Aphthaeepizooticae). It is an infectious and sometimes fatal viral disease that affects cloven-hoofed animals, including domestic and wild bovid. The virus causes a high fever for two or three days, followed by blisters inside the mouth and on the feet that may rupture and cause lameness. Unfortunately, politicians all over the world are still immune from this malady.
Shinde, Digvijay and Co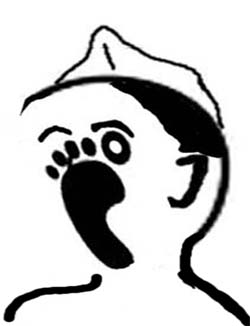 We have in India — at least so far — no agreed list of our distinguished practitioners of art and craft of the foot in the mouth, nor an agreed ranking which is always in a state of flux. However, in recent years the two main contenders of the top slot are Union home minister Sushil Kumar Shinde and the Congress spokesman Digvijay Singh.

Shinde began his career in the police force. Even though it's been years since he left that job to join the more lucrative profession of politics, his instincts and mindset, it seems, have remained those of a policeman. Once a cop, always a cop. This character trait was evident when, recently, the home minister targeted the electronic media for "acting against the Congress". He was so angry about the way the media have been targeting the grand old party regarding its chances in the general elections that he went to the extent of saying that media should be "crushed". However, he later retracted his statement, saying that he did not target the electronic media but only the social media — these accursed tweeters. Was Shinde's comment an outcome of the depression prevailing within the Congress due to its imminent defeat?

Incidentally, Shinde is not the only one miffed with the media these days. A couple of days ago, AAP supremo Arvind Kejriwal attributed corrupt motives to the media that were critical of him and charged the media with being pressured into ignoring him? Hasn't he caught up with Lalu Prasad type of politics — you may kick in the back just to report? Incidentally, this bash-the-media attitude, whenever any negative story comes out, is seen in Bollywood too. Aren't politicians bit of actors?

Besides Shinde, Congress General Secretary Digvijaya Singh is well-known for his penchant for making provocative statements with the sole purpose of getting himself in limelight. His readiness to wade into tricky situations is seen as a costly addiction as it often leaves the party red faced. Instances of Singh retracting his statements and the party distancing itself from them, are innumerable indeed. Here's just one gem. He said he didn't rule out the involvement of Rashtriya Swayamsevak Sangh in Mumbai serial blasts, evoking sharp criticism and condemnation not only from the Bhartiya Janata Party but his own party as well.

Digvijay Singh is known for his cheeky statements which have often left the Congress party red-faced. There are instances when the Congress party was forced to distance itself from his rather costly addiction. He had once called union minister P Chidambaram as 'intellectually arrogant' and had to apologize for the same. His remarks a few years ago advocating Rahul Gandhi for prime ministership almost pushed Dr. Manmohan Singh to resign. Be it his criticism of Baba Ramdev, Sri Sri Sri Ravishankar or Anna Hazare, Digvijay always puts his foot where his mouth is. Once again Digvijay is in the news saying Rahul Gandhi will not disappoint as Prime Minister.

In trying to wriggle out of tricky situations with creepy statements and retorts Digvijay has got himself in trouble so often. Though Digvijay has earned a sobriquet as a buffoon there are many who believe, rightly or wrongly, that he might have been directed by the party high command to play that role.
Politicians' Occupational Disease
The propensity of politicians to put their foot in mouth is spread all over the political spectrum. Apparently, it is an occupational disease. Take the example of Dharamveer Goyat, a Haryana politician. According to him, 90 per cent of the rape cases in Haryana – Haryana has a rare variety of this crime - are consensual because the girl and boy concerned had known each other before the rape. Goyat's ignorance of rape as defined in the Indian Penal Code is pathetic. Besides, where did he get the magic figure of 90 per cent?

For conjectures cloaked in mathematical jargon, take Rahul Gandhi. He has claimed that seven out of 10 youth in Punjab take drugs. Everyone knows that there is a drug problem in Punjab. However, one is perplexed where did Rahul get the figure of seven? Why not eight if he wanted to impress us with his Doon School-acquired ability to calculate? Is it based on some Congress-sponsored social survey or is it sheer youthful exuberance?

The real trouble is that our politicians want to be in the news. So, they must speak something that the press can pick up and quote. For that they think speaking on women is the best bet. Take Abhijit Mukherjee, the beloved son of President Pranab Mukherjee whom he far-sightedly inducted into politics to maintain the family's connection with such a lucrative profession. The poor fellow didn't know what to say to get reported so he ventured with describing the women protesting against a Delhi gang rape as "highly dented-painted". And isn't he right? They must go home to take off the lipstick and the layers of make-up before venturing on the road with placards.

Mukherjee Babu's colleague from West Bengal, CPI-M leader Anisur Rahman went one and a half steps further and asked the Bengal Chief Minister Mamata Banerjee how much she will charge after getting raped. He was apparently ridiculing the compensation policy for the rape victims by the West Bengal Government. His statement ran like this "We have told the chief minister in the assembly that the government will pay money to compensate rape victims. If you are raped, what will be your fee?" The press wisely didn't mention if she quoted a price.

We even saw even Narendra Modi taking potshots at Shashi Tharoor by calling his late-lamented wife a "Rs 50 crore girlfriend". Then there was the statement by Sanjay Nirupam where he reportedly told Smriti Irani who's acting these days as one of the spokesmen of BJP: "till some time ago you were dancing on the TV screens and now you have become a psychologist."

You may wonder what our politics has come to and how far will our politicians go? Unfortunately, our publicity-hungry politicians are incapable of imposing on themselves any limits which they won't cross. On the one hand we are trying – or at least showing to do so - to strengthen the laws to ensure that our women are not abused after the spurt of incidents which have jolted us from our stupor on the other hand, our leaders continue showing appallingly poor taste in talking about women.
We have many in the present crop of politicians who comes out with one-liners or derisive phrases making mockery of everything from poverty of farmers to making allegations on individuals, institutions or organizations even when the country is faced with enormous crisis. Recently, NCP leader Ajith Pawar showed crass insensitivity for a poor farmer who was protesting to get water for his farm saying whether he should urinate to fill up dry dams. Quickly he apologized for his faux pas after his remark deservedly drew widespread flake for him.

Karnataka politician Dhananjay Kumar, who very often falls prey to the foot-in-mouth syndrome, has stirred hornets' nest by saying that former Chief Minister B S Yeddyurappa had to pay huge money to L K Advani and his family every month to retain the Chief Minister's post. Dhananjay Kumar's remarks created quite a ruckus in the BJP. Even the Election Commission had to issue a notice to Dhananjay Kumar. He often found himself in the dock with his tongue-in-cheek remarks even when he was BJP's spokesperson.

There is also Janardhana Poojary, an honest Congress leader who opens his mouth only to create controversy. Press Council Chairman Justice Markandey Katju had called 90 percent Indians as fools and made, in the bargain, a fool of himself too.

Whether these politicians are really fools or pretend to be fools is quite intriguing. But one thing is sure – the moment they open their mouth they are either in trouble or are not taken seriously. At the same time these jokers make silly statements, like what Home Minister Shinde had done recently accusing the BJP of breeding saffron terror that has an impact on the unity and security of the country. Or, take Kerala's Chief Minister Achuthanandan who ignited a controversy after being "snubbed" by the angry father of NSG officer Major Sandeep Unnikrishnan who was brutally killed by terrorists in Mumbai, when he went to Bangalore to offer his condolences, by saying, "If it had not been Sandeep's house, not even a dog would have glanced that way."
The Award
The Foot in Mouth Award is presented each year by the Plain English Campaign for "a baffling comment by a public figure". (Always baffling and sometimes even breathtaking!) The award was first instituted in 1993, when it was given to Ted Dexter, the chairman of selectors for the England cricket team. It was awarded again the following year, and, after a two year break, annually from 1997. Since then there has been no break, nor a lack of foot-in -the-mouth practitioners.)

The Plain English Campaign was set up in 1979 when the founder, Chrissie Maher, shredded hundreds of jargon-filled forms and documents in Parliament Square, London. The group made their first awards the next year, rewarding those organizations that used plain English, and highlighting those that did not.

The award has been presented 20 times, and only Rhodri Morgan has received it more than once. The Welsh politician won in both 1998 and 2005, and made a light-hearted response to his second win, claiming that the first award had "made [his] name." Politicians have been recipients of the award more times than any other group of people, collecting it on eight occasions; people from the world of sport have won four times. The 43rd President of the United States, George W. Bush, received the award in 2008, with the subtitle "Lifetime Achievement Award", given not for a single quote, but for his continued distinguished "services to gobbledygook".

In the next piece, I'll list scintillating samples of the award winners' foot-in- the-mouth statements.
To be Continued