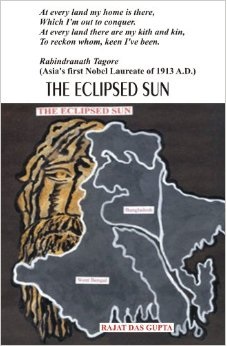 'Rabi' in Bengali means the Sun. Hence the title of the book 'The Eclipsed Sun' (TES) by Mr. Rajat Das Gupta says it all in the context of the current generation's disconnect with the Nobel Laureate Rabindranath Tagore and his works. By re-publishing his book of Tagore translations TES, originally published in January 2002, he has made a sincere attempt to revive interest in Tagore's works.

TES is Mr. Rajat Das Gupta's labour of love, a demonstration of his determination to keep Tagore alive in our minds. An accomplished poet himself and a devout Tagore Bhakt (I have deliberately avoided the word Tagorephile that perhaps still abound in this country and the world over), he has dedicated his life to learning, researching, translating and transmitting Rabindranath Tagore's works and Rabindra Sangeet to the world at large.

Mr. Das Gupta's total devotion to Tagore's works – poems and songs - are reflected in TES - in the superb and painstaking English translations that he has presented with impactful wordplay and immaculate rhyming in most of the verses.

TES offers the readers an opportunity to re-discover Tagore. Sample this soul-stirring, inspiring piece - Rabindra Sangeet (No. 4):
External was Thy chase severe
And we run amok post to pillar
In terror terrible,
At last in my heart
Thy signal to feel…..
In the past, understanding of Tagore centred largely around "Geetanjali", a translation of some poems by Tagore himself that had won him the accolade of the "Nobel Laureate". TES showcases the myriad ramifications of the Poet's literature with a sublime, aesthetic and spiritual appeal.

There are 69 poems and 43 Rabindra Sangeets, presented by Mr. Rajat Das Gupta in translated versions. The author has tried to classify some of these under different captions but these are only a few in number. The poems are of incredible varieties true to the Poet's perception:

"Thou hast made me endless / Such is Thy pleasure." (Geetanjali).

The readers are bound to have this all pervading feeling throughout their reading of TES. They are sure to be overwhelmed when they read the chapter on Death lifting them up to the uppermost of spiritual heights, ridding them of the fear of death, at least so long as the spell of these superb poems persists…. Here's is an excerpt from poem No. 66:
The Creation to rescue from the grip
Of this hibernate Present, is my severe sweep;
That eternal stumbling block
To smash with my disastrous shock,
To pave the way for the pageant perennial
Of the yet to appear, those newcomers to hail.
Another fascinating one is poem No. 65 offering a prayer to the "Sun". While reading it, one feels transported to another realm - as if one was reciting a Vedic hymn or its further elevated version:
Then I recall – O Sun,
The saints' prayer ages back done –
"O Luminous, shrouds your golden bowl
Truth, our final goal;
Unfold it O Gracious!"
Of which I be conscious –
To extend my awakening
Along His rays from horizon every morning.
I pray- O Sun, lift this lid, my body
Comprising atoms and molecules shoddy
Of your radiating mass
That hides the Ultimate enormous –
Be that mystery revealed in my vision clear;
Your holiest exuberance may I peer.
Yet, Tagore giving us such insightful, profound inspirations, appeared himself to be a man of great contradictions. For that, one has to just delve into 'Tagore the wag' and 'Tagore the satirist' chapters. Here's a q quote from poem No. 44 (under Tagore the satirist group) in which Mr. Das Gupta has captured Tagore's occasional lighter vein aptly, as he considered "fun and laughter" as precious gifts of God:
So much senile I shall be never
To call caddish fun and laughter;
If so the old will grunt
With God I'll merrily share its brunt
Grant it forthwith and not turn serious.
Another remarkable facet of Tagore's thought process is his cosmic perception. The translator's note on the poem Playmate, amply demonstrates this:

"My go with the run-of-the-mill / Is not Thy will?" opens up yet another panoramic dimension of the poem – the Poet's bewilderingly chequered career. Primarily, he was a great poet and the first Nobel Laureate from Asia. But that hardly defines him. He had travelled the whole world to have camaraderie with a large number of geniuses in different parts of the world, including Einstein. Incidentally, it seems, he excelled this legendary scientist in cosmic perceptions at least in the area of metaphysics. A number of poems / songs in this volume may tempt one to this belief."

In particular, a reference may be made to the Poem "Ami" ('Myself'- Poem No. 49):
With my senses' hues
Emerald as green I muse
And the ruby as red;
As my sight I spread
The sky is luminous
East to West with light glorious;
To rose I said, "Bonny is thee"
And so did she be!
While Einstein believed that only scientific data explained Creation, Tagore inducted human ego to explain it. The marvellous poem "Ami" (Myself) is undoubtedly a challenge to Einstein's Theory of Relativity.

Next, Tagore's novel "Shesher Kabita" (The Last Poem) – apparently a story of 'triangular love' that abounds in all forms of literature across the world - is again so different from this genre. It incorporates concepts of 'Infinite' and 'Finite' of the Upanishad and is indeed a masterpiece as amply demonstrated by Mr. Das Gupta's review of this novel in TES.

In the "Letters & Diaries" chapter, the sparkling brilliance of Tagore is on full display.

Tagoreana is a vast ocean of aesthetics and spirituality with unfathomable depth comprising a large number of poems, songs, short stories, dramas, dance-dramas, letters & diaries, paintings, novels, essays, children's literature, etc. TES provides a sizeable slice of Tagore's enormity.

In the Poet's Life sketch chapter is noted the following observations of Mr. Das Gupta, particularly moving and touching, as they reflect his humility and devotion to Tagore:

"I have not shown the impertinence to make my work all pervasive which, in any case, seems to be an impossible task even for an erudite. I have only nibbled here and there of this vast treasure to present a few of its gems in English language, however incompetently. Yet, I think, it will not stand on the way of exposing the greatness of the Poet as each piece of his work, big or small, is a window to the panoramic perception of the Poet of the wonders of Creation and his other noblest human faculties."

Mr. Das Gupta's above words reassure even a greenhorn (like me) on Tagore that it is not necessary to be erudite and completely knowledgeable on the vast literature of Tagore. They also reinforce in the new comers, a belief that whatever they get in TES, a big piece or small, will provide a divine enlightenment...

In the "Compliments" Chapter that has recorded accolades and compliments that the author had received from several luminaries on the occasion of TES' first publication in January 2002, there is one from Mr. U. S. Sachdeva (a Supreme Advocate) thus:

"While tracing out some papers I did lay my hand on copy of PR Communication Age and also your letter under reference. I have gone through the translations very minutely. I am to say only one thing that the translations are wonderful. There is natural rhythm and music flowing out of these. The vocabulary equivalent to the original Bengali version appears to be so perfect that persons like me can hardly make out if at all there was any original writing in Bengali. I do not know whether you agree with me or not – Translations of the originals itself is an art and a gift of God."

Mr. Rajat Das Gupta's noteworthy effort is exemplary and enhances our expectations manifold from the Bengalis, who have been blessed with the gift of Tagore's incarnation – a wonder in the literary history - in their land. After all, the Poet's works are mostly in Bengali language that is the lingua franca only in Bengal (and Bangla Desh).

TES has somewhat unveiled and unravelled their Rabi (Sun). Will the Bengalis take up the onus to un-eclipse him further to enlighten the world-wide readers more?
The saddest read of TES is the author's Preface that elaborates the sharp decline in the lofty ideals for which Viswa Bharati (VB - Tagore's great institution of learning) stood. The decline started its irreversible nose dive sometime after the Poet's death in 1941 and touched its nadir in and around 2005. This portion of the Preface is based on the reportage in 'The Statesman' at that time. Was it right to surface this sin of VB's management? I think yes, for it is imperative to apprise the posterity of these scams, so that they stop to ponder over the solutions and initiatives to bring back VB's past glory.

His professional engagement as a Chartered Accountant and advanced age, have in no way diminished Mr. Rajat Das Gupta's zeal to continue his mission of translating and sharing Tagore's works on various platforms. This great devotee of Tagore, through 'The Eclipsed Sun', has rendered a yeoman service to non-Benagalis (like me) by exposing us to the works of Tagore through his apt and appealing translations. Let's hope that TES receives a vast readership, so that more and more aficionados emerge to keep Tagore evergreen in the readers' consciousness.
Book Information:

Name : The Eclipsed Sun
Author : Rajat Das Gupta
ISBN : 978-81-928187-3-3
Price : Rs. 400 /- (USD 25)
Publisher : Cyberwit.net
E-mail: info@cyberwit.net