About a couple hours away by a jet Xian is in the North West of Beijing. The airport was non-descript but, I understand, it has now been converted into a swanky international airport.

One of the four great ancient capitals of China Xian is now the capital of Shanxi province. With more than 3100 years of history it is from where the fabled Silk Route took off. It had, therefore, direct linkage with India. It too was a walled city. The wall is still there but unfortunately we were not taken to see it. Xian, in its long history, saw not only a great many dynasties and emperors, it also was named and renamed repeatedly. The current name was given in 1369 during the Ming Dynasty. From then on its name was change twice more. In 1930 it was renamed Xijing meaning the Western Capital, which, one supposes, it has always been. In 1943 it reverted back to its Ming era name of Xi'an. The city is now one of the 13 emerging megalopolises of China.

After the city was devastated in 904 CE not much was left and yet there are numerous temples and pagodas and other remnants of the past. Dominating the town, however, is the Big Wild Goose Pagoda. There used to be a Little Wild Goose Pagoda as well but it was damaged in the earthquake that shook Western China in the later part of the first millennium.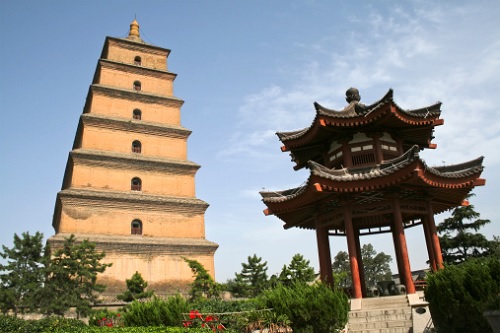 The Great Wild Goose Pagoda was built in 692 CE during the Tang dynasty. Weak construction led to its collapse and it had to be rebuilt in 704. Another massive earthquake in the 16th Century reduced its height by three stories and brought it down to its current 7 stories touching 64 metres. From the top one gets a stunning view of the town. I did go up three or four stories and then gave up finding it hard work climbing all those steps. For us in India it is of interest as it was built by the emperor at the request of a Buddhist monk Xuangsang, whom we know as Huentsang, to store Buddhist sutras (religious texts), Buddha's figurines, etc that were brought by him from India. His statue stands right in front of the Temple of Maternal Grace close to the Pagoda.

We had read about him in our school history books. Another ancient Chinese traveller whom we knew as Fahiyan is now called Faxian. The latter, too, had set off from Xi'an, then known as Chang'an, at the age of 60 years and trekked over treacherous Taklamakan desert down to India, wandered all over the country visiting Buddhist sites and then proceeded on to Sri Lanka. After 17 years of travels in the sub-continent he got back to China by the sea route. One cannot but wonder how these itinerants travelled all the way over tall mountains, deep valleys, crossed broad rivers facing numerous adversities and persisted through Indian jungles infested by wild predatory animals and yet survived to tell the tale. They all went through the travails as India was the country of origin of their faith. Their travelogues have largely been the basis for recording our ancient history.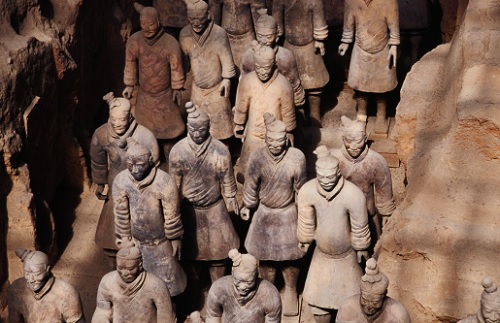 Another site not quite developed then but appeared extraordinary was that of the "Terracotta warriors" who were uncovered in 1974 to the east of the town. They were discovered accidentally by a few farmers who were out to tap sub-soil water. What their find led to was one of the remarkable discoveries. Thousands of terracotta warriors in their battle dresses complete with arms and other finery standing in battle formation were buried underground. When we saw it was like an on-the-spot museum exactly where the figures were unearthed. We could only see about half a dozen or so warriors and a couple of horses in their terracotta finery. Later when the Chinese archaeologists concentrated on the site they uncovered thousands of figures of warriors, hundreds of horses and scores of chariots.

It is a form of funerary art that was buried with Emperor of China Quin Shi Huang in 209-210 BC for his protection and wellbeing after his death. Researchers suggest that the figures were assembled in sort of an assembly line, only the facial features, tunics and other details were added later to give them a semblance of uniqueness. About 700000 workers are estimated to have been engaged in the work. Only a section of the site is open and photography is prohibited.

Later archaeologists seem to have discovered that there are four main pits and the army is placed in a manner so as to be able to protect the tomb of the emperor. Pit one has 6000 figures; pit 2 has cavalry and infantry units and chariots; pit 3 was apparently a command post with high ranking officers and a war chariot; pit 4 was empty, probably left unfinished. Reports also say that swords, spears, battle-axes, scimitars, shields, crossbows and arrowheads were also found and some of the swords had great sharpness at the time of discovery. It must have been a mindboggling effort for the Emperor to fix it all in his lifetime.

Xi'an today is a thriving metropolis and not a provincial town. It has become a hub of education with numerous universities and institutes of scientific importance. It is now a modern city with well laid-out roads, metro and is well-connected by rail, road and air.
Images (c) Gettyimages.com