Once in a while, you get to watch a good Hindi movie. Amidst all the mindless stuff, it feels good to have a good movie for a change. Bollywood, as it is popularly called, churns out so many movies every year. Thousands of our young boys and girls dream of becoming film stars. Apart from this omnipresent business of 'politics'; cricket and films are certainly two major indulging occupations for the public of India. People vent out their pent up emotions through these two mediums.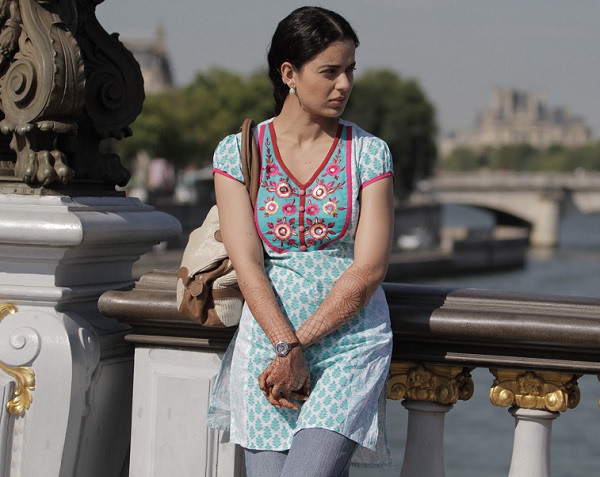 To come to this movie about which I feel like writing, 'Queen' has been like fresh breeze. I've always been a feminist deep within. But at the same time, feminism that blocks happiness and goes against basic human instincts has never allured me. I like 'Queen' perhaps because it is thoroughly feminist and yet not belligerent.
As the movies begins, we come across Rani - a sweet, cute, foolish, soft Indian middle class girls whose dreams revolve around her 'would be' husband. She pledges in her mind that if her 'first' night goes well, she'll visit Mata Vashno Devi along with her husband. The whole family goes gaga over her engagement to a local boy who now works in London. The boy had wooed Rani in the first place. But being at London, he stops seeing merit in this simple girl who single-mindedly adores him. All wise voices have told us, 'Don't break a pure heart full of love'. Well, the boy does exactly the same. He calls Rani to a restaurant and tells her that he cannot marry her. He announces this wonderful decision just a day before the marriage. All the preparations have been done. The girl's hands are henna-dyed. The house is full of flowers, clothes, jewels, sweets and relatives. The music is on. The dance is on. Rani comes home with this news in her henna red hands.
The scenes are very sad indeed. How girls pine just for marriage in this country. This must change at any cost. Pining, sighing, singing, dreaming for what - just for a man; a man who does not value what he has; a man who does not deserve devotion; man whose vision is flimsy; man who is materialistic. Rani is shocked. She always wanted to go to Paris for her honeymoon.
From here, the story takes a turn and I must say that it takes a turn for the better. Rani decides to go on her honeymoon all by herself. She tells her father that if he'll stop her, she'd not go. But her wish is to go ahead with the preplanned tour. The father doesn't have any objection.
Rani is all alone off into the big, bad world. The irony cannot be lost. Rani is all alone on her honeymoon facing cheats, thugs, strange people, and unknown practices. It pinches the heart to see this 'naihar ki dulari, nazo se pali' girl to face unjustified rejection in matrimony and find her way all alone. The situation is figurative. Her venturing into the world in a way symbolizes that one is after all alone. Her dreams get scary. The same Eiffel tower repels. She struggles with food. She craves for Hindi song, Indian food. And yet she finds herself.
As Rumi once said that search is the best guide; search and you'll certainly find sooner or later. This journey of Rani to reach herself is beautiful. She finds a 'bindas' girl Vijay Laxmi. Ironically again, her fiancé was Vijay and this new friend is also Vijay. Gradually, Rani learns to shed off the marriage fixation, the husband centric world view. She cries, she drinks, she tells how she feels, she opens up. In a unique scene, she tells Vijay, 'Girls are not allowed to burp'. Then she goes on, 'Girls are allowed to burp, to jump, to do this, to do that, to shout - hamare yahan na, girls ko kuchh bhi allowed nai hai - nothing is allowed to girls'. She recalls that she didn't take up a job because Vijay never wanted it. This frail, sweet girl is simply bewitching.
The journey goes on. Rani goes to Amsterdam. She makes newer friends, makes gol-gappe in a food competition. An insightful incident is filmed where Rani goes to meet family friends. They make the worst of the incident that her marriage was broken 'Hai Rabba, kinni soni hai, kyu tod di shaadi'. But by now Rani has learnt to laugh at her misfortune which is slowly turning out to be an opportunity for her.
Vijay in the mean time gets a photograph of Rani in her modern avatar - skirt, sleeveless top, curly hair! The shallow beau is tickled. He wants her possession back. But the old Rani has slowly gone. Now we have a charming, confident but at the same time very much Indian girl. Rani gently pushes off Vijay but not before thanking him sincerely for making her what she has become. Rani walks away confidently.
I liked the movie a lot. It would be good if Indian film makers make sensible and entertaining movies. The futility of centering all dreams on a man is driven home. A companion is a part of life. Companionship grows when you grow apart; you develop your separate selves, you find your different passions and yet love each other, respect each other. Happiness is all about giving space, accepting the other person's space. Being physically stuck together all the time like prisoners of a cage is not marriage. Marriage prospects of girls like Rani are so heavily tilted in favor of the boy. Everything depends on him. The basic plot writes off the girl as an attaché. I liked the tone of the movie. I very much liked the fact that Rani has learnt her lesson and is not bitter about it.