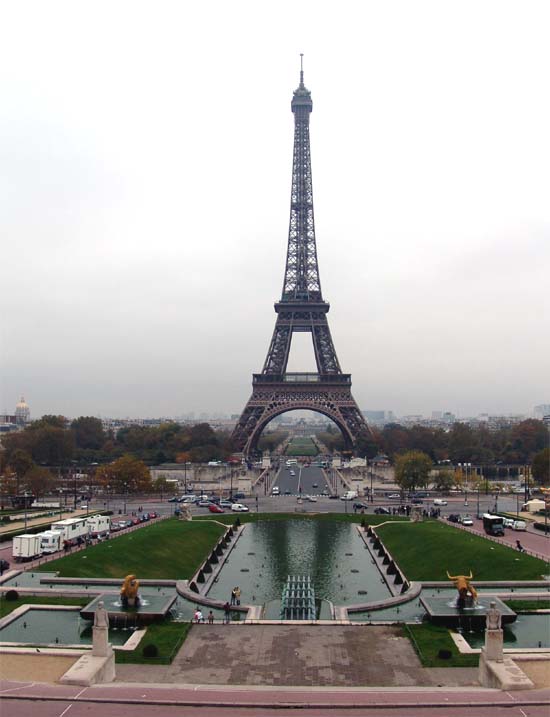 Among the modern marvels of Engineering,the Eiffel Tower in Paris France completes 125 years of its existence today. (March 31). It took almost 2 years and 65 days to get completed,being the handiwork of 300 workers who worked on its construction.It was built to honor the 100th anniversary of the storming of the Bastille.It stands at a commanding height of 984.25 feet and about 10,000 tonnes of wrought iron was used to make it an art of modern engineering. The height changes by about 6.75 inches every year in the summer as the wrought iron used expands during the summers.

The tower is not painted in a single color but it is darker at the top gradually becoming lighter at the bottom. This was done keeping the weather perspective in mind.Besides every seven years it is repainted using almost 60 tonnes of paint to prevent the tower being rusted. Unlike many other world famous monuments, the Eiffel tower is not only tower for visitors only. It has a newspaper office, a Post Office,a scientific lab.,a theater and a seasonal skating rink.There is a champagne bar at the top floor of the tower where a glass of champagne would cost from EU12 to EU 21.
When you reach the Top, the view of the city of Paris is not only spectacular and breathtaking but equally romantic.
As Immigration is a major problem affecting Europe, particularly France,Spain, Italy and UK, its impact is affecting the area surrounding the Eiffel Tower. Since the it is major tourist attraction of the world, as 75% of the visitors are coming from other countries, the lumpen element use this as an advantage. A number of women faking pregnancy come up with a request for a donation or help. Most of them are from Eastern Europe, Middle East and there are droves of them. Similarly there are youth from India, BD and other third world countries selling bottled water and other stuff which looks odd and atrocious. Hope Paris administration knows how to control this, lest it becomes a nuisance as prevalent in many of the tourist spots in India and other countries.