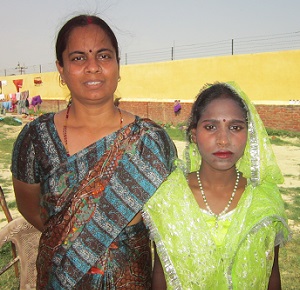 Yes, this is what Renu Gautam of class VIII of Kasturba Gandhi Awaseeya, Balika Vidyalaya, (KGBV) Gosainganj said. She is a unique girl-an athlete of high order, a top winner in 'Kabbaddi', 600 and 400 m races, High Jump and Long Jump. But that is not the end; she scores average 98% marks in academics too!

Renu wants to be a Police officer to avenge for the atrocities that she and few others like her had to face as a girl child. Sad indeed!

It was a God send opportunity to get an invitation from District Science Club, Lucknow to visit some of the KGBVs to inculcate a scientific temper amongst children. There are 3573 operational KGBV at present in the country. In Uttar Pradesh there are 746 such schools. There is 75% reservation for the SC, ST, OBC and Minority classes and 25% for the girls from BPL families. Plus girls with special needs always get a priority in admission. The schools are strictly boarding and everything including the education is free.

The KGBVs have a teacher cum Warden, apart from the Head Mistress and a horde of lady teachers. These schools are situated in far flung remote areas to cater to the education of girls there. The best part is that the quality of education, unlike majority of government run schools, is much better and that is why these girls fare better than many others.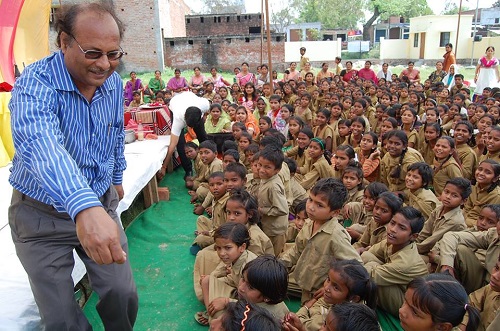 The KGBV at Gosainganj about 30 km from Lucknow is exclusive as it caters to dropouts, daughters of single parents, daughters without parents, girls who have never been to school before and girls who are maltreated by their foster parents/relatives. The school starts from class VI. It is really a wonder, how these little ones learn so well and so fast that they are able to compete with girls of other schools.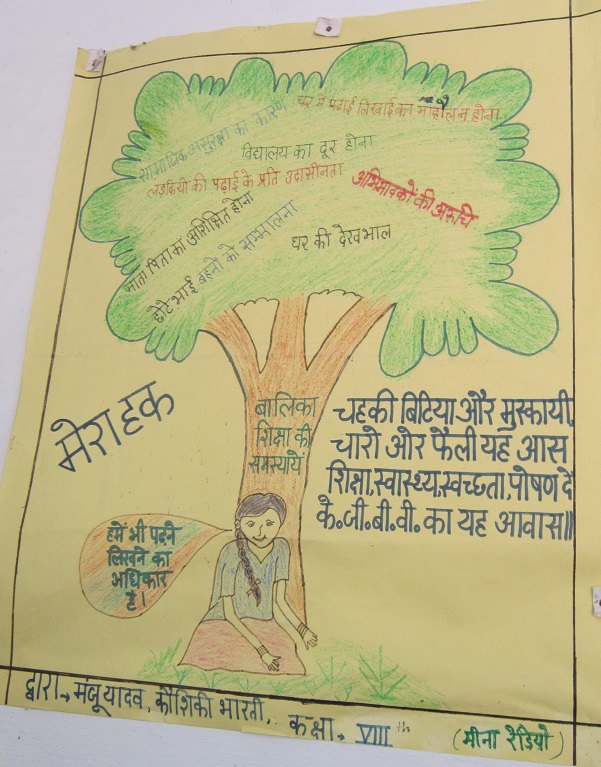 The sad part is that the facility of free education, books, stationery, boarding, lodging, school uniform etc. is available till class VIII. The girls, on the other hand get attached to the teachers and the school that even during holidays they do not want to go back home, instead wish to spend holidays with their teachers. Poor parents of these girls find it difficult to educate them further and as such the girls are compelled to pursue the family traits or remain at home to do various chores.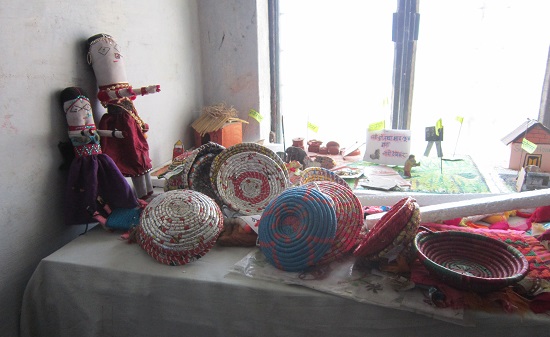 Some KGBVs have started imparting skills for making various handicrafts like decorative items, greeting cards etc. But unfortunately their crafts are not show cased properly. It is time that NGOs come forward to show case the artifacts made by these girls and share the income with them. The schools can promote such activities so that even after leaving the school girls continue to earn something. Some of them surely would come up as entrepreneurs in this field.

Ideal would be to continue to give them the facility of free education, boarding-lodging etc. till class XII and thereafter those with talent and aptitude may be given further training in all girls polytechnics so that the girls can stand firmly on their feet and face the challenges of life.
Images:
1. Renu Gautam of KGBV, Gosainganj, Lucknow with her warden
2. Science of miracles being explained by Rajkamal Srivastava.
3. A catchy poster at KGBV Mall, Malihabad, Lucknow
4. Handicrafts by students of KGBV.