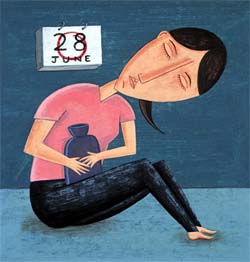 Dukhini Sardar, 16, is the first matriculate not just in her tribal community but also among 72 villages in Purulia district, West Bengal. Yet, she knew nothing about how to cope with 'those days' and was too embarrassed to ask anyone.

So, for five days every month, she would sneak out in the dark and surreptitiously wash pieces of old cloth she used during menstruation so that they could be reused. With water being scarce and having to walk two kilometers to fetch it, it was not hygiene that was a priority for Dukhini but the need to somehow wash and hang the cloth pieces in some dim corner where no one could see them. Never did she realize that this practice made her vulnerable to reproductive tract infections.

In Dhar, Madhya Pradesh, when Asha, 15, would find some of her 'dupattas' (scarves) missing, she didn't create a fuss. She knew at once that one of her hostel mates was going through the 'monthly problem' because she too, had quietly done the same when she had needed protection. Also, she knew from experience that it would not be very comfortable or hygienic but felt embarrassed to talk about it.

"It doesn't matter whether the girls are from villages in West Bengal or Madhya Pradesh, their problems are the same. Issues associated with menstruation are never discussed openly. Even after attaining menarche, very little information is provided to young girls about the physiological processes and the hygienic practices to be followed because of the taboos associated with it," says Santha Sheela Nair, Secretary, Ministry of Rural Development.

It was this lack of information on the process of menstruation and understanding on how to manage it hygienically that prompted UNICEF (United Nations Children's Fund) to design a booklet on menstrual health and hygiene. The 38- page booklet, 'Sharing Simple Facts' released on International Women's Day this year, demystifies myths and taboos related to menstruation and tackles queries on physical and emotional changes through the Frequently Asked Questions (FAQ) format. It is visually attractive, complete with illustrations and color coding for each section, to catch the attention of youngsters. UNICEF will distribute it through NGOs, Self Help Groups, development partners and various government agencies. It will be translated into Hindi and other local languages such as Tamil and Bengali soon to enable greater dissemination.

"Overall, a woman spends approximately 2,100 days menstruating, which is equivalent to almost six years of her life. Good menstrual hygiene is, therefore, crucial for the health, education and dignity of girls and women. This booklet is aimed at giving them dignity," contends Lizette Burgers, Chief, Water and Environmental Sanitation, UNICEF.

If taboos associated with menstruation had been demolished years ago it might have helped her to continue playing her favorite sport, says P. Amudha, District Collector, Dharmapuri, Tamil Nadu. "I suffered when I was in school as my parents did not let me play 'kabaddi' (traditional Indian sport) during those days because of all the myths surrounding menstruation. So when the Total Sanitation Campaign (TSC) was initiated, it gave us the opportunity to address this issue," she says.

(TSC, initiated in 1999 by the Ministry of Rural Development, is a comprehensive programme to ensure sanitation facilities in rural areas with broader goal to eradicate the practice of open defecation. It gives strong emphasis on Capacity Building and Hygiene Education for effective behavior change with involvement of NGOs, and so on. The key intervention areas are Individual household latrines (IHHL), School Sanitation and Hygiene Education (SSHE), Community Sanitary Complex, Anganwadi toilets.)

So Nair, then secretary at the rural development ministry in Tamil Nadu, decided to promote menstrual hygiene in conjunction with the sanitation programme that went beyond merely construction of toilets. She hit upon the idea of promoting usage of sanitary napkins as a hygienic mode of managing menstruation. Her department then roped in self-help groups (SGHs) and trained them to produce low cost napkins to facilitate its usage among rural girls and women.

Training was also given for safe disposal of the napkins through incinerators, which were built in schools and fired once a week. For those who were unable to build incinerators, training was given to dig small pits and burn the napkins with paper.

Initially, selling the napkins was a problem. Then local NGOs and 'panchayats' (village councils) in the state, too, pitched in with the awareness programmes and with innovative marketing techniques, including offers for custom-made sanitary napkins and financial incentives on its sales. In fact, Chennai-based Cheema Foundation interacted with girls in various schools in the state and also provided vending machines that dispensed single sanitary napkins. Demand for napkins rose as a consequence. Schools, maternity wards and local chemists began to stock them as awareness increased.

It was not just SHG members and students who began selling sanitary napkins, but even women like Jagdamba (who is in her early 30s), whose primary job was door-to-door garbage collection in Karur district of Tamil Nadu, where she is based. She became a sales agent and says that this side job enhanced her earnings by Rs 2,000 (US$1=Rs 40) every month and enabled her to send her children to school. "I also bought earrings, a TV and grinder along with my earnings," she adds.

In fact, the popularity of low cost sanitary napkins produced by the SHGs has given the glossier and more expensive packs produced by multinational companies (MNCs) a run for their money. According to UNICEF, MNCs have been forced to slash the prices of their products considerably in an effort to retain their market share.

So impressed was UNICEF with this pioneering effort by the Tamil Nadu sanitation programmes, especially the production of low cost sanitary napkin, that in 2007, the organization together with the union and state governments organized a training of representatives of SHGs, NGOs and government departments from 17 states by Tamil Nadu NGOs. The states of West Bengal, Bihar and Uttar Pradesh have already replicated the Tamil Nadu model and others like Madhya Pradesh are planning to follow soon.

Today, Dukhini and Asha no longer wait for nightfall nor do they sneak out to wash used cloth pieces. The days of cutting up bed sheets or stealing a friend's 'dupattas' are over. With the availability of sanitary napkins for just Rs 2, menstruation is no longer a dreaded period.