The Ballad of the Bleeding Bubbles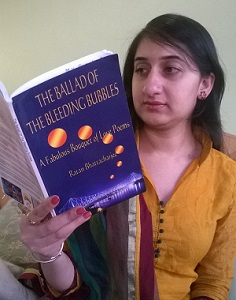 William Wordsworth, a Romantic poet writes, "Poetry is the spontaneous overflow of powerful feelings". Whenever I read the poems of Dr. Ratan Bhattacharjee, I remember the above famous lines of Wordsworth because poetry evolves from the feelings of the poet. The source of poetry is the feeling of our heart, and less in our intellect. Dr. Ratan's poems grow from his personality that is very deep and strong. His poetry flows out of his heart in a natural and fluent manner. In his poetry, deep emotions and powerful feelings are fundamental.
Dr. Ratan Bhattacharjee is a highly renowned writer and poet. His poetry is full of emotions of love and passion in its purest form. Now he has been known as a romantic poet of the present age. Dr. Dora, Senior Lecturer of Translation Studies, literary Translation & Author, Spain wrote in the introduction of The Ballad of the Bleeding Bubbles, "Dr Ratan Bhattacharjee is a valuable poetic voice to be heard. ...His view is sincerely human, and, thus it is deeply universal". That is true. He is very creative in his composition. His style of writing is very simple. His poems are works of art because they move us deeply inside. It is an artless art of a poet. I would like to quote some few lines which are my favourite from the book, The Ballad of the Bleeding Bubbles:
"Like the sea-waves, passions unfurl passions
We stand on the hills having no motions
Colours perch on heart with a kiss,
What is there in a rainbow but a promise?"
This is what we can say that the fine example of "spontaneous overflow of powerful feelings" which very beautifully expressed by Dr Ratan through his poems.
I wanted to quote some few more lines,
"What is beauty? Where lies beauty
It's not in diamond, not in emerald, but in Ruby
You yourself are the definition itself
Your beauty is truth, believe me, I never lie,
I don't believe. I never will believe,
Beauty is born only in the viewer's eye."
In the above lines, how beautifully Dr Ratan defines beauty. He says that beauty is not only from outside but beauty is all from inside. So, we can say that the definition of beauty depends upon the "viewer's eyes".
The book has gone best seller in Cyberwit.net and it deserves being the best seller. We have read his poems for a long time. But this is the first time, we get his poems in a book form. Recently, Jayanta Mahapatra and Dr. Ratan Bhattacharjee met in the same dais at Pondicherry University where the living legend blesses him for his emotional fecundity which is reflected in each and every poem of The Ballad of the Bleeding Bubbles. The cover page done by the famous Australian Painter-Poet Rob Harle is really outstanding Poetry connects and the cover page which contains a picture of Vidyasagar Setu symbolising Kolkata with the Ganga flowing for ever leaving the kaleidoscopic bubbles for us is really significant.