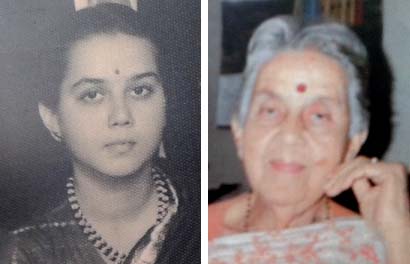 Dr. Manorama Savur was an exemplary teacher who mentored hundreds of students who opted for Master's and doctoral programmes for Sociology from Mumbai University. She taught for 3 decades in the sociology department and was influenced by Prof. A. R. Desai, a stalwart committed to Marxism. She had courage of conviction and freely and fearlessly expressed her views. In 1975 when the Emergency Rule was imposed, she vehemently and openly opposed it. She always had gracious smile that added charm to her beautiful persona. She was very helpful to her students and all those who came in contact with her.

1977 when University of Mumbai was throbbing with ideological debates, her room was an adda. She had an open door policy and students, scholars and academicians of different ideological moorings could also have access to her. During 1980s, she introduced a paper on 'Sociology of Women' in Mumbai University.

Dr. Savur was not an ivory tower academician; she was down to earth and responded to unfolding socio-political reality with utmost zeal. She loved plants and when new campus of Mumbai University was established in Santacruz (E) in 1974, she took active part in planting saplings which have grown into giant trees over 40 years. Till her last days she fought to protect the trees. She was also an animal lover and till she retired, she always brought two chapattis for a dog in the university campus.

Prof. Manorama Savur's areas of specialisation were environmental sociology, sociology of health and rural sociology. She retired as Professor and Head of the Department of Sociology, University of Mumbai in 1987. After her retirement, she became a volunteer of Women's Centre that provides institutional support to women survivors of violence. Her presence had a humanizing impact among fire-brand feminists. Even in her late sixties she would go to Women's Centre from her home by bus.

Dr. Savur's research work was always on socially relevant issues. She edited archival material on trade union movement in India. Through her research she also exposed built-in weaknesses of the Employees State Insurance Scheme in India, and compared its operation with that of similar schemes abroad.

Prof. Manorama Savur never shied of arduous field work. Her painstaking effort for over one decade resulted in two extremely valuable volumes published in 2003 on the political economy of bamboo. This book "And the Bamboo Flowers in the Indian Forests: What did the Pulp and the Paper Industry Do? Vol. I & II, Manohar Publications, Delhi" was the outcome of a multi-sourced (archival, library and field based research) and interdisciplinary work to highlight the environmental and socio-economic implications on the forest dwellers and workers as a result of the paper and synthetic fibre industry and the policy concerning bamboo farming, from the colonial times to the present. She supported environmentally regenerative bamboo-use practices and was for a rational and scientific approach towards felling of bamboo. She opposed arbitrary and intensive use of bamboo by commercial vested interests that destroy forest lives and damage forest dwellers livelihoods. She declared, "To clear fell the bamboo forests in the Northeast would be an ecological disaster. Bamboo does have many uses for the local people - but let us not forget it is also the green gold of the forests."

Prof. Manorama Savur and Prof. Indra Munshi co-edited "Contradictions in Indian Society: Essays in Honor of Professor A.R. Desai" that was published by Rawat Publications.

For last two decades, she managed to be active despite cancer and deteriorating health. She never discussed her pain but gave helpful advice to cope up with cancer to many cancer victims. She passed away on the same day as her ideologue Karl Marx i.e. 14th March, 2014. During her last days, she was helped by many friends in the Indian Army and she had rented a flat in Athashree, a society for senior citizens founded by Armymen in Pune. As per her last wish, her body was donated to Army Medical Hospital. This act of hers inspired all those who had gathered to pay their last respect to her after her death to take a pledge to donate their bodies.