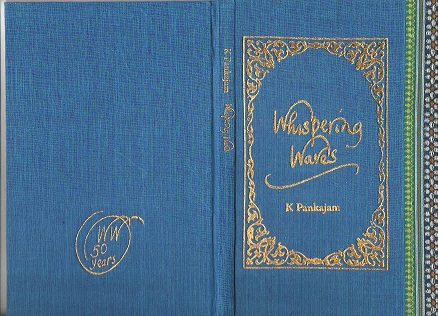 Much like the title, this Collection of Poems by K. Pankajam is soft and gentle as if some wave swept under your feet unobtrusively, leaving behind a few grains of sand in between the toes as a reminder! Her poems are like a gentle tap on the shoulder, subtly drawing your attention to this or that – never hard-hitting, yet impactful!

Take 'Forgetfulness' for example:
"Alluvium of memory
Denies access

Clueless I roam
In lonely exile..."
Sounds like a familiar feeling, as all of us, sometime or the other, are hit by forgetfulness. But it takes a Pankajam to express it so beautifully...

Her poems have an economy of words that makes them quietly effective. In a few words, she is able to tell it all, with a rhythm that is soothing to the senses like a mild perfume - a rare gift and a talent - that leave the readers asking for more, as they gently sway on the 'Whispering Waves' !

Sample this on 'Nostalgia':
"...and in it swims
my today's wistful longings..."
Ever heard nostalgia expressed thus?

Tuck into some innocent humour in her 'A Guileless Tale' about her toddler. Many may nod and smile as they read these lines about perhaps, a familiar experience:
"Looking at his parents' wedding stills
shoots at me his angst in a jiffy
"Why am I not in these pictures?"
Bemused, I look at him in disbelief."
Pankajam's compassion is well reflected in these lines from 'I Want to Cry':
"Send me two more
so that I can cry,
their sorrow
thus I can share"
Her concerns about price rise come through excellently in her poem 'Onion' that takes an interesting episode from Mahabharata and likens it to the current inflationary scenario:
"As the wife of the Pandavas
was pulled and hauled,
derobed,
slandered in the open hall,
Lord Krishna heard her prayers
and rescued her"
This poem is followed by 'Tonight Vishnu Sobs in My Arms', an amazingly intense poem written with Pankajam's usual simplicity and economy of words, yet leaving a lasting imprint.

Her national and patriotic fervour has been wonderfully captured in the poem 'We Salute You':
"To the musical mellow of Jana Gana Mana
our tricolour flutters high, and we salute you,
the fighters of freedom, the immortal heroes,
glory to you we sing, for you made our flag fly high."
The poems 'The Scars' and 'The Power of Unspoken Words' placed alongside each other in the book, represent two diametrically opposite themes, yet resonate with a heart warming appeal.

'First Person Talks' and 'Short Verses' present short, quickie Pankajam specials, that dwell on different themes told with pithiness and subtlety. Her expressions simply touch the core of one's heart and strike an instant chord with the reader.

Pankajam hails from Kerala and is currently settled at Chennai. She works as a Finance Manager at BHEL. She already has two published volumes of poems to her credit – 'Look Beyond' and 'Echoes'.

It is very difficult to select a favourite poem in 'Whispering Waves' as wave after wave of her poetry carries you, gently floating over the waves of a calm sea, to soak in all the lovely word pictures that she creates.

My advice – Find a cosy corner and surrender yourself to Pankajam's (softly) 'Whispering Waves'!
Whispering Waves by K. Pankajam
ISBN: 978-93-5045-067-3 Price: Rs. 150/-
Writer's Workshop, 162/92 Lake Gardens, Kolkata 700045
Publisher's E-mail id: writersworkshopkolkata@gmail.com
Publisher's Website : www.writersworkshopindia.com
Pankajam's mail id: kp_bhargavrag@yahoo.co.in