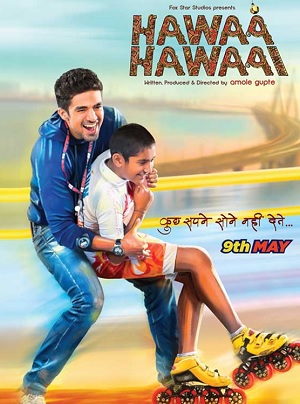 It is gratifying to see that Hindi movies like 'Hawa Hawai' also get released amidst the furious surge of popular star movies with less noise and thank god, receive favorable attention from the critics now and then.

Amol Gupte of 'Tare Zameen Par' fame proved that the talent he had exhibited in that movie was not just flash in the pan but he went on to prove his creativity with the children's psyche related themes like 'Stanley Ka Dabba' and now with 'Hawa Hawai'.

The most appealing attraction of 'Hawa Hawai' was its cast and gripping screen play. There were movies which have come earlier with sports as the main theme. Here, the sudden inspiration of an underprivileged young boy for skating and how his diligence and luck bring him name, fame and his discontinued education back.

Notwithstanding some cinematic traps, which I think are needed, the movie moves smoothly like the wheels of an expert roller skater journey; introducing the protagonist Arjun (Partho Gupte), his friends who were on all the menial jobs like car mechanic, flower selling, embroidery and rag picking. When they see the desire in the eyes of Arjun for the skating where he is working as a chai-boy in the morning and night, they decide to fabricate one for him as the real one is beyond their reach.

What follows are the interesting episodes of how Arjun catches the eye of the trainer Lucky Sir and how he becomes a winner in a race with the financial and moral support of Lucky Sir and his friends.

This type of story is probably is possible only in a country like India, where the divide between the rich and the poor has an abysmal chasm on many respects. The arresting performance of the artists especially Partho Gupte and Saqib Saleem and Neha Jeshi are pleasure to watch.

It is rare we get to watch a film on children. This is surely one; all family people please take your children and watch this movie without fail. It will definitely ensure the importance of motivation and at the same time entertain you and your children.