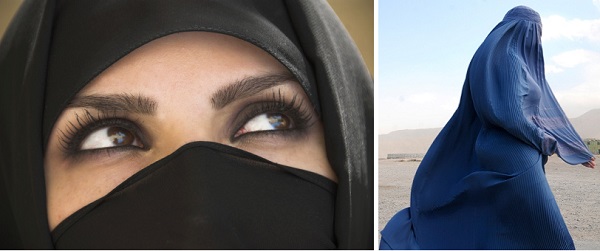 The purdah or veil has long been an issue of debate in the Indian sub-continent. The patriarchy made women go behind the veil when it feared that the beauty of its women will invite abuse and those who cast evil eyes on them will not be able to scan veiled women. The institution gained momentum when the Muslims invaded India as the foreigners overpowered the domestic, they abused women the most. Molestation of women served dual purpose – it gratified the invader physically and helped them maintain subjugation of the natives by bringing them disgrace.

The feminists vehemently oppose this burqa (a veil worn by Muslim women) that at one hand doesn't allow them to enjoy their own beauty and at the other covers them in black from top to toe inhibiting them from relishing colours. A woman peering through a small net (a space in burqa for looking out) is a common sight in the bazaars of Delhi and the very mesh keeps her caged from the world outside.

Women have always been viewed as objects of sensuousness and continue being viewed like that. Thanks to the capitalism and global market. Beauty pageants, growth of cosmetic industry, fashion shows and modernistic indulgence in self has made women ever more conscious of their looks and in order to emulate their fair western counterparts, women are ignoring their racial features to wear a more cosmopolitan and multicultural look. Added to the dress and jewellery is the new veil. In a tropical country like India, every kind of sunscreen seems to have failed and to avoid tanning women wear a veil. The pedestrian and pillion riding women wrap themselves in cotton dupattas leaving only the eyes. The veil hides them from male gaze to make them more suited for another male gaze. The dangling beauty will fetch lovers, boyfriends and a future husband.

A woman's beauty is not meant for the enjoyment of the other sex only. Infact, she has every right to look beautiful, enjoy her charm for herself and decorate herself with colours and jewellery to enliven and brighten her spirit but this beauty should not be reductive to mere objectification.

The established socio-economic order has harmed and is rapidly harming our ecosystem. Ozone is depleting fast and UV rays are stronger than ever to harm your skin. But why then these umbrellas and masks and veils are meant for women alone? Why not celebrate womanhood or the fact of being human?
Image (c) gettyimages.com