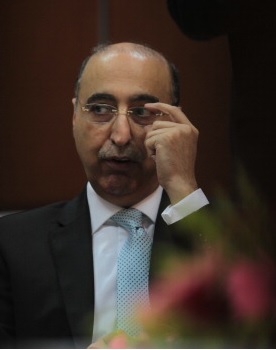 Pakistan High Commissioner Mr. Abdul Basit recently addressed media in the Delhi Press Club. He urged a dialogue between India and Pakistan as the only way forward to regional peace. He said: "Peace is in our mutual interest and peace can only be achieved through dialogue. In the past, we have seen pre-conditions did not work, nor can they work in the future." However, further in his statement while stressing the need to address contentious issues he added: "Kashmir is an important issue. And the government of India has to fulfill its commitment given to the world."
To what commitment was he alluding?
Presumably he was referring to the United Nations Security Council (UNSC) Resolution on holding a Kashmir Plebiscite which was never implemented. It was never implemented because Pakistan never agreed to fulfill the preconditions demanded in the Resolution for holding the Plebiscite. The Indian government has been horribly amiss through the decades by failing to highlight and exploit this fact. Instead it has allowed itself to appear as the guilty party avoiding the Plebiscite.
Mr. Basit deserves a gentle reminder.
In all the 14 UN Resolutions on the Kashmir dispute the operative part demands that before the Plebiscite the status quo ante before hostilities began in 1947 must be restored. All Pakistani troops and non-Kashmiri citizens presently in Kashmir would have to vacate. China would have to withdraw from the Northern Areas illegally ceded to it by Pakistan. Only an Indian force would be allowed presence in the entire undivided state until complete peace and normalcy are restored. In other words terrorism would have to end. The people of Kashmir would have the option to either merge the entire state with India or with Pakistan. No third option would be available. Only then could a Plebiscite under UN aegis be held. These Resolutions were not enforceable by the UN but could only be implemented through mutual agreement between India and Pakistan.
Does Mr. Basit seriously believe that the UN Resolution on the Kashmir Plebiscite is any more relevant? If so, does he seriously believe that his government can possibly agree to its operative part? Would it not be much better therefore to forget the so called commitments made to the world by India and address present ground realities? President Musharraf, Prime Ministers Mr. Vajpayee and Mr. Manmohan Singh held constructive parleys that did not move forward. Should not that thread be picked up now to resume a dialogue?

However there is one caveat. The dialogue can be meaningful only if one precondition is met.

Mr. Musharraf's proposal to convert the Ceasefire Line into an international border, to allow free movement of goods and people across the border, and to allow the governments in New Delhi and Islamabad to jointly manage the arrangement would be practical only if the armies of both nations were in cooperation and not in contention. That is not the case. That is why both countries are victims of terrorism.

There are many more victims of terrorism in Pakistan than in India. That is because terrorist elements have infiltrated the security establishment, including the army, in Pakistan. Unless these elements are weeded out no peace effort can succeed. There are two elements in Pakistan's terrorist fifth column. One element consists of an indigenous segment aggrieved by perceived Indian hostility and injustice over Kashmir. The other element consists of foreign funded and directed agents serving the vested interests of their mentors and masters who want to keep India and Pakistan mutually hostile.

Readers are free to speculate the identity of these foreign masters. It may be noted that even while Mr. Basit was urging resumption of peace talks an Indian soldier was killed by firing from across the border. Media analysts were quick to conclude that Pakistan was playing a double game. Was it playing a double game or is Pakistan badly divided with one segment sabotaging the peace efforts of the other?

The first task therefore is to combat terrorism and eliminate it from both nations. The second task is to seek a settlement on Kashmir that satisfies the aspirations of stake holders. But there is a trust deficit between both governments and peoples that comes in the way of achieving these goals. That has to be removed first. For that there is a precondition that needs to be fulfilled. Both governments must commit in principle to establish an institutional framework for joint security in the region within a specified period of five to ten years. In the meantime the armies and Intelligence agencies of both nations can cooperate to fight and eliminate terrorists who continue to kill innocents at will in both countries. What rational objection can either New Delhi or Islamabad have to making such a commitment?

Unless this precondition is met the trust deficit will continue to divide both countries. Unless there is trust between both governments and armies no peace process will succeed. No Indian diplomat may state this. But this is the blunt truth that Mr. Basit should accept.