"The hunger for love is much more difficult to remove than the hunger for bread", is a quote from the Bharat Ratna Mother Teresa. True, even today we find some souls around us who are hungry for human love. They are not only seeking love but interpreting it in a new way and calling on friends and foes
Rev.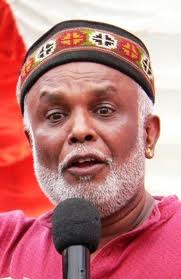 one can insure his / her life in today's dog eat dog world. And there is substance in his words. Rev.Sunil i
s a Christian by conversion and his wife, Pamela, is an American lady who wholeheartedly helps him in his social works. Both, Sunil and Pamela, are staunch followers Mahatma Jyotiba Phule - a great social reformer and the first person in India who opened the first school for girls in August 1848. Rev.S unil Sardar is also the first person in Maharashtra who has spread Mahatma Phule's humanitarian thoughts throughout the length and breadth of India and some part of the world by translating Phule's literatures in English and other Indian Languages. With the apt convincing, he could bring home relev
ancy of Phule's noble teachings to the foreign scholar writers like Prof Gail Omvedt, and Tom Wolf.

The striking fact in the style of his working is a deep feeling of brotherhood. He never makes any discrimination between the poor and rich or the advantaged and disadvantaged. He treats all as if they are his own brothers, regardless of their social or financial status, and those who come in his contact feel at home in his company. That's why he could create a vast friend circle in India and the world. So far, he helped plenty of the poor students for their education. He organizes medical aid for the rural patients at his village in Umari. He offers monetary assistance to the mass marriages all over Mahara
shtra.
Today Rev.Sunil Sardar has become an idol for many social organizations in Indian. But if we look back at his journey in the past we will be shocked. Born in small village with no landed estates or the like, he started his odyssey with the gospel of love in his heart. At the outset he worked as an evangelist in Yavatmal district. When he spread Jesus' me
ssage of love amongst the poor and destitute, he had to face a very stiff resistance from the orthodox anti-social outfits. They spoke very ill of him. They have beaten him in the public. They put him in jail. Despite all this malice against him, Rev. Sunil Sardar remained inconceivably composed and prayed that the Savior should covert hearts of his enemies. He prayed for their health and families. They spat venom against him which he retaliated with kindness and unalloyed love. But now things have looked up a lot. The old animosity towards him has now given way to affection. Therefore, whenever now he comes over to Yavatmal, lot man
y people, along with his previous opponent but now friends, come to see him in hordes.
Really, love is the mightiest weapon man can harness to defeat vices and evils from human society. Love is also a key to the deadlock of human misunderstanding, which man can use to unlock it for accommodating more friends in his heart. The love is also an invaluable blessing you can anoint your life with it. Love is the only bank balance of your life business on this planet which pays you
dividend when you are flat broke at your old age. Rev.Sunil Sardar, a frail being like any other, has planted this passion of love in the hearts of many and set a precept that with only love our life is livable!