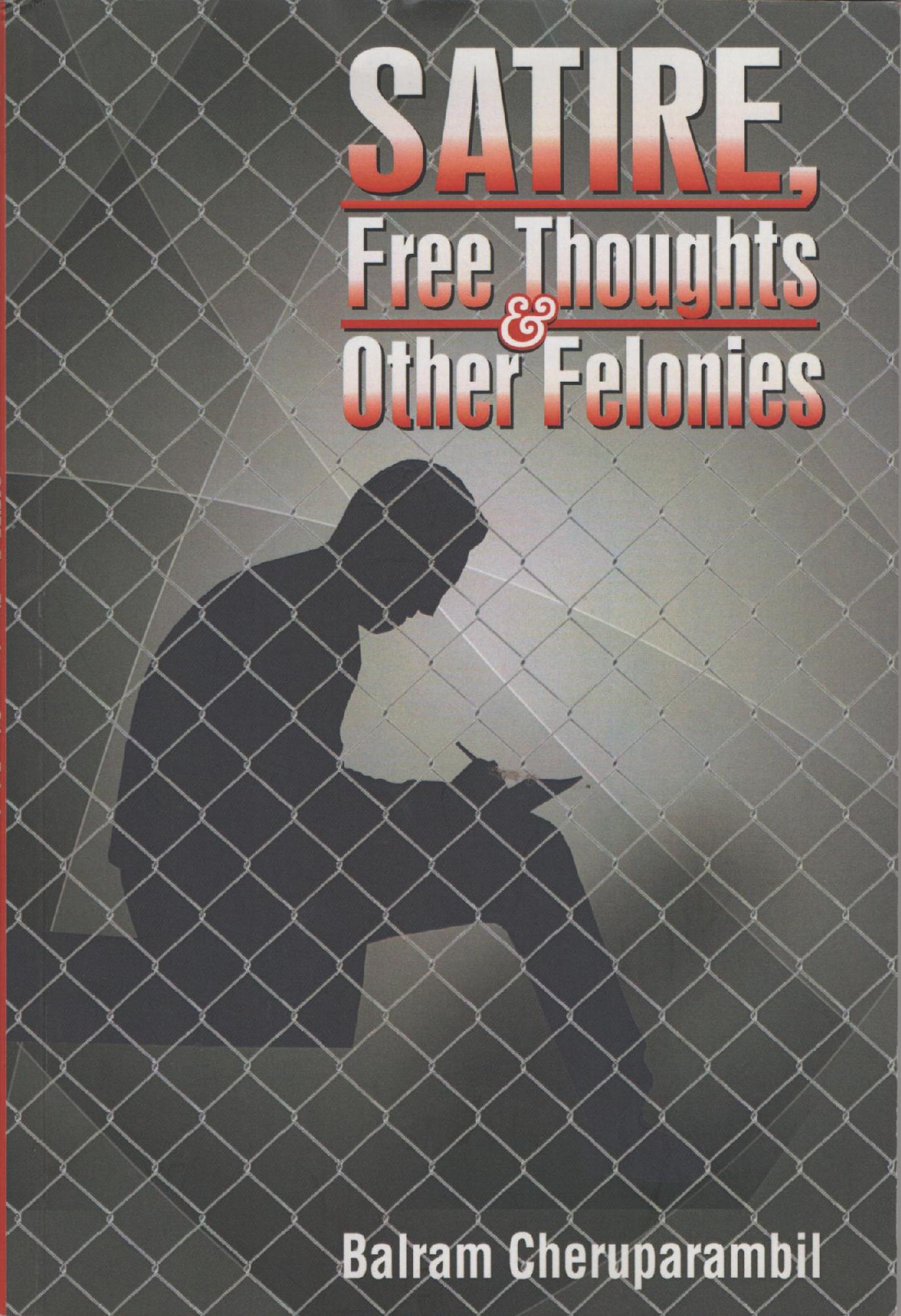 As the name of the book itself suggests, I expected something wacky and unconventional from it! But no, Balram being Balram, expect sense and logic from him in everything he writes, including a book of poems named thus!

This book has 80 poems – each written with Balram's trade mark free flowing, straight forward style that at once engages and rivets attention. The best thing is one doesn't have to rake one's brains about what he is trying to communicate – it's all there like it is – simple, humorous, satirical and yet hard hitting in places....

The Book is divided into three sections – Satire (38 poems), Free Thoughts (40 poems) and Picture Poetry (2 poems).
Satire

The very first poem 'Self Improvement' is a forerunner of what to expect in this section. Sample this:
Lessons from mystics or mice that moved cheese,
Self-hypnosis to conquer life with ease.
...............
Gurus, Yogis, those who sold their cars,
Those who rose from ruins sans any scars,
...............
The only self improvement most books achieve,
Is that their authors a lot richer they leave.
Another one that really tickles the funny bones is this one:
Adam and Eve, to enjoy never did fail,
They partied through the nights till the morning pale,
God watched them with wary eyes,
As each day brought a nasty surprise.
...............
They left the premises with bad grace,
But not forgetting to carry of apples a case,
And on Eve's side shone in lovely hue,
A dark snake skin bag, sparkling new.

— (Adam & Eve – The True Story? – Pages 28-29)
Myself being a great lover of humour and satire in any form, I confess that as I read the poems in the Satire section, a huge grin was permanently pasted on my face from ear to ear! Even as I am writing this, the grin is back with a bang! So enjoyable is this section!

And don't miss this one:
But one day while strolling down a busy street,
Falling down a manhole, his end did he meet.
...............
And his gravestone they did write,
"Clairvoyant, he missed what was in plain sight."

— (The Astrologer – Page 33)
This poem on inflation, according to me, demonstrates Balram's satire at its best:
The only saving grace here at all,
Is that the price of one thing is in free fall,
Kudos to the leaders for this brilliant feat,
The price of human lives does steadily retreat.

— (Kudos – Pages 34-35)
What I have quoted above are just a sampling; the entire Satire section has great poems from Balram's pen, each a rib-tickler, each a thought-provoker – of the smile-pause-think variety! Balram's satire and humour are in full flow in this poem about lottery mails:
I got one from a Nigerian count,
He wanted to gift me a huge amount.
...............
Some want to send me Viagra
Along with a honeymoon to Naigara

— (Kismet Mail – Pages 42-43)
'The Naked Truth' 'The Humble Lungi' 'Gulf Dreams', 'Magic Skin' 'Adonis', 'An Ode to Women', 'She', 'Imp', 'Sin', and many more are all superbly written poems with humour and satire dripping in every line! However, I would like to sign off my review of this section with an excerpt from this exceptional poem that articulates Balram's concern for nature so sensitively:
A voice thundered from above
I created this tree out of love,
Your problems to ease I had sought,
Now I realize it's all for naught.

— (The Wonder Tree – Pages 31-32)
Free Thoughts: Current Events, musings & fantasy

The back cover of the book has an eye-catching statement – "No one Buys Poetry!" and then it goes on to add how this book "attempts to buck this trend"! Prophetic indeed! For that's exactly what Balram has managed to achieve with this book – a book that would draw even non-poetry readers to it! In this section, Balram has written a few poems affirming his belief that his is the "poetry of the people and in the language of the people".
I dream of poetry that feels and laughs and cries,
I dream of poetry that breathes and lives and dies,
I dream of poetry that of all its fetters is free,
I dream of poetry that would mean everything to me.

— (I Dream – Page 98)
Balram further demystifies poetry thus with this prescription:
Let poetry communicate with a message clear,
Let it not drown under the weight of verbiage sheer...
Let it charge in where angels fear to tread,
Let it always say what needs to be said.

— (Battle Cry – Page82)
And if that's not enough, check out here what Balram further says:
Poetry can only be written by the wise,
Not by folks like me who are otherwise,
My scant vocabulary would never suffice,
The fact that I could even speak was a real surprise.
...............
So I started to write my verses short,
Just sheer fun without great import,
I call what I do pure unpoetry,
It's so not poetry by a far distance you see.

— (Unpoetry – Pages 88-89)
Now, reading the above verses, there will but nothing but disagreement that Balram has "scant vocabulary" or what he does is "pure unpoetry"! And read these lines for further confirmation of Balram's felicity with words and verses:
There is poetry in the falling rain,
There is poetry in the rocking train.
Lightening etches poetry in the sky,
In a gurgling stream poetry flows by.

— (Poetry – Page 66)
Bandhs, Strikes and Hartals are something that we Indians have learnt to live with, no matter which State we belong to. Here's Balram's take:
Nothing gained, so much lost,
So much needless suffering caused,
What a double-edged sword this has turned out to be,
This hallowed political weapon that once set us free.

— (Hartal – Page 86)
Balram's softer side and his nostalgia about his native land Kerala-India, are so well reflected in these lines:
The stories, countless, that granny told,
Th peppermint sweets that the corner shop sold,
The prayers with which we greeted the dusks,
The lordly temple elephant and his majestic tusks.

— (A Whiff of Remembrance – Page 78)
There are poems in this section that bring tears in our eyes, make us smile, nod our head in agreement and shake it in regret or disgust, provoke us to think and ponder, make us nostalgic etc. etc. 'Star-crossed', 'Rapture', 'Remembering to Forget', 'Volcano – Somethin' hot', 'Innocent Blood', ,Catharsis', 'Invocation', 'Come My Darling', 'Aftermath' , 'Martyr', 'What?', 'Blessed' etc., etc., are all poems that bring out different moods and emotions of the poet.

Balram's fascination for fantasy, mythology and the mystic are wonderfully revealed in the poems 'Unleashed', 'Prometheus', 'An Ill Wind', 'Fear', 'God's Blood' and a few others.

An Engineer and a Management Professional working in Dubai, Balram Cheuparambil has managed to straddle his profession and passion for poetry with equal ease. His style of writing is at once appealing and heart warming that clearly indicate that he is not into any bombastic language or poetic pomp and show, but still manages to tug at our heart strings and touch our senses in myriad ways.

In keeping with the title of the book, it is divided into Satire and Free Thoughts and as we read through the highly enjoyable, meaningful and thought-provoking poems, we are compelled to ask, "Balu, what happened to Other Felonies? Why did you leave them...? Want those too...! May be, they'll figure in your next book...?" Because by no stretch of imagination can the 2 Picture Poems appearing at the end, be labelled 'Felonies' because they are Balram's word pictures of sheer art and creativity, each telling a small story!

For the uninitiated, the best way to delve into poetry, is to pick up a copy of Balram Cheruparambil's 'Satire, Free Thoughts & Other Felonies', for this is a book that will keep bringing them back to poetry. And for those steeped in poetry, here's a book to unlearn and learn about poetry!
Book Information:

Name of the Book: Satire, Free Thoughts & Other Felonies by Balram Cheruparambil
ISBN 978-93-83562-17-6
Price: Rs. 95/- USD 4/-
Virgin Leaf Books
An Imprint of Leadstart Publishing Pvt. Ltd.
1 Level, Trade centre, Bandra Kurla Complex
Bandra (East) Mumbai 400 051. India